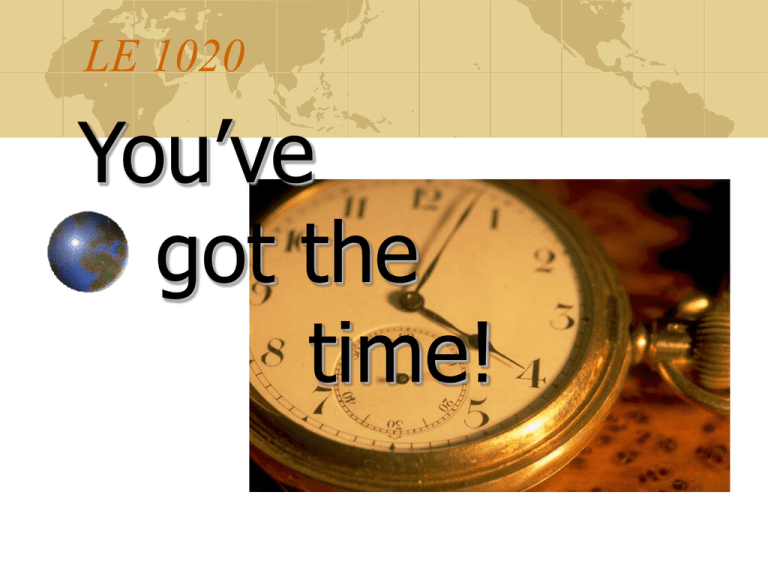 LE 1020
You've
got the
time!
In this unit
Determine your mission & governing
values
Write S.M.A.R.T. goals & determine your
priorities
Monitor your time
Adopt tools for time management that
1. Reflect
your governing values, and
2. Move you toward your mission and long
term goals
Quote to consider…
"Dost thou love life, then do
not squander time, for that is
the stuff life is made of." --Ben Franklin
But I don't have time, do I?
You do have enough time for the things you
want to do if you manage time effectively.
Time is an equal opportunity resource—
everybody gets 168 hours per week—no
more, no less.
The question is not whether you have time,
but whether you use it to get what you
want!
GOALS
A "goal" is only a "wish" if it isn't
written down!
Write long-term goals
Write short-term goals that help
you move toward your long-term
goals.
Make your goals S.M.A.R.T.!
S.M.A.R.T. Goals
Specific
Measurable
Action-oriented
Realistic
Time-limited
Sample Goal
I want to improve my grade point average
from a 2.5 to a 3.0. By Dec. 15th.
Specifics:
I will carefully read my syllabus to be aware of
the class expectations.
I will attend class daily.
I will decrease my work hours by 3 hours per
week.
I will increase my study time by 3 hours per
week.
Sample cont.
I will meet with each professor 2 times a
semester to go over my progress.
I will create an assignment calendar.
I will get my assignments done 2 days before
the deadline date.
I will study daily instead of cramming at the
last minute.
I will use the learning center resources.
I will be open to asking questions during
class.
Smart Goals
The sample goal is Realistic (It is reasonable
to increase GPA by 5 pts.
It is time limited. (I gave a date for
completion)
It is measurable (I can monitor whether or
not I am doing the things I said I was going
to do.
It is specific. (I have stated steps for an
action plan.)
It is action oriented. I have listed things that
I can actively be doing to improve.
Remember . . .
You've
got the
time!