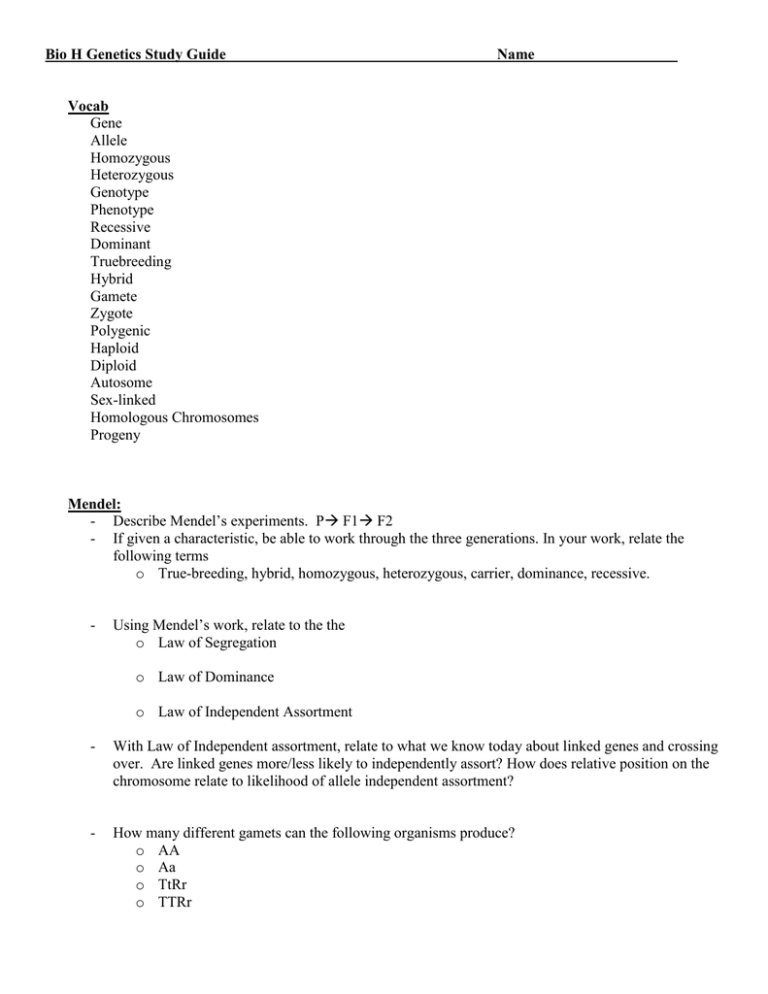 Bio H Genetics Study Guide
Name
Vocab
Gene
Allele
Homozygous
Heterozygous
Genotype
Phenotype
Recessive
Dominant
Truebreeding
Hybrid
Gamete
Zygote
Polygenic
Haploid
Diploid
Autosome
Sex-linked
Homologous Chromosomes
Progeny
Mendel:
- Describe Mendel's experiments. P F1 F2
- If given a characteristic, be able to work through the three generations. In your work, relate the
following terms
o True-breeding, hybrid, homozygous, heterozygous, carrier, dominance, recessive.
-
Using Mendel's work, relate to the the
o Law of Segregation
o Law of Dominance
o Law of Independent Assortment
-
With Law of Independent assortment, relate to what we know today about linked genes and crossing
over. Are linked genes more/less likely to independently assort? How does relative position on the
chromosome relate to likelihood of allele independent assortment?
-
How many different gamets can the following organisms produce?
o AA
o Aa
o TtRr
o TTRr
Inheritance patterns
There will be problems having you interpret these crosses and make predictions.
1.
2.
3.
4.
5.
6.
7.
Complete Dominance
Incomplete Dominance
Co-dominance
Polygenic
Multiple Alleles
Sex-linked
Di-hybrid Cross
- know ratio!
How does a polygenic trait differ from a trait that has multiple alleles?
Which type of trait has a spectrum of possible phenotypes (think bell curve)?
Punnett Squares
What do the results of a punnett square represent? Is it what has to happen?
We have done SOOOOOO many of these. They will be on the test, in copious amounts, in forms different
than any we have ever done…
Test Crosses:
What is a test cross?
What is the purpose of a test cross? Where would this have any practical application?
Be able to work backwards through offspring genotypes to figure out the genotypes of the aprents.
Pedigrees:
What are the symbols used in a pedigree and what do they stand for?
Be able to draw a pedigree given a verbal description of a family using genetic terms.
Identify the pedigree as the following patterns.
a. Autosomal dominant
b. Autosomal recessive
c. X-linked recessive
Examples discussed in class
We have gone over certain genetic examples extensively in class. You are expected to know the following
Blood types
Colorblindness
Cystic Fibrosis
Hemophilia
Tay Sachs
Sickle Cell
There will be word problems on the exam, like the quiz, where you need to pick out important parts and
construct a punnett square.