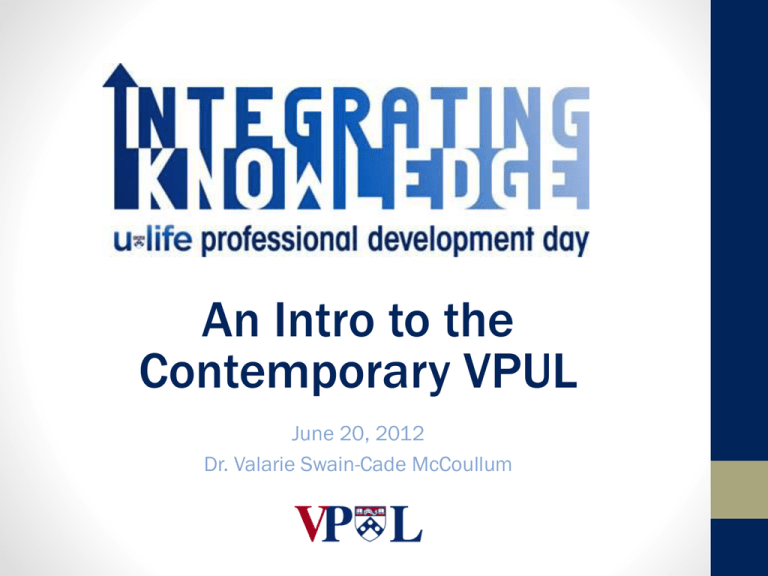 An Intro to the
Contemporary VPUL
June 20, 2012
Dr. Valarie Swain-Cade McCoullum
Shifting demographics
gender identity ethnicity religion
socioeconomics family backgrounds
sexual identity age generational
cohorts disabilities international
Penn Class of 2016
• 39% are US minorities.
• 14% are first-generation college students.
• Compared to next year's junior and senior classes, the
freshman and sophomore classes include more:
• Black students (up by 24%)
• Hispanic students (up by 30%)
• Native American students (up from 36 to 53)
• Between 2008 and 2011, the number of Penn students
who received Pell grants increased 53%.
Penn Compact
Increasing Access
Integrating Knowledge
Local Engagement
Global Engagement
VPUL Mission
As the University's foremost provider
of student services and educational
access, the Division of the Vice
Provost for University Life enhances
the ability of Penn students and other
community participants to reach their
fullest potential through diverse
academic, personal, and professional
development experiences in support
of the Penn Compact.
VPUL Strategic Priorities
• Addressing the evolving needs of our diverse student
community
• Fostering innovative practices in University Life
• Enhancing student co-curricular learning and development
• Promoting student health and wellness
• Advancing student scholarly and career ambitions
• Encouraging local and global engagement
• Creating a culture of evidence-based assessment
VPUL services support:
•
All 25,000 of Penn's
undergraduate, graduate, and
professional students, along with
more than a thousand community
members
•
More than 500 student groups,
including 50 fraternities and
sororities
•
Seven federally-funded grant
programs
•
More than 65,000 visits to the
Student Health Service each year
•
Thousands of hours of student and
staff community service
•
Thousands of programs,
workshops, and events for
students, faculty, staff, and
community partners
Academic
& Career
• Career Services
• McNair Scholars
• Mellon Mays Undergraduate Fellowship
• PENNCAP/Pre-Freshman Program
• Tutoring Center
• Weingarten Learning Resources Center
• Office of Learning Resources
• Student Disabilities Services
Penn Student Activities
•
•
•
•
•
•
Campus
& Community
Office of Student Affairs
University Life Arts Initiatives
Civic House
VPUL Facilities / Perelman Quad
OSA / Fraternity and Sorority Life
Naval ROTC
Cultural Resource Centers
•
•
•
•
•
•
Greenfield Intercultural Center
La Casa Latina
Lesbian Gay Bisexual Transgender Center
Makuu: The Black Cultural Center
Pan-Asian American Community House
Penn Women's Center
Equity & Access Programs
•
•
•
•
•
•
Educational Opportunity Center
Summer Mentorship Program / PLUS
Talent Search
Upward Bound
Upward Bound Math Science
Veterans Upward Bound
Health
& Wellness
• Alcohol and Other Drug Program
Initiatives
• Counseling and Psychological Services
• Student Disabilities Services (WLRC)
• Student Health Service
• Health Promotion and Education
• Student Intervention Services
Challenges and Opportunities
•
•
•
•
•
Changing student populations
Evolving student needs
Rapidly changing technology landscape
Fiscal constraints
Push for assessment and accountability
How do we best create an environment that helps
students and core service audiences to flourish?
Challenges and Opportunities
•
•
•
•
•
Better understanding our impact across functional areas
Creating synergies and extending partnerships
Staff training and professional development
Expanding our development and fundraising infrastructure
Effective, strategic planning, assessment, and reporting
We best help students and core service audiences to
flourish by working together and integrating knowledge.
Because University Life
at Penn Includes YOU!