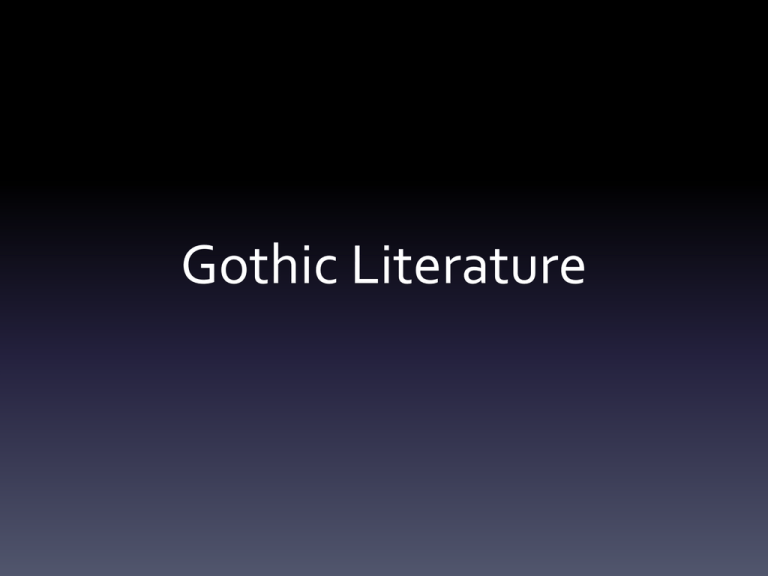 Gothic Literature
Background
• Originated in the 18th
century
• Genre is devoted to tales of
horror and dark
supernatural forces
• Gothic literature was a
reaction to social upheaval
in Britain due to economic
and political problems.
Gothic Literature addresses
• What it means to be a human being
• The outsider/outcast: the "other"
– punished for being different
• Injustice
– reactions to inequality
• Class relations
• Element of uncertainty
Components of Gothic Lit.
• The Double: A 2nd or alternate
identity
– Represents opposing forces in
human nature
– Suggests that humans have a
dual nature
• Forbidden knowledge or
forbidden power
– Hero attempts to control
supernatural powers
– Ambition leads to Hero's fall
Components of Gothic Lit.
• Castles
– Reflect the hero's
psychological character
– scary/haunting feeling
• Mystery
– Lack of identity and
nameless individuals
give a mysterious feel to
cover truths
Components of Gothic Lit.
• Dreams and Visions
– Reveal hidden truths of the
unconscious mind
• Graveyards/Churches/Ruins
– Suggest human confrontation
with infinite forces (no
boundaries or limits)
• Madness
– Reflects realities beyond rational
comprehension
– Mad characters speak the truths
that we wish to deny!
Importance of Setting
• The setting is greatly influential in Gothic
novels. It not only evokes the atmosphere of
horror and dread, but also portrays the
deterioration of its world. The decaying,
ruined scenery implies that at one time there
was a thriving world.
Setting Elements
• A castle, ruined or intact, haunted or not
• Ruined buildings which are sinister or a pleasing
melancholy
• Metonymy: something is used to stand for
something else
– Extreme landscapes, like mountains, thick forests,
fog and extreme weather.
What is mood?
How the READER feels when reading the
text.
Different Moods You Feel When You
Read
Positive Moods
Passionate
Negative
Enraged
Pensive
Amused
Rejuvenated
Moods
Exhausted
Pessimistic
Calm
Relaxed
Aggravated
Foreboding
Scared
Content
Satisfied
Annoyed
Gloomy
Serious
Anxious
Hopeless
Sick
Brooding
Indifferent
Stressed
Cold
Irate
Suspenseful
Confused
Jealous
Tense
Cranky
Lonely
Terrifying
Dreamy
Sentimental
Ecstatic
Surprised
Excited
Sympathetic
Exhilarated
Touched
Hopeful
Vivacious
Cynical
Morose
Violent
Loving
Warm
Depressed
Nervous
Worried
Mellow
Welcoming
Disappointed
Numb
Dreary
Overwhelmed
Optimistic
Let's Practice
• "Annabel Lee" by Edgar Allen Poe
• http://www.poemhunter.com/poem/annabellee/
It was many and many a year ago.
In a kingdom by the sea.
That maiden there lived whom you may know
By the name of Annabel Lee;And this maiden she lived with no other thought
Than to love and be loved by me.
Atmosphere
(mood)
I was a child and she was a child,
In this kingdom by the sea,
But we loved with a love that was more than love–
1st person
point of
view
I and my Annabel Lee—
With a love that the winged seraphs of Heaven
Coveted her and me.
Repetition
The Notebook Scene
Rhyme Scheme
& Repetition
And this was the reason that, long ago,
In this kingdom by the sea,
A wind blew out of a cloud by night
Chilling my Annabel Lee;
So that her highborn kinsmen came
And bore her away from me,
To shut her up in a sepulchre
In this kingdom by the sea.
The angels, not half so happy in
Heaven,
Went envying her and me-Yes! that was the reason (as all
men know,
In this kingdom by the sea)
That the wind came out of the
cloud, chilling
And killing my Annabel Lee.
Consonance: repetition of similar
consonant sounds
Mood
But our love it was stronger by far
than the love
Of those who were older than
we—
Of many far wiser than we—
I
m
a
g
e
r
y
And neither the angels in Heaven
above
Nor the demons down under
the sea,
Can ever dissever my soul from the
soul
Of the beautiful Annabel Lee--
Assonance
S
y
m
b
o
l
i
s
m
Repetitive vowel
sounds
For the moon never beams without bringing me dreams
Of the beautiful Annabel Lee;
And the stars never rise but I see the bright eyes
Of the beautiful Annabel Lee;
And so, all the night-tide, I lie down by the side
Of my darling, my darling, my life and my bride,
In her sepulchre there by the sea—
In her tomb by the side of the sea.
Quote example from
poem
Analysis of that example
(Have you made a
connection to a picture that
is painted for EVERY word)
And the stars never "sepulcher" is a crypt--rise but I see the
shows what it means to be
bright eyes
human and the cycle of
life.
Of the beautiful
Annabel Lee;
Repetition of "Lee," "me"
And so, all the
and "sea" reiterates and
night-tide, I lie
repeats his emotions of
down by the side
sorrow and loss of his love.
Of my darling, my
darling, my life and "Stars never rise" connects
my bride,
to his motivation to live
In her sepulcher
without "my life" and "my
there by the sea— bride"
In her tomb by the
side of the sea
What is the mood
generated by your
quote?
(Name it!)
How does the quote
connect to the mood?
(If it doesn't connect, YOU
CAN'T USE IT!)
The mood generated
by this quote is
BLEAK and
MELANCHOLY.
The mood is cold and
bitter and seems to
suggest that the
individual telling the
story is willfully tortured.
This willful torture is best
displayed in the last
stanza when it is
revealed that he sleeps in
Annabel Lee's tomb.
Now let's make a connection…
• Based on the analysis of the poem and the
mood, how does this connect to the historical
context of the time period and gothic
literature?
Connection:
• Mystery: The narrator is nameless with a lack of
identity and is a mysterious figure in the poem. There
is a mystery of how Annabel died and if the narrator
played a role in the death.
• Castle: "A kingdom by the sea" refers to a castle. This
signifies a haunting feeling to propel the plot. The
castle affects the narrator and his emotions as a
reminder of his love for her.