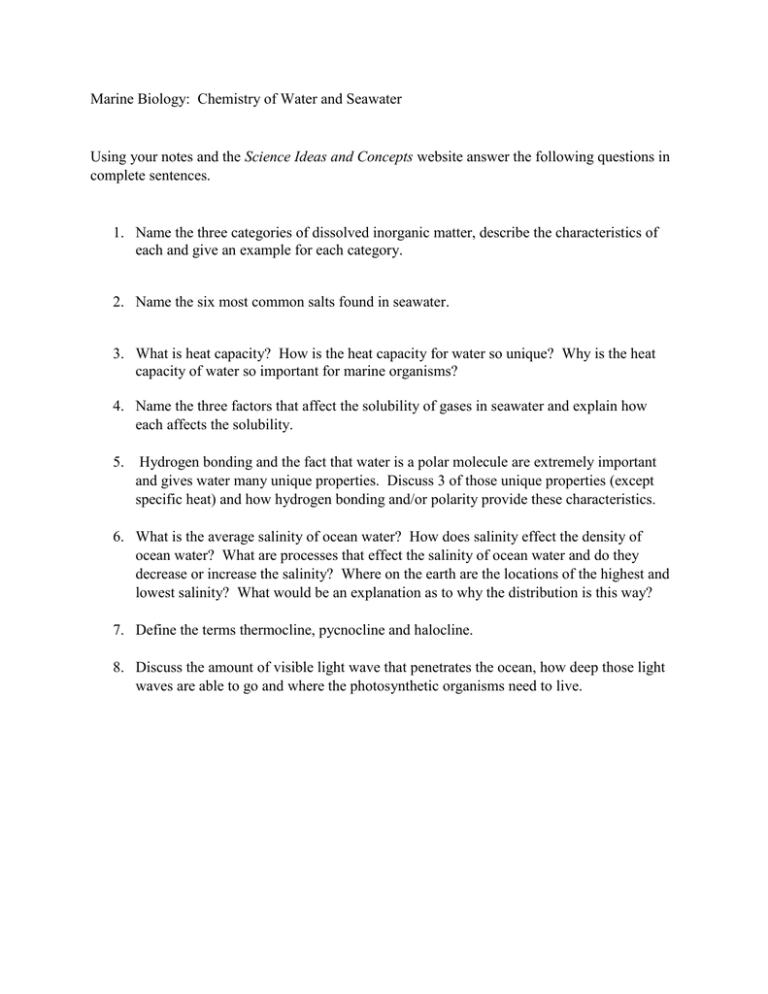 Marine Biology: Chemistry of Water and Seawater
Using your notes and the Science Ideas and Concepts website answer the following questions in
complete sentences.
1. Name the three categories of dissolved inorganic matter, describe the characteristics of
each and give an example for each category.
2. Name the six most common salts found in seawater.
3. What is heat capacity? How is the heat capacity for water so unique? Why is the heat
capacity of water so important for marine organisms?
4. Name the three factors that affect the solubility of gases in seawater and explain how
each affects the solubility.
5. Hydrogen bonding and the fact that water is a polar molecule are extremely important
and gives water many unique properties. Discuss 3 of those unique properties (except
specific heat) and how hydrogen bonding and/or polarity provide these characteristics.
6. What is the average salinity of ocean water? How does salinity effect the density of
ocean water? What are processes that effect the salinity of ocean water and do they
decrease or increase the salinity? Where on the earth are the locations of the highest and
lowest salinity? What would be an explanation as to why the distribution is this way?
7. Define the terms thermocline, pycnocline and halocline.
8. Discuss the amount of visible light wave that penetrates the ocean, how deep those light
waves are able to go and where the photosynthetic organisms need to live.