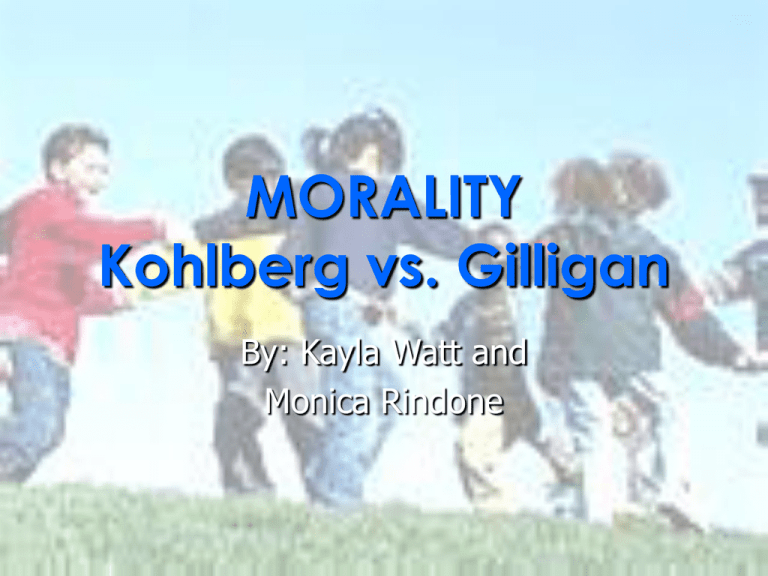 MORALITY
Kohlberg vs. Gilligan
By: Kayla Watt and
Monica Rindone
Lawrence Kohlberg
Born in 1927 and died in 1987.
He grew up in Bronxville, New York and
attended Andover Academy in
Massachusetts.
Eventually he went to college at the
University of Chicago for a degree in clinical
psychology.
It is interesting to note that he had a
strong interest in Piaget's work with regard
to children and adolescent moral issues.
With a main focus on moral development,
his theories of moral thinking go beyond any
initial work of Piaget's.
~Kohlberg's Theories of Moral
Development~

1St Stage: Pre Conventional



2nd Stage: Conventional



Obedience and Punishment Orientation
Individualism and Exchange
Good Interpersonal Relationships
Social Order
3rd Stage: Post Conventional


Social Contract and Individual Rights
Universal Principles
Pre Conventional Morality…
First Sub stage:

The child unquestionably obeys the rules
and regulations set before him or her
handed down from an authority.
" I don't jump on the bed because Mommy said
not to"
Second Stage:

There are "individual" viewpoints and
arguments to what is acceptable to do in
exchange of obeying the laws. Flexibility
is one way of looking at this stage.
Third Stage:
~Believe that people's priorities lie within
behaving and doing what is best for their
family and other close relationships
- "Daddy had to steal the
medicine because Mommy
was dying."
Fourth Stage:
The main goal within this stage is to
morally act in ways that are best for
society as a whole (or the common
good).
"I will share my new ball so
that we can ALL have fun
with it."
Fifth Stage:
• This stage is very similar to the fourth in that the main
goal is to strive for what is best for society as a whole.
Stage five respondents emphasize that one's rights come
before laws.
 "Heinz
should steal the drug to save his wife from
dying"
 Audrey, age 11
Sixth Stage:

Those within this stage profess that
laws are only acceptable when they
are considered just. In other words,
laws can be broken if they are
unjust.
"The druggist was being unfair
in his pricing so Heinz's actions
were just"
Carol Gilligan






Carol Gilligan was born on
November 28, 1936, in New York
City.
Her father was a lawyer and her
mother was a nursery school
teacher.
While in college she also practiced
modern dance and piano.
She earned her bachelor's degree
in English Literature at Swarthmore
College,
her master's in clinical psychology
at Radcliffe College,
then her Ph.D in Social Psychology
at Harvard University.
On Kohlberg


Said Kohlberg's study was biased against
women
There is more than one type of morality.



Justice based
Care based
Did own morality study on only women

Comes up with her own stages of development
What is Morality

Morality is a Dilemma:
 "the
conflict between compassion and
autonomy, between virtue and power—which
the feminine voice struggles to resolve in its
effort to reclaim the self and to solve the
moral problem in such a way that no one is
hurt." (Gilligan 71)
Preconventional
• priority is your own individual survival and
happiness
• you may help someone, but only as long as
there is a benefit in it for you
• . "The Concern is pragmatic and the issue
is survival. The woman focuses on taking
care of herself because she feels that she
is all alone" (Gilligan, 75)
Preconventional

" 'I think survival is one of the first things
in life that people fight for. I think it is the
most important thing, more important
than stealing. Stealing might be wrong,
but if you have to steal to survive, or even
kill, that is what you should do…It comes
before anything else.' " (Gilligan 76)
Conventional



a movement from care
for self to others
Values self-sacrifice as
the highest good
The focus rests more on
society and in the
significance of
relationships with others
Conventional
► "Whereas
from the first
perspective, morality is a matter of
sanctions imposed by a society of
which one is more subject than
citizen, from the second
perspective, moral judgment relies
on shared norms and
expectations" (Gilligan, 79)
Postconventional
 marked by a shift in
concern from goodness to
truth
 "wonders if it is possible
to be responsible to
herself as well as others
and thus to reconcile the
disparity between hurt
and care" (Gilligan, 82).
Postconventional

" 'I am basing a lot of it on my ability to
do the things that I feel are right and best
for me and whomever I am involved
with….and I really think that I have been
truthful….it is a good decision and an
honest one, a real decision' " (Gilligan 8485)
Heinz Dilemma
• In Europe, a woman was near death from a special
kind of cancer. There was one drug that the doctors
thought might save her. It was a form of radium that
a druggist in the same town had recently discovered.
the drug was expensive to make, but the druggist
was charging ten times what the drug cost him to
make. He paid $400 for the radium and charged
$4,000 for a small dose of the drug. The sick
woman's husband, Heinz, went to everyone he knew
to borrow the money and tried every legal means, but
he could only get together about $2,000, which is
half of what it cost. He told the druggist that his wife
was dying, and asked him to sell it cheaper or let him
pay later. But the druggist said, "No, I discovered the
drug and I'm going to make money from it." So,
having tried every legal means, Heinz gets desperate
and considers breaking into the man's store to steal
the drug for his wife.
Sample Questions




Should Heinz steal the drug?
Should Heinz steal it for a stranger?
Should Heinz steal the drug for a pet
animal?
What is the most responsible thing for
Heinz to do?
Should Heinz Steal the Drug?

"He should because he loves his wife and
doesn't want her to die, and the man
wasn't being fair


"No, I believe that he should have faith in
God to heal his wife"


Sarah, 11
Arielle, 12
"Regardless of what happens to him, he is
still going to end up with her in heaven :D"

Nikolas, 12
Should he steal it for a stranger?

"NO! If it is a stranger he has no business
stealing for a stranger he doesn't know or
love that well"


Madison, 11
"Yes, he should because the stranger is a
living human being"

Carlos, 11
Should He Steal it for an Animal?

"Depends on the animal of choice"


"No, an animal is an animal"


Nikolas, 12
Katie, 12
It depends if it was a fish no way don't risk it
if it was a dog maybe if you really love it, if it
is a horse, lion, elephant, etc, steal it but pay
the druggist at a later time"

Antonio, 12
What is the Most Responsible thing
to do?

"To steal, because he needs to save his
wife"


"Hire a lawyer, don't go to jail"


Carlos, 11
Katie, 11
"Sell some possessions and buy the drug
or go ahead and steal it, it depends, not
all things have such meaning"

Nikolas, 12
Camp Dilemma
• Joe is a fourteen-year-old boy who wanted to go to camp
very much. His father promised him he could go if he
saved up the money for it himself. So Joe worked hard at
his paper route and saved up the forty dollars it cost to
go to camp, and a little more besides. But just before
camp was going to start, his father changed his mind.
Some of his friends decided to go on a special fishing
trip, and Joe's father was short of the money it would
cost. So he told Joe to give him the money he had saved
from the paper route. Joe didn't want to give up going to
camp, so he thinks of refusing to give his father the
money.
Sample Questions




Should Joe refuse to give his father the
money?
Does Joe's father have the right to ask?
Is it important to keep a promise to
someone you will never see again?
What should Joe do?
Should Joe refuse to give
his father the money?
•
•
•
•
"Yes, it is Joe's money, not his Dad's…"
"Yes because he promised!"
"Yes, because it is his father…"
"I think Joe should talk to his father
about maybe his friends going fishing
another day or his father could go with
Joe when he come back from camp…"
Does Joe's father have the right to ask?



"The father has authority to take Joe's
money, but taking away after his promise
does not give him a right to take Joe's hardearned money…"
"Yes, because you must respect your
parents…"
"No, he promised!!"
Is it important to keep a promise
to someone you will never see
again?

"I understand that sometimes you are
unable to keep that promise but if you are
able to, you should"


"A promise is a promise"


Arielle, 12
Nikolas, age 12
"Yes, because you could see them again in
the after life"

Tim, age 11
What should Joe do?
 "tell his dad no, he worked hard"

Katie, 12
 "I think neither of them should go, I
think they both can go camping and
fishing"

Antonio, 12
 "the most responsible thing to do is
give the dad the $40 and keep the
extra money

Madison, 11
EXTRA: Are There Any Laws That
are Bad?
"no" –five students
"yes" –two students
"I don't know" –one student
"There is an unlikely chance there is a
bad law" –one student
 Two left blank




So…
Do girls and boys have opposing views on
morality?
And
At what age do these differences become
most apparent?
How Did We Go About
Finding the Answers to
These Questions…?
• Kohlberg's original study was with 72 upper and middle
class boys of the ages 10, 13, and 16 along with 12
delinquent boys. After creating 8 dilemmas, he posed
questions from them for the boys and the results
became part of his 1958 Dissertation.
• We decided to use two of his dilemmas and created a
series of questions from them. However, we used
both boys and girls and compared our results to
Kohlberg's.
Our Hypothesis:
We predict that there are in fact
differences in moral views among boys
versus girls. However, we also predict
that as they grow older, closer to puberty,
these opposing view points will be more
drastically evident.

VERY IMPORTANT TERMS:






Justice- knowing what is right, what one aught to do. (based
on rationality)
Care- a sensitivity that you can affect someone else's life.
Pre conventional Stage- the children are morally based on
authority, punishment, and reward
Conventional Stage- which is based on social norms and
expectations
Post Conventional- where kids are moral for the sake of the
common good.
Authority- The highest status and respect level that one
follows for a set of particular reasons.
Kohlberg's Rubric
Kohlberg's Rubric's
Our Data- Heinz Dilemma
Name
Sex
Age
Steal?
Value
Role Choice Rule Justice Average
Katie
girl
12yr4mo
no
0
0
0
Marissa
girl
12yr1mo
yes
1
3
1
Audrey
girl
11yr6mo
yes
1
3
Sarah
girl
11yr11m
yes/no
1
Tim
boy
11yr10m
no
Nikolas
boy
12yr4mo
Antonio
0
0
0
1
1
2
0
3
2
1
2
1
1
1
4
3
0
4
yes
3
2
1
2
2
2
boy
12 yes
3
1
2
5
2
3
Jamison boy
11 yes
3
1
4
0
3
2
Carlos
boy
11 yes
1
2
3
5
5
3
Madison girl
11 yes
3
3
4
5
5
4
Arielle
12 no
0
0
0
3
3
1
3
Data continued- Camp
Dilemma
Name
Refuse? Value
Katie
yes
2
4
1
3
2
2
Marissa
yes
2
4
2
3
3
3
Audrey
yes
2
3
1
3
2
2
Sarah
no
2
2
0
3
1
2
Tim
no
1
1
0
1
2
1
Nikolas
yes
2
4
1
3
4
3
Antonio
yes
2
2
2
1
2
2
Jamison yes
4
4
4
4
3
4
Carlos
yes
0
0
0
1
1
0
Madison yes
2
3
3
2
2
2
Arielle
4
4
4
4
3
4
no
Role
Authority Justice
Promise
Average
Some of Our Results
Name
Katie
Marissa
Audrey
Sarah
Madison
Tim
Nikolas
Antonio
Jamison
Gender
girl
girl
girl
girl
girl
boy
boy
boy
boy
Carlos
Arielle
boy
girl
Age
12yr4mo
12yr1mo
11yr6mo
11yr11mo
11
11yr10mo
12yr4mo
12
11
Score
0,2
1,3
2,2
1,2
4,2
3,1
2,3
3,2
2,4
11 3,0
12 1,4
Kohlberg's Levels
Gilligans Levels
2
3
3
2
4
3
3
3
4
Preconventional
Conventional
Conventional
Conventional
Conventional
Preconventional
Preconventional
Conventional
Conventional
Preconventional
Conventional
Conventional
Preconventional
Conventional
Conventional
Conventional
Conventional
Conventional
4 Conventional
3 Conventional
Conventional
Preconventional
To answer our questions…


Our results did not show any patterns that
distinguished the girls from the boys on these
moral issues.
There are no gender differences at the age
we studied but may still become apparent at
later ages we did not study.
Our Conclusion:
Our hypothesis was that as students approached
puberty the gender differences would begin to
become apparent. What we saw instead was that
Kohlberg's study may have been biased toward the
justice-oriented, but not necessarily towards men. Of
the four students who scored differently when judged
by Kohlberg and Gilligan, only one of those was a girl
and she actually scored lower on Gilligan's scale.
Gilligan showed that there is more than one idea of
morality and that Kohlberg's analysis was incomplete.
However, her suggestion that men are more inclined
one way and women to another is also gender
biased.
►
Limitations of Our Study

Our Study was limited in ways that were usually
unavoidable. It was only a small project and we only
had a small number of subjects that were studied.
Kohlberg interviewed nearly a hundred boys to reach
his conclusions on morality and we only interviewed
eleven sixth graders. Our questioning was thorough
for each dilemma and we were able to score.
Limitations

The students had difficulty answering the questions
because they were able to see both sides of each
situation. Although they were required to pick either
yes or no for each question their indecisive
explanations often made it even more difficult for us
to score. Many of the questions seemed repetitive
for the students and they simply repeated the
answers over and over again.