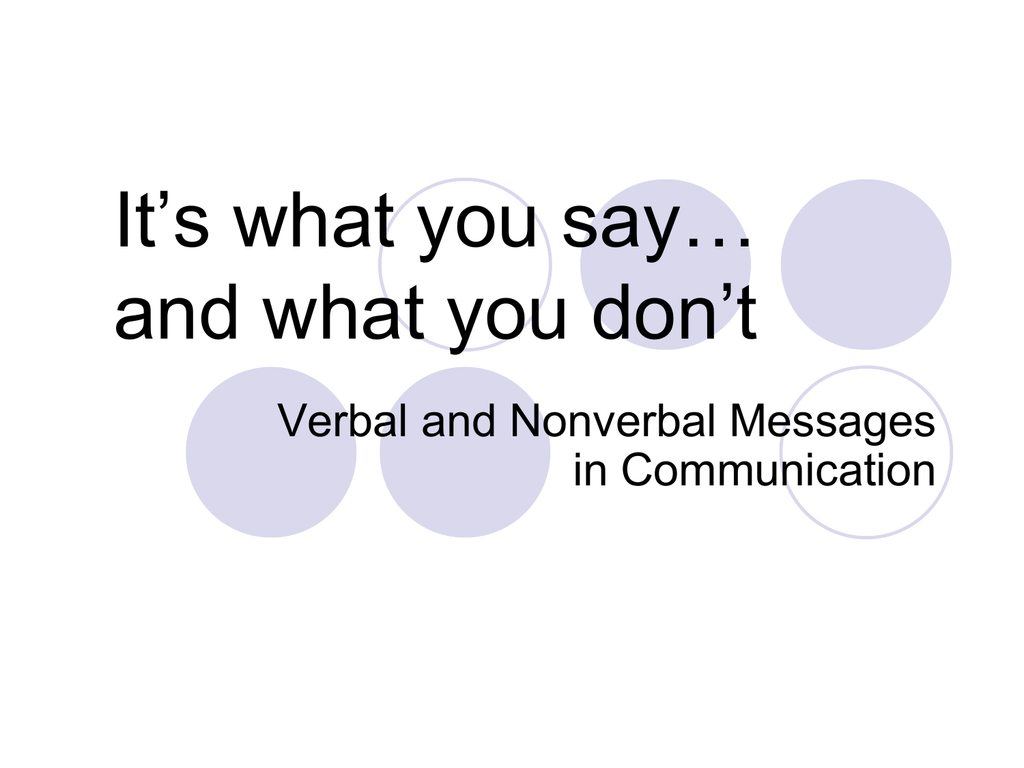 It's what you say…
and what you don't
Verbal and Nonverbal Messages
in Communication
Nonverbal Messages in Communication
Why look at nonverbal messages?
Up to 93% of emotional meaning is taken from
nonverbal messages
What is nonverbal communication?
All the behaviors and elements of people, other
than words, that convey meaning
Some Examples . . .
 Winking
 Smiling
 Shrugging
 Turning away
 Handwriting
 Prolonged eye
contact
 handshake
 High five
 Nudge
 Waving
 Leaning forward
 Tapping toe
 Finger to lips
 Sitting at the head of
table
Characteristics of Nonverbal
Communication
Nonverbal messages are not easily
controlled
When nonverbal and verbal messages
conflict, nonverbals are usually more
accurate
Nonverbal is more effective than verbal
communication for expressing messages
in a less confrontational manner
Appearance is Nonverbal
Communication
Types of clothing
Skin color
Height
Weight
Attractiveness
Artifacts – makeup, glasses, jewelry,
tattoos, piercings
Appearance
Appearance
Appearance…
Appearance
Appearance in Other Cultures
Kinesics (Body Movement) is
Nonverbal Communication
 Emblems – directly translate into words/phrases
(OK sign)
 Illustrators – accompany and illustrate a verbal
message (size of fish you caught)
 Affect displays – emotional meaning (fear,
happiness, anger, etc.)
 Regulators – monitor, maintain, or control the
speaking of another (hand gesture to slow
down)
 Adaptors – satisfy some need (scratching your
head)
 Distractors – no function (nervous habits)
Facial Expressions
Eye contact and movements
Avoidance
Pupil dilation – more dilated, more interested
Eye contact is often the most telling of all
nonverbal communication. We have an
extremely difficult time controlling the
unconscious movements of our eyes.
Physical Environment is Nonverbal
Communication
Many organizations pay a lot of attention
to the physical environment where
communication takes place
Room color
Room arrangement
Temperature
Paralanguage is Nonverbal
Communication
How something is said; anything that
affects the content of what is said
Stress
Pitch
Rate
Volume
Rhythm
Fillers
Pauses
Distractors – yawning, laughing, moaning, etc.
Proxemics
Study of Space
Edwin T. Hall's Zones of Space
Intimate Distance – 0 to 18 inches
Personal Distance – 18 inches to 4 feet
Social – 4 to 12 feet
Public – 12 to 25 feet
Proxemics (cont.)
Social
Intimate
Personal
Public
Other Nonverbal Communication
 Haptics – the study of touch
 Olfactics – the study of smell
 Territoriality – personal space and territory
 Temporal Communication
Cultural time
 technical – actual time
 formal – made for convenience (day, week, semester)
 Informal – soon, forever, later, sometime
Psychological time
 Importance you place on the past, present and future
In Conclusion . . .
Learn to control
nonverbal
communication or it will
control you!