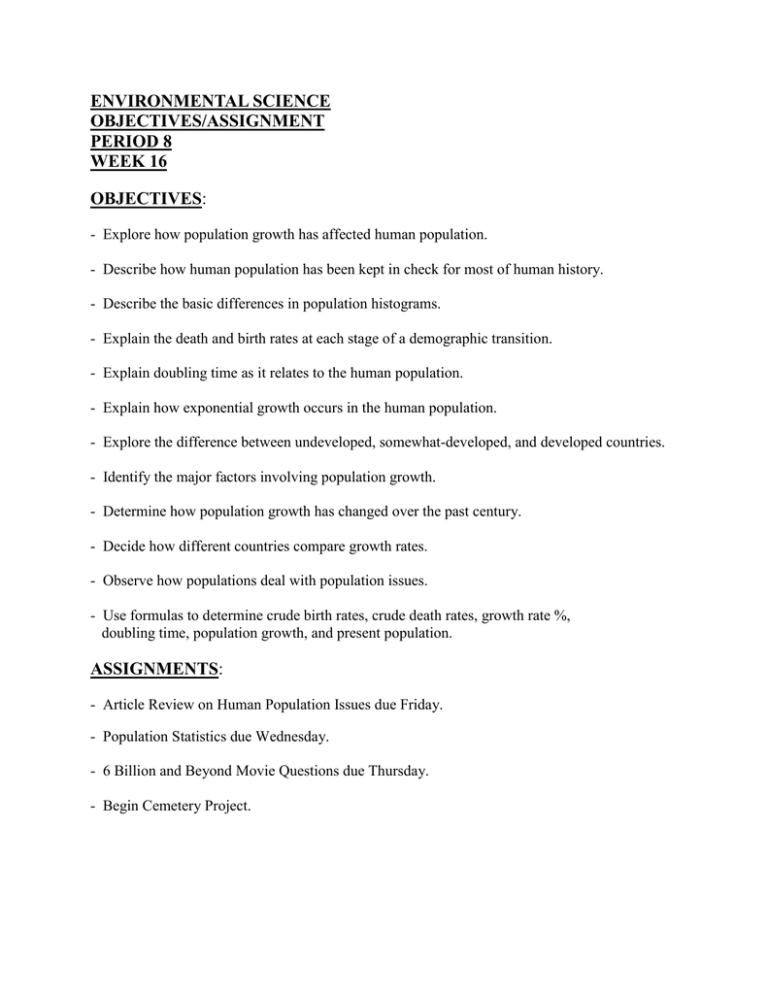 ENVIRONMENTAL SCIENCE
OBJECTIVES/ASSIGNMENT
PERIOD 8
WEEK 16
OBJECTIVES:
- Explore how population growth has affected human population.
- Describe how human population has been kept in check for most of human history.
- Describe the basic differences in population histograms.
- Explain the death and birth rates at each stage of a demographic transition.
- Explain doubling time as it relates to the human population.
- Explain how exponential growth occurs in the human population.
- Explore the difference between undeveloped, somewhat-developed, and developed countries.
- Identify the major factors involving population growth.
- Determine how population growth has changed over the past century.
- Decide how different countries compare growth rates.
- Observe how populations deal with population issues.
- Use formulas to determine crude birth rates, crude death rates, growth rate %,
doubling time, population growth, and present population.
ASSIGNMENTS:
- Article Review on Human Population Issues due Friday.
- Population Statistics due Wednesday.
- 6 Billion and Beyond Movie Questions due Thursday.
- Begin Cemetery Project.