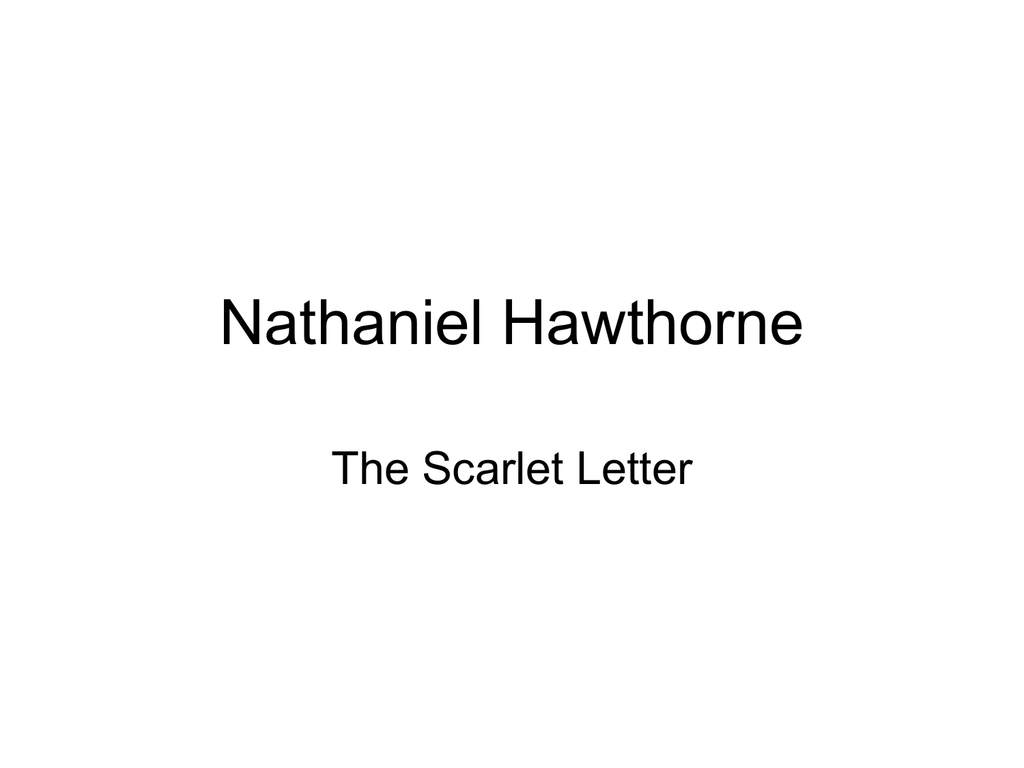 Nathaniel Hawthorne
The Scarlet Letter
Puritanism/Scarlet Letter Timeline
In History:
1620-1628 -Pilgrims/Puritans come
to America
-Harvard founded-religious
1638
higher education
In the novel:
1642
-Ch. 1-4 public scaffold scene
Pearl=baby in mother's
arms
-Scene at Governor
Bellingham's
Pearl=3 years old
-Novel's climax at scaffold
Pearl=7 years old
1645
1649
1655
1692
-Christmas Celebration
outlawed by Puritans
-Salem Witch Trials: dissent, love
1850
triangles, landlust=breakdown of Puritan
theocracy ; w/Judge John Hathorne
-Last Chapter of novel (sort of)
Hawthorne publishes Scarlet Letter (200 years later, during Romantic
Era, so written in romantic style, but with Puritan influences and themes)
American Romanticism
• Authors: Washington Irving, Edgar Allen Poe (more
Gothic/Dark Romantic), Hawthorne
Contemporary with Transcendentalists—
Emerson and Thoreau
• Valued feelings and intuition over reason
Reaction against classicism (rationalism)
• Valued individual freedom and worth of individual
• Explore subconscious; pre-Freudian psychology, faith in
inner experience
• More individualistic, less societal; about finding yourself
• Seems ancient, traditional, gothic, pastoral
• Role of Frontier, critical of society—escape to nature to
gain moral and spiritual development
• Gothic elements (darkness, considers conflicts between
good and evil, sin, insanity, psychological effects, etc.)
• Power of imagination
• Beauty in exotic, supernatural, myth/legend/folklore
Hawthorne Bio Info
•
•
•
•
•
•
•
•
•
•
•
•
•
•
1804-Childhood
College 1821-1825
Isolation 1825-1837
1837
1839
1842
1846-1849
1850
1851
1852
1853-1860
1860
1863
1864
=
=
=
=
=
=
=
=
=
=
=
=
=
=
Salem: born, father dies, family poor, single mom, adds w
Bowdoin, Maine w/F. Pierce, goofed off, mediocre student
"dismal chamber" to learn how to write well
Twice Told Tales, about secrets of violence in heart
Engaged; utopian farm-Brook Farm w/Transcendentalists
Marries Sophia, moves to Concord where famous writers
job at Custom House; mom dies, loses job
Scarlet Letter $ and success "hellfire story"
House of Seven Gables and Snow Image
Blithedale Romance
U.S. Counsel at Liverpool, Marble Faun—travel log
Pierce defeated; Lincoln=Civil War, H. out of place
journals Our Old Home
dies (of solitude, according to Emerson)
Point of View
•
•
•
•
•
•
•
•
•
•
•
•
Participant
1st person pronouns
Narrator=character
Innocent eye
Stream of consciousness
Life stages
Immediacy/perception
Approach another character
Eye witness
Summarize and mediate
Trustworthy? Conclusions and
opinions may be inaccurate
Own mind only
•
•
•
•
•
•
•
•
•
•
Non-participant
3rd person pronouns
Omniscient enters minds of all
characters
Selective omniscient – one or a few
characters
Objective = camera or fly on a wall
Describes characters thoughts,
feelings, actions
Close view to larger perspective
Commentary
Limited omniscient – distance from
other characters, more unified
Objective – not directly influenced by
author's statement
Themes
•
•
•
•
•
•
•
Adultery
Alienation
Initiation
Guilt
Hypocrisy v. Integrity
Fate v. Free Will
Individual Rights v.
Society
• Use of Allegory
• Moral Pride v. Intellect
Symbols
• Rose/rosebush
• Letter A
• Light/Dark
• Others
"The Custom House" General Info.
• Custom House: Government building where customs
are collected and where ships are cleared to enter or
leave county (by water)
• Hawthorne worked there for 27 months 1847-49 as
surveyor (pretty much everyone else's boss)
• "The Custom House" is both factual and fictional—he
did work at one and tells stories of real people, but
made up some of the stories, esp. the Letter A and
Hester Prynne
• "The Custom House" is intro. to Scarlet Letter—
included for $ and more text, but also to set up
explanation why he wrote it (fictional) and themes of
isolation, alienation, etc.
Custom House Picture
From first page of "The Custom-House" chapter in the
1878 edition of The Scarlet Letter published in 1878 by
James R. Osgood and Co. in Boston.