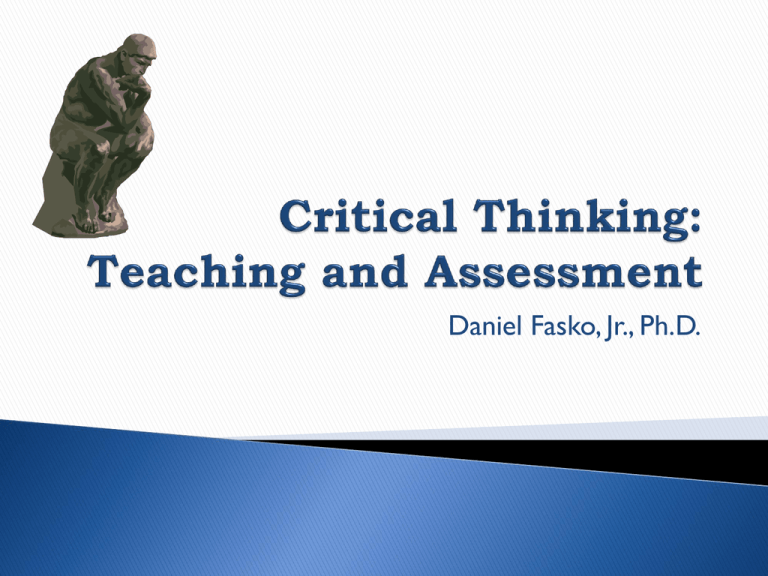 Daniel Fasko, Jr., Ph.D.






Definition of Critical Thinking
Critical Thinking Skills
Critical Thinking Dispositions
Instructional Strategies
Assessment Techniques
Review of Samples of Syllabi



Refers to the skills of reflective intelligence used in
making decisions about what to believe and what to do.
(R. Ennis, 1996)
This is the definition I will use for this colloquia.
There are many other definitions too numerous to
discuss today. (See Fasko, 2003.)
•
•
•
•
•
•
•
•
•
Optimism
Confidence
Acceptance of Ambiguity & Uncertainty
Wide Range of Interests
Flexibility
Tolerance of Complexity
Curiosity
Persistence (but not stubborn persistence)
Independence







Distinguishing Fact from Opinion
Determining the Reliability of Sources
Clarifying
Evaluating
Comparing and Contrasting
Sequencing
Noting Similarities & Differences






Distinguishing Relevant from Irrelevant Facts
Making Predictions
Recognizing Contradictions
Exploring Implications
Recognizing Statements that are Provable
(Brookfield, 1987)
Self-Regulation
•
•
•
•
•
•
•
•
•
Seeking a Clear Statement of the Thesis or Question
Seeking Reasons
Being Well Informed
Using and Noting Credible Sources
Considering the Total Situation
Remaining Relevant to the Main Point
Keeping in Mind the Original or Basic Concern
Curiosity
Self-Confidence
•
•
•
•
•
•
Look for Alternatives
Being Open-minded*
Taking and/or Changing a Position when the Evidence
is Sufficient to do so
Seeking Precision
Dealing in an Orderly Manner with the Parts of a
Complex Whole
Being Sensitive to the Feelings, Levels of Knowledge,
and Degree of Sophistication of Others






Ensure that students process information.
Ask broad, open, and higher-order
(How & Why) questions. (Use Socratic Method.)
After asking questions wait at least 4-5 seconds before
calling on students.
Probe student responses by asking for: clarification,
elaboration, evidence.*
Use arguments.
"Fishbowling"
•
•
•
•
•
•
•
Have a clear purpose for and plan of activities (active
learning) to accomplish it.
Model problem solving and thinking processes.
Encourage students to ask questions of their own.
Promote open discussion in groups.
Play "Devil's advocate".
Course topics should refer to practical situations that
students can relate to
Use a consistent thinking skills vocabulary.
•
•
•
•
•
•
•
•
•
•
Infer
Conclude
Criteria
Point of view
Relevance
Issue
Contradiction
Credibility
Evidence*
Prioritize
•
•
•
•
•
•
•
•
•
•
Distinguish
Elaborate
Justify
Perspective
Interpret
Analyze
Synthesize
Explain
Compare
Summarize
•
•
•
•
•
•
•
•
•
Hypothesize
Relate
Problem solve
Make decisions
Main idea
Predict
Derive
Classify
Evaluate
•
•
•
•
•
•
•
•
Ask questions; be willing to wonder.
Define the problem.
Examine the evidence.*
Analyze biases and assumptions.
Avoid emotional reasoning.
Do not oversimplify.
Consider other interpretations.
Tolerate uncertainty. (C. Wade & C. Tavris, 1990).


Involves inferring specific
conclusions based on a
general premise.
Errors typically are due to
erroneous premises and
faulty logic.
Deductive


Involves inferring a general
conclusion based on specific
instances.
Errors are usually the result
of overgeneralizing from
biased, insufficient, or
inappropriate observation.
(D.A. Levy, 1997).
Inductive
•
•
•
•
Help them to differentiate between Deductive and Inductive
reasoning, (use examples).
Help them recognize that different types of problems, tasks,
and goals call for different reasoning strategies.
Remind them that when using deductive reasoning, that they
should be sure that their initial assumptions are correct and
that their logic is sound.
Remind them that when using inductive reasoning, that they
should be careful not to hastily overgeneralize from an
unrepresentative, inadequate, or otherwise flawed initial data
base. (D.A. Levy, 1997)




Authentic assessment – ask students to apply skills and
abilities as they would in real life situations
(Woolfolk, 2010).
Performance assessments –
◦ Portfolios
◦ Exhibitions
Commercial tests of Critical Thinking (see readings)
Non-Commercial tests of Critical Thinking (see readings)


Rubric: A set of scoring guidelines for assessing
student performance
An Assessment Method Should:
◦ Link Assessment Results to Student Learning
◦ Provide Students with Useful Feedback by Pointing to Ways
they can Improve

http://www.scientificmethod.com/index.html
http://austhink.com/critical/index.htm

www.wadsworth.com/colsuccess_d/special.../critical_thinking.rtf

www.indiana.edu/~reading/ieo/bibs/crit-elesec.html

http://trc.ucdavis.edu/wp-content/uploads/2008/12/activelearningtacucd.pdf

http://www.crlt.umich.edu/tstrategies/tsal.php



http://www.insightassessment.com/pdf_files/Exernalizing%20CT_%20Nsg%20
Otlk%201996.PDF
www.criticalthinking.org

List words/phrases that describe the critical thinking
outcomes you would like your students to achieve

List types of Critical Thinking assessment for your subject
matter
- Describe how each assessment will demonstrate
your Learning Outcomes
- Learning Outcomes may include:
Verbal Information
Intellectual Skills (e.g., demonstration of a
rule)
Cognitive Strategies (e.g., concept maps)
Attitudes
Psychomotor Skills (R. Gagne, 1985)

Looking-back

RAR – Revise As Required!