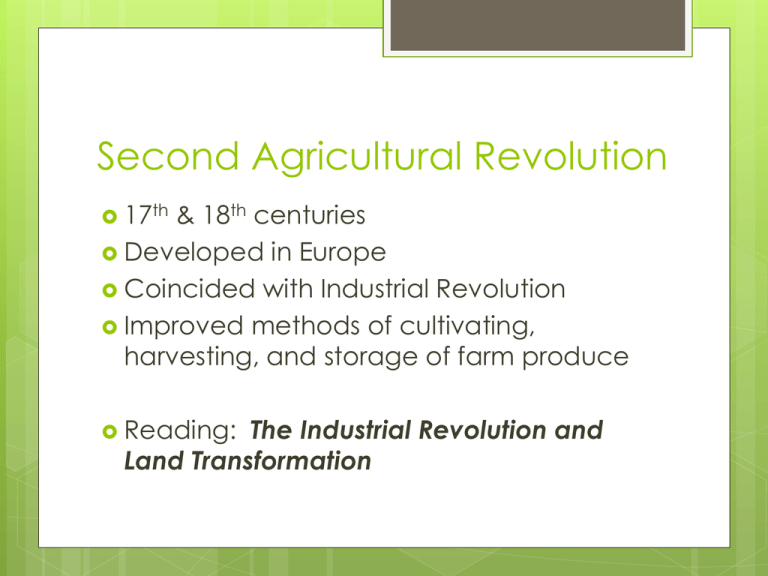 Second Agricultural Revolution
 17th
& 18th centuries
 Developed in Europe
 Coincided with Industrial Revolution
 Improved methods of cultivating,
harvesting, and storage of farm produce
 Reading:
The Industrial Revolution and
Land Transformation
 Reading
Task: Identify six consequences
the Industrial Revolution had on
agriculture and mankind's relationship
with the land.
Changes: Rise of the
Machines
Changes: Rise of the
Machines
Changes: Rise of the
Machines
Changes: New Technologies





Seed drill
Improved irrigation
New fertilizers
Artificial feeds (for
livestock)
Mechanical
reaper
European Crop Rotation
Changes: Population
 The
Industrial
Revolution has a
dramatic impact
on human
population.
 Increase demand
for food
 https://www.youtu
be.com/watch?v=
cv58ODIXdTw
Changes: New Jobs




Less people
working in
agriculture
City populations
grow
Factory jobs
available
Farming goes from
subsistence to
commercial.
Subsistence vs. Commercial
Subsistence (LDC)

Purpose





Mostly isolated
Minority of population
Machinery


Large
% of farmers


Off-farm sale
Farm size

Mostly by hand
Farms & other industries


Majority of population
Machinery


Small
% of farmers


Consumption
Farm size


Commercial (MDC)
Purpose
Mostly mechanized
Farms & other industries

Highly integrated
Labor Force In Agriculture
o In MDCs relatively few people work in agriculture.
o In LDCs the percentage of people in agriculture can
be very high – often a majority.
Machinery
o The reason that a small number of farmers are able to feed
large numbers of people in MDCs is because of machinery
– tractors, cultivators, milking machines, etc.
o Transportation systems are also important, as are the use of
fertilizers, herbicides, advanced plant and animal breeding
programs, and even electronic monitoring of crops.
Farm Size
 Data
on farm size is hard to get – and different
farm types (e.g. ranches vs. gardens) make
meaningful comparisons difficult.
 Nevertheless – we can say that in developed
countries, farms do tend to be larger than in
developing countries.
Diet: MDC



vs
The more developed
a state is the higher
the food
consumption
Better food security:
physical, social, and
economic access at
all times to safe and
nutritious food
sufficient to meet
dietary needs.
Food is grown and
shipped from far off
places.
LDC



Less developed
countries struggle more
with food security and
undernourishment
(roughly 870 million
people globally).
15% of population in
LDC or developing
countries
undernourished
compared to 5% in
developed.
Most undernourished
places: South Asia,
Sub-Saharan Africa,
East Asia.