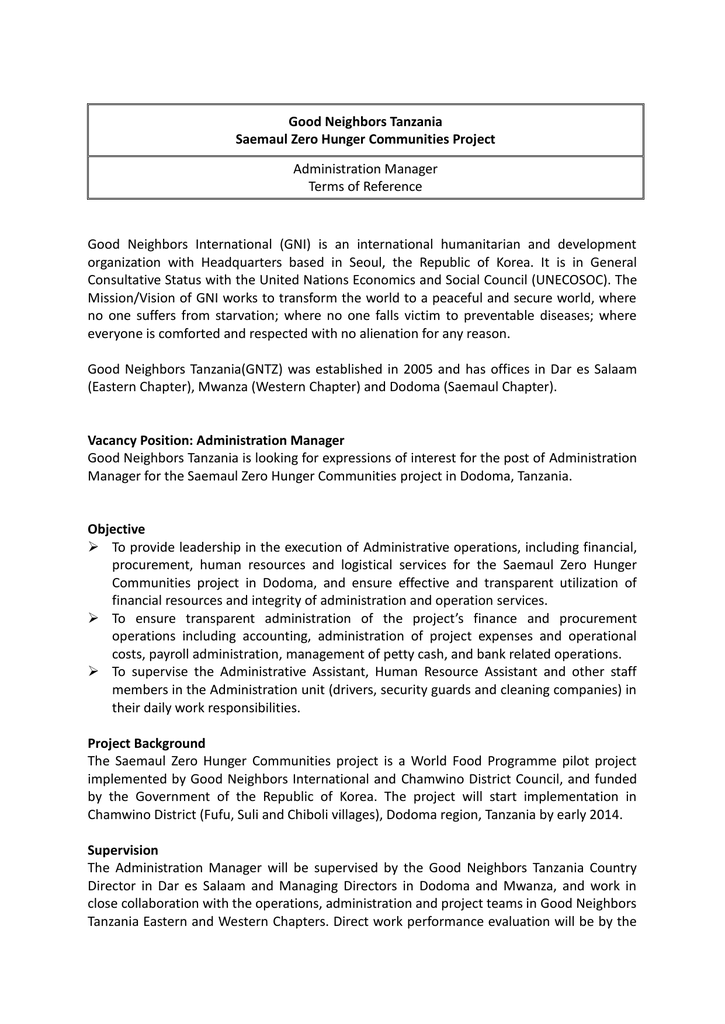 Good Neighbors Tanzania
Saemaul Zero Hunger Communities Project
Administration Manager
Terms of Reference
Good Neighbors International (GNI) is an international humanitarian and development
organization with Headquarters based in Seoul, the Republic of Korea. It is in General
Consultative Status with the United Nations Economics and Social Council (UNECOSOC). The
Mission/Vision of GNI works to transform the world to a peaceful and secure world, where
no one suffers from starvation; where no one falls victim to preventable diseases; where
everyone is comforted and respected with no alienation for any reason.
Good Neighbors Tanzania(GNTZ) was established in 2005 and has offices in Dar es Salaam
(Eastern Chapter), Mwanza (Western Chapter) and Dodoma (Saemaul Chapter).
Vacancy Position: Administration Manager
Good Neighbors Tanzania is looking for expressions of interest for the post of Administration
Manager for the Saemaul Zero Hunger Communities project in Dodoma, Tanzania.
Objective
 To provide leadership in the execution of Administrative operations, including financial,
procurement, human resources and logistical services for the Saemaul Zero Hunger
Communities project in Dodoma, and ensure effective and transparent utilization of
financial resources and integrity of administration and operation services.
 To ensure transparent administration of the project's finance and procurement
operations including accounting, administration of project expenses and operational
costs, payroll administration, management of petty cash, and bank related operations.
 To supervise the Administrative Assistant, Human Resource Assistant and other staff
members in the Administration unit (drivers, security guards and cleaning companies) in
their daily work responsibilities.
Project Background
The Saemaul Zero Hunger Communities project is a World Food Programme pilot project
implemented by Good Neighbors International and Chamwino District Council, and funded
by the Government of the Republic of Korea. The project will start implementation in
Chamwino District (Fufu, Suli and Chiboli villages), Dodoma region, Tanzania by early 2014.
Supervision
The Administration Manager will be supervised by the Good Neighbors Tanzania Country
Director in Dar es Salaam and Managing Directors in Dodoma and Mwanza, and work in
close collaboration with the operations, administration and project teams in Good Neighbors
Tanzania Eastern and Western Chapters. Direct work performance evaluation will be by the
GNTZ Managing Director in Dodoma Office. This is a full time position based in Dodoma,
Tanzania for Nationals of the Republic of Tanzania.
Duties and Responsibilities
Finance
1) Develop and establish practical and effective financial systems and procedures which is
appropriate, transparent and accountable. The financial procedures should be
compatible with and support wider Good Neighbors International financial accounting
systems.
2) Manage and oversee all financial administration in the office, including budget control,
payment of utilities and office operational costs,administration of staff payroll, and
financial operations necessary for project implementation.
3) Responsible as focal person for bank and account management, and other routine bank
operational matters, including timely and accurate preparation of bank reconciliations
and timely preparation of monthly cashflow forecast for the project and administration.
4) Weekly reporting of finance updates to the Managing Director and GNI Headquarters.
5) Provide training toGood Neighbors staff on financial procedures and transparent
management of financial transactions. Ensure transfer of know-how and skills to staff in
the administration department, to ensure smooth handover when Finance Officer is on
leave or absent.
Procurement, Human Resources & Other Duties
1) Responsible for the procurement, management and control, and distribution of office
stationery (including printer cartridges, printing paper, etc), office supplies (toiletries,
drinking water, equipment, furniture), administration of recurring expenditures –
broadband services, security services, utilities, and for ensuring documentation (budget
requests, proforma invoices, procurement and service contracts, receipts and funds
utilization reports) and inventory lists are updated and accurate.
2) Responsible for ensuring all office operations and administration related with human
resources, including supervision and management of Human Resource Assistant, is
carried out smoothly and transparently, with the necessary documentation and
administrative resources in place and available for use by Management.
3) In the absence of the Administrative Assistant, Human Resource Assistant or other
administrative staff, the Administration Manager should be able to carry out required
duties to ensure smooth operations in the Saemaul office in Dodoma, Tanzania.
Competencies & Qualifications
1. Bachelors Degree in Finance or Accounting
2. Minimum 5 years work experience in the field of finance and accounting.
3. Fluent spoken and written English
4. Excellent skills in use of Microsoft Excel and MS Word
5. Ability to work in an international and multi-national environment
6. Religious and cultural tolerance
7. Interest in community and rural development
8. Commitment to abide by Good Neighbors Tanzania Staff Terms and Regulations
Duration
The Employment Contract will be for a period of 12 months, with possibility of contract
extension. The first 3 months will be a probation period, and the Employer will have the
right to terminate the contract within this probation period if the candidate is deemed
unsuitable for the position. Contract extension will depend on the candidate's satisfactory
performance as Administration Manager and his/her appropriate code of conduct in the
office. This is a full time position based in Dodoma town, Tanzania, with frequent visits to
the project site (Fufu, Suli and Chiboli villages in Chamwino District).
Mode of Application
Interested and qualified Tanzanians are invited to send their applications enclosing cover
letter, curriculum vitae, certificate copies of relevant education and professional
qualifications together with names of three referees and their contact details to
[email protected] by 01, January, 2014.