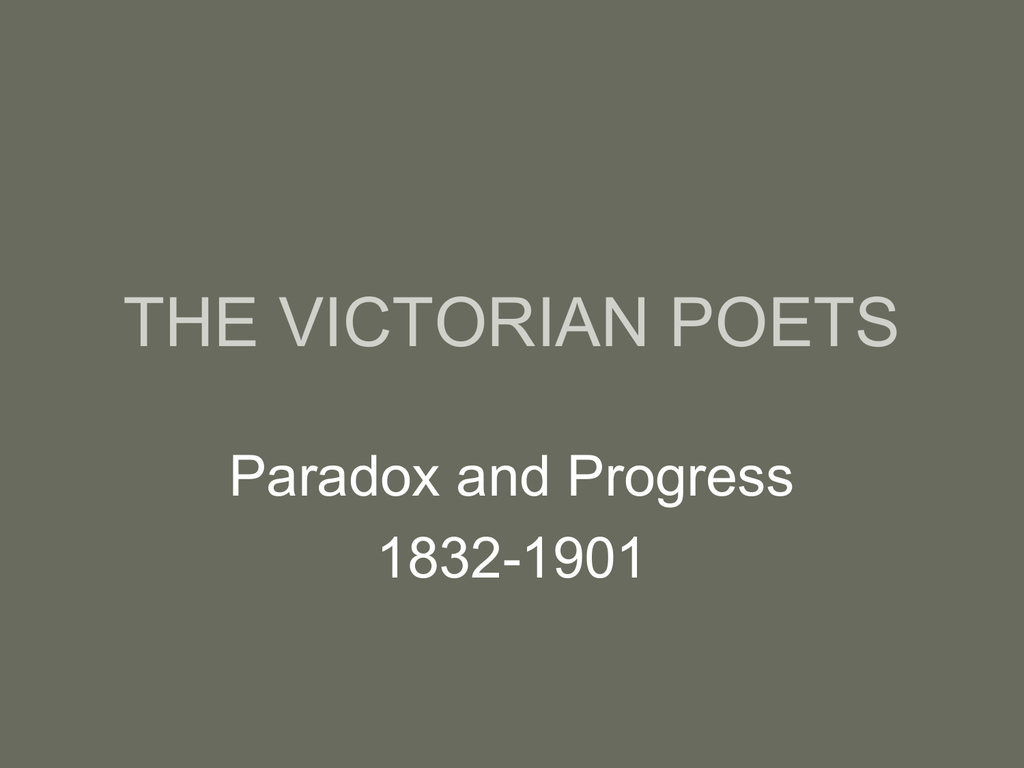 THE VICTORIAN POETS
Paradox and Progress
1832-1901
Novels
•
•
•
•
Increasing importance of the novel
Dickens: Hard Times; Great Expectations
Anthony Trollope: Barchester Towers
Charlotte Bronte: Jane EyreEmily Bronte:
Wuthering Heights
• George Eliot: Middlemarch Thomas
Hardy: Tess of the D'Urbervilles
Poetic concepts
• Realism: capture every day life
• focused on effects of Industrial Revolution
• social problems brought to public attention
• Psychological Realism: inner realities of the
mind
• a blend of Romanticism and realism
• Naturalism: nature and society are indifferent to
human suffering
• Loved heroic, chivalrous tales of honor
• reclaiming of the past
CENTRAL POETS
•
•
•
•
•
•
Alfred, Lord Tennyson
Charles Dickens
Robert Browning
Elizabeth Barrett Browning
Gerard Manley Hopkins
Thomas Hardy
(1809-1892)
(1812-1870)
(1812-1889)
(1806-1861)
(1844-1889)
(1840-1928)
ALFRED, LORD TENNYSON
• THE MOST POPULAR POET OF HIS DAY &
POET LAUREATE AFTER WORDS-WORTH,
HIS FAME WAS ENHANCED BY HIS
COLORFUL APPEARANCE.
TENNYSON (cont.)
• TENNYSON WROTE IN A DIGNIFIED
BLANK VERSE THAT HE WORKED
HARD TO DEVELOP, AND HE WAS
ESPECIALLY INSPIRED BY THE
CLASS-ICAL PAST.
TENNYSON (cont.)
• HIS MIND WAS DRAWN TO STATES OF
WEARINESS & MELANCHOLY ISOLATION THAT WERE A COUNTERPOINT
TO THE ENERGY & DYNAMISM OF THE
AGE.
ROBERT BROWNING
• INFLUENCED BY PERCY SHELLEY, AT
AGE 14 HE BECAME AN ATHEIST & A
LIBERAL, THOUGH HE LATER GREW
AWAY FROM BOTH.
BROWNING (cont.)
• EARLY IN HIS CAREER HE WAS MUCH
LESS APPRECIATED AS A POET THAN
HIS WIFE, ELIZABETH BARRETT, BUT
BY THE 1860S HE WAS CONSIDERED
THE RIVAL OF TENNYSON.
BROWNING (cont.)
• BROWNING IS ESPECIALLY REGARDED FOR HIS INNOVATIONS IN THE
DRAMATIC MONOLOGUE, IN WHICH
THE WORDS OF A SPEAKER OTHER
THAN THE POET MUST BE ANALYZED
TO DETERMINE THE POET'S MEANING.
BROWNING (cont.)
• UNLIKE TENNYSON'S SMOOTH, POLISHED, ELEVATED VERSE, HIS STYLE
IS VERY UN-VICTORIAN, BEING DIS-
CORDANT, COLLOQUIAL, & FULL OF
UNEXPECTED JUXTAPOSITIONS.
BROWNING (cont.)
• THOUGH SEEMINGLY UNLIKE OTHER
VICTORIAN POETS, HE HAS MUCH IN
COMMON W/ PROSE WRITERS OF
THE DAY IN HIS EMPHASIS ON THE
GROTESQUE & ON REVEALING THE
COMPLEXITY OF HUMAN MOTIVES &
THE WORKINGS OF THE MIND.
BROWNING (cont.)
• PROBABLY HIS MOST VICTORIAN
QUALITY IS HIS EXUBERANCE &
ENERGY.
Elizabeth Barrett Browning
Education
• Elizabeth was educated at home.
• She had read passages from Paradise
Lost and a number of Shakespearean
plays among.
• Written her first "epic" poem, which
consisted of four books of rhyming
couplets.
Old Testament
• She taught herself Hebrew so that
she could read the Old Testament;
her interests later turned to Greek
studies.
• Accompanying her appetite for the
classics was a passionate
enthusiasm for her Christian faith.
Poems con.
• In 1826 Elizabeth anonymously
published her collection An Essay on
Mind and Other Poems.
• During this time, she wrote The
Seraphim and Other Poems (1838).
Obituary
• In 1846, the couple eloped and
settled in Florence, Italy.
• Elizabeth's father never spoke to her
again.
Sonnets
• Elizabeth's Sonnets from the
Portuguese, dedicated to her
husband and written in secret before
her marriage, was published in 1850.
GERARD MANLEY HOPKINS
• A CATHOLIC PRIEST & ONE OF THE
GREATEST VICTORIAN POETS, HE IS
KNOWN FOR HIS EXPERIMENTS W/
LANGUAGE & RHYME & ESPECIALLY
"SPRUNG RHYTHM."
HOPKINS (cont.)
• IN SPRUNG RHYTHM, LINES HAVE A
SET NUMBER OF STRESSES, BUT THE
NUMBER & PLACEMENT OF THE UN-
STRESSED SYLLABLES VARIES
GREAT-LY.
HOPKINS (cont.)
• REGARDED AS A PIONEER OF MOD-
ERN LITERATURE, HIS POEMS WERE
NOT PUBLISHED UNTIL ALMOST 30
YEARS AFTER HIS DEATH.
Thomas Hardy
•Born in 1840, Thomas Hardy became known as a
prominent novelist and poet in British and American
literature.
•He published 8 volumes of poetry, one being published
posthumously.
•Hardy's poetry is commonly referred to as pessimistic
and was not received well during his lifetime.
•One of the most common elements seen throughout
Hardy's poetry is his use of autobiographical information
within the poems
Disillusioned
Love
"Neutral Tones"
In Hardy's earlier works, this was a favored theme. Love was never
reciprocated or happy, but tedious and marked with infidelity. The poems of
1912-1913 written after Emma's death are also considered love poems.
Religion/Loss
of Faith
"The Oxen"
Hardy was a pronounced agnostic
during his later life. His poetry is
marked with his disbelief in God
and a belief in some other ruling
force within the universe. In some
ways, Hardy needs the basis of
belief to show disbelief in his
poetry.
Chance and Coincidence
"Hap"
Hardy's most discussed and most
widely used theme is that of chance
and coincidence. One entire volume
of poetry is devoted to the "Satires of
Circumstance." For Hardy, there was
no omniscient ruling power of the
universe. The experiences in one's
life were a result of Chance and
Coincidence.