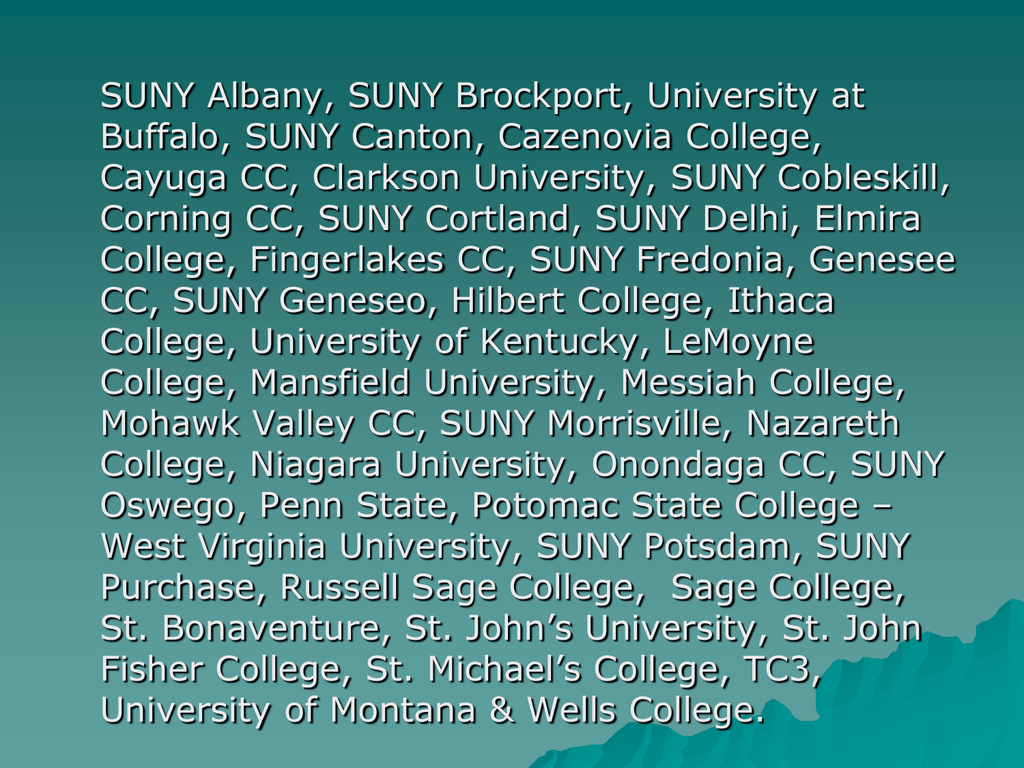 SUNY Albany, SUNY Brockport, University at
Buffalo, SUNY Canton, Cazenovia College,
Cayuga CC, Clarkson University, SUNY Cobleskill,
Corning CC, SUNY Cortland, SUNY Delhi, Elmira
College, Fingerlakes CC, SUNY Fredonia, Genesee
CC, SUNY Geneseo, Hilbert College, Ithaca
College, University of Kentucky, LeMoyne
College, Mansfield University, Messiah College,
Mohawk Valley CC, SUNY Morrisville, Nazareth
College, Niagara University, Onondaga CC, SUNY
Oswego, Penn State, Potomac State College –
West Virginia University, SUNY Potsdam, SUNY
Purchase, Russell Sage College, Sage College,
St. Bonaventure, St. John's University, St. John
Fisher College, St. Michael's College, TC3,
University of Montana & Wells College.
15 months to
graduation…
now what?
The Big Picture
After High School Options:
Work
Military
Volunteering
College
Live at home forever
Work
 People
spend most of their waking
hours WORKING!
 Whatever road you choose…you
should find some gratification
 Take an interest test
 Now is the time to explore options
that meet your interests and
abilities.
Military
US Air Force
 US Army
 US Marine Corps
 US NAVY
 US Coast Guard
 Reserves
 ROTC Options?
*Recruiters will come to the school and/or
your home to discuss the options of the
military

Volunteerism
 Peace
Corps
 Americorps
 City Year
 Options!
Business, Trade, Technical
 Many
careers do not require college
 Learning a trade, earning a
certificate
– Mechanics
– Graphic Design
– Cosmetology
– Landscaping
College

Type of institution
–
–
–
–

Two year
Four year
Technical
Certification Programs
Geographic location:
– Region
– State
– Distance from home
•What are you looking for in a
college?

Majors offered/curriculum
– Liberal Arts
– Technical Training
– Business

Setting
– Urban
– Rural
– Suburban
•What are you looking for in a
college?
 Size
of institution
 Selectivity
 Diversity
•What are you looking for in a
college?
 Costs
to consider
– Tuition
– Room and board
– Fees
– Book fees
– Travel
•What are you looking for in a
college?
 Extracurricular
activities
– Sports
– Entertainment
– Religious
– Clubs
– Organizations
– Community Service
– Travel Opportunities/Abroad Programs
What are you looking for in a
college?

Housing
–
–
–
–
–
–
–
–
Coed
Rules
Roommates
Special interest
dorms
Size of room
Food
Off Campus Options
On campus
Requirements
What are you looking for in a
college?
Facilities
 Building
 Libraries
 Student union
 Classrooms
 Lecture halls

Labs
 Recreational &
Athletic offerings
 Shopping
 Laundry
 Handicapped
access

Who are you?

What have you
found most
interesting from:
– Academics
– Community service
– Activities

Put it all together
Self Knowledge

What are your
–
–
–
–
Goals
Abilities
Expectations
Interests
Use Lots of Resources
 Books
 Computers
 Counselor
 Former
Students
Visit Colleges
 Call
for tours
 Visit the campuses
 Visit again later in the year
 Prepare a list of questions
(students can be excused from school when they visit a college with a parent/guardian)
How Many Applications?
 One
or two "reach" schools
 Two
or three "realistic" schools
 One
safety school
Transcript Package:
Putting it all together
A
transcript of high school
courses
 Two academic teacher
recommendations
 School recommendation
 Personal resume
 Standardized test results
 First quarter progress reports
 Essay
What Do Schools Look For?




Open Enrollment
-Did the student meet Graduation Requirements
Least competitive
– High school record 90%
– Testing 5%
– Other 5%
Traditional level colleges
– High school record 50%
– Testing 25%
– Other 25%
Most competitive
– High school record 20%
– Testing 20%
– Other 60%
Keep Your Grades Up !
Junior year is a very important year. Many
colleges will be making preliminary
decisions based in this information.
 Your senior year is important too!
Strength of schedule can be a deciding
factor on admissions. I don't believe in
SENIORITIS!
 Schools will ask for your final transcript
 Don't relax, you've only just begun! You
need to make a plan and follow through
with it.

Mr. P's
suggestions
from
NOW
until
Summer Vacation
Mr. P Suggestion #1
Resume!
Get started on a resume ( a written list
of activities, interests, work
experiences, awards and goals).
Mr. P Suggestion #2
Recommendations
•Research how many are needed and who
should be asked to support your goals.
•Give your teachers plenty of notice.
•Supply the teacher with a resume.
Mr. P Suggestion #3
SAT Reasoning,
Subject Tests & ACT's
Tests commonly taken in spring of junior year and
fall of senior year
 Students sign up online or via registration packet
available in Guidance Office
 Sat Subject Tests are required by some private
schools…do your research.
 ACT plus writing can replace the SAT Reasoning at
some schools…again, do your research.

Mr. P Suggestion #4
Information Gathering
 Sending
for Course Catalogues
 Using Computer Software and
Internet
 Using Print Resources at School,
Home and Library
 College Fairs
 College Visits
Mr. P Suggestion #5
College Admissions Essay
Student should think about what they want to write about.
 Write in student's own voice
 Not try to sound impressive
 Be genuine
 Take time to concentrate on content, insights
 Write several drafts
 Take a close look at organization, structure and
transitions
 Not digress from topic
 Essay should give honest insight into who student really
is and how student views the world
One Final Thought…
 This
is certainly going to be a
stressful time for both students and
parents. Effective communication is
necessary so that you can continue
to work together to reach your goals.
I recommend setting ½ hour a week
to discuss post-high school plans.
Have discussions over dinner and
review your progress on reaching
your goals!