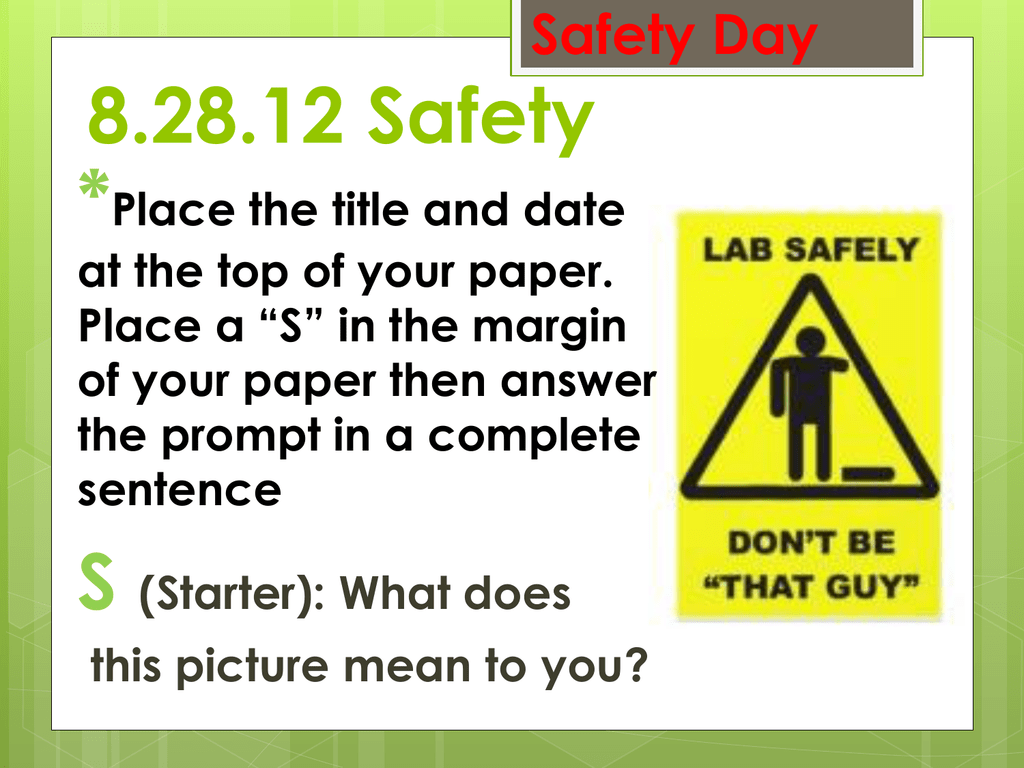 Safety Day
8.28.12 Safety
*Place the title and date
at the top of your paper.
Place a "S" in the margin
of your paper then answer
the prompt in a complete
sentence
S (Starter): What does
this picture mean to you?
Safety Scavenger Hunt
 "Give
One Get One"
My Answers
Answers from others
Write as many things
you remember about
lab safety from last
year.
Similar to People Bingo
yesterday you will get
up and collect new
safety tips from your
classmates. You will
have 10 mins
Be ready to share!
YouTube
P: Record as many safety rules
as you can from the video!
Lab Safety: Everyone Is Responsible!
Safety First
A:
 Science is a hands-on laboratory class.
 You
will be doing many laboratory
activities, which require the use of
hazardous chemicals and expensive lab
equipment.
 Safety in the science classroom is the #1
priority.
 A signed lab safety contract is required
to participate in labs.
Remember if you have not
turned in syllabus or
safety contract
get it to me ASAP!
Safety Symbols
A:
Eye Protection
• Wear safety goggles when working with chemicals,
flames, or heating devices.
• If a chemical gets in your eye, flush in water for 15
minutes and notify the teacher.
Sharp Objects
• When using knifes or other sharp objects always
walk with the points facing down.
• Cut away from fingers and body.
Electrical Safety
• Do not place a cord where someone can trip over it.
• Never use electricity around water.
• Unplug all equipment before leaving the room.
Safety Symbols
A:
Animal Safety
• Only handle living organisms with teacher
permission.
• Always treat living organisms humanely.
• Wash your hands after handling animals.
Heating Safety
• Tie back hair and loose clothes when working
with open flames.
• Never look into a container as you are heating it.
• Heated metal and glass looks cool, use tongs or
gloves before handling.
• Never leave a heat source unattended.
Safety Symbols
A:
Chemical Safety
• Read all labels twice before removing a chemical from
the container.
• Never touch, taste, or smell a chemical unless instructed
by the teacher.
• Transfer chemicals carefully!
Hand Safety
• If a chemical spills on your skin, notify the teacher and
rinse with water for 15 minutes.
• Carry glassware carefully.
Plant Safety
• Do not eat any plants in lab.
• Wash your hands after handling plants.
Safety Equip.
A:
•
•
•
•
Fire Extinguisher
Fire Blanket
First Aid Kit
Face/Eyewash/ Shower
*know where they are
and how to use them!
EMERGENCY
A:
If there is a fire or fire alarm
• Quietly get up.
• Walk toward the outside classroom door.
• Line up single file on the outside classroom
wall.
•Walk out the double doors in single file.
•Walk toward the teacher parking lot.
• Remain in line until the drill is over.
• Remain silent throughout the entire alarm so
that all people can hear important directions.
Lab Safety: Everyone Is Responsible!
C:
What's Wrong
Picture #1
C:
Picture #2
What's Wrong
What's Wrong
C:
Picture #3
C:
What's Wrong
1. Betty started the lab activity before reading it
through completely.
2. Bell says that the safety goggles mess up her hair
and give her raccoon eyes. She refuses to wear
them.
3. Barbie and Ben accidentally break a beaker full
of some chemical. Instead of risking getting in
trouble they quickly clean up the mess with
paper towel and throw it in the garbage.
Importance!
E:
Why
is it important to
conduct safety
investigations in a safe
manner?
Why is it important to
know how to operate
safety equipment?
Reminders
REMEMBER:
•Bring your safety
contract/syllabus if forgot it
TOMORROW!
•Be sure to bring Binder,
paper, and dividers tomorrow
for journal set up!!!
8.29.12 Journal Set Up
OBJ:
We will learn how to
organize our scientific work by
creating a scientific journal.
Get out Binder, Paper and Tabs.
Sit quietly (level 0) and wait for
instructions.
JOURNAL CONTRACT
STEP 1
Jason Mraz
Regina Spektor
your first
and Last
name NEATLY!
on the spine
of your
journal. Leave
space at the
bottom for
your class #
Andrea Bocelli
Write
1
2
3
Step 2
Label
your
tabs
Resource
space
1. Table of Contents
2. Resources
3. SPACE
4. Tests/Quizzes/Home
work.
5. Glossary
STEP 3 !
 Place
sheets of paper in the table of
contents, SPACE, and Glossary of your
Journal.
Step 4
 On
one piece of lose leaf paper. Create
your Table of contents. Needs a title and
the following.
Andrea Bocelli's Table of Contents
Date Activity
8.29.12 SPACE Format
PG #
1
STEP 5 SPACE RUBRIC
 On
a blank piece of paper create the title
"SPACE Format"
8.29.12 SPACE Format
S
P
A
C
E
Andrea Bocelli
PG #1
• Date, Activity Title, name and page # at
the top of every page
• Must have SPACE in the margin daily
• Complete sentences always
• Label all drawings
• Neat and easy to read
• Up to date table of contents
• Keep everything that is returned to you
in the correct location!
STEP 6
Under
the RESOURCE TAB place
the following
1. Journal Contract
2. Tools
3. STAAR chart
4. Scientific processes
EXIT
Quick Lab Safety Quiz
 What
is P-A-S-S mean?
 T or F wearing safety goggles in the lab is
optional.
 What must be done with jewelry, long
hair, and long sleeves in the lab?
 List some safety steps that should be done
before a lab is started?
Safety continued
8.30.12 Safety
*Place the title and date
at the top of your paper.
Update Table of contents
S (Starter): What types of
safety procedures do you
take in the kitchen?
Explain why you do take
these precautions
Practice
P:
 Place
Safety Contract in proper location
in journal.
 Practice Fire drill
A&C
 Create
your own instructional lab safety
poster.
 Examples: Eye Safety, Fire Precautions,
Handling Chemical.
 Hint***Use
your safety contract for
assistance.
Exit:
 How
do you think your posters will help
other students? Think about the 6th
graders who have little knowledge of lab
safety.