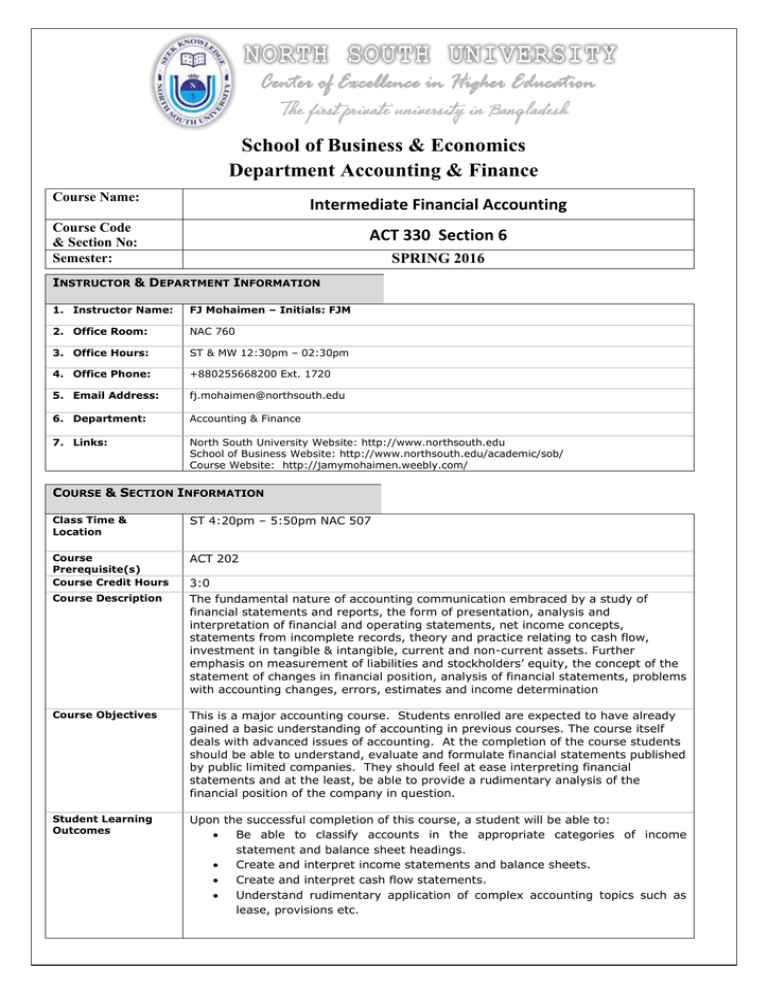 School of Business & Economics
Department Accounting & Finance
Course Name:
Intermediate Financial Accounting
Course Code
& Section No:
Semester:
ACT 330 Section 6
SPRING 2016
INSTRUCTOR & DEPARTMENT INFORMATION
1. Instructor Name:
FJ Mohaimen – Initials: FJM
2. Office Room:
NAC 760
3. Office Hours:
ST & MW 12:30pm – 02:30pm
4. Office Phone:
+880255668200 Ext. 1720
5. Email Address:
fj.mohaimen@northsouth.edu
6. Department:
Accounting & Finance
7. Links:
North South University Website: http://www.northsouth.edu
School of Business Website: http://www.northsouth.edu/academic/sob/
Course Website: http://jamymohaimen.weebly.com/
COURSE & SECTION INFORMATION
Class Time &
Location
ST 4:20pm – 5:50pm NAC 507
Course
Prerequisite(s)
Course Credit Hours
ACT 202
Course Description
The fundamental nature of accounting communication embraced by a study of
financial statements and reports, the form of presentation, analysis and
interpretation of financial and operating statements, net income concepts,
statements from incomplete records, theory and practice relating to cash flow,
investment in tangible & intangible, current and non-current assets. Further
emphasis on measurement of liabilities and stockholders' equity, the concept of the
statement of changes in financial position, analysis of financial statements, problems
with accounting changes, errors, estimates and income determination
Course Objectives
This is a major accounting course. Students enrolled are expected to have already
gained a basic understanding of accounting in previous courses. The course itself
deals with advanced issues of accounting. At the completion of the course students
should be able to understand, evaluate and formulate financial statements published
by public limited companies. They should feel at ease interpreting financial
statements and at the least, be able to provide a rudimentary analysis of the
financial position of the company in question.
Student Learning
Outcomes
Upon the successful completion of this course, a student will be able to:

Be able to classify accounts in the appropriate categories of income
statement and balance sheet headings.

Create and interpret income statements and balance sheets.

Create and interpret cash flow statements.

Understand rudimentary application of complex accounting topics such as
lease, provisions etc.
3:0
LEARNING RESOURCES AND TEXTBOOK(S)
Text Book(s)
Author
Title
Jerry J, Weygandt,
Donald E. Kieso&
Paul D. Kimmel.
Intermediate Financial Accounting
Edition & Year
15th
Edition
Publisher
ISBN
John Wiley &
Sons
Others (Reference Books, CD ROMS, DVDs, e-Library, Internet, Articles, …)
Resource Type
Description
Type
Comments
TEACHING STRATEGY (Online, classroom, blended, selfdirected through CD, web-based courses and DVD,…)
Each lecture will cover one or more topic. Students will be required to complete assignment and will be
quizzed on the topics taught. After completion of a number of topics, students will be tested on the
material. Course materials will be available on the course website. Lectures will be accompanied by
Power Point presentation and videos and case studies when relevant.
ASSESSMENT STRATEGY AND GRADING SCHEME
Grading tool
Attendance& Professionalism
Assignments
Points (%)
10
5
Project
15
Quizzes
10
Test 1
15
Test 2
20
Final Exam
25
Please Refer to NSU Student Handbook, Section: "Grading Policy"
CLASSROOM RULES OF CONDUCT
1. Students are expected to come to class on time and prepared. They are expected to bring the required
textbook and materials needed for class. Also, students are expected to read the assigned chapter and
materials ahead of class so they will have a better grasp on the material.
2. No eating or drinking in class.
3. Cell phones must not be used in any form during class time. Cell phones must be switched off or kept
in silent mode (not vibrate) during class.
4. Students are advised to frequently refer to the Student Handbook of North South University.
5. Academic Integrity Policy:
School of Business does not tolerate academic dishonesty by its students. At minimum, students must
not be involved in cheating, copyright infringement, submitting the same work in multiple courses,
significant collaboration with other individuals outside of sanctioned group activities, and fabrications.
Students are advised that violations of the Student Integrity Code will be treated seriously, with special
attention given to repeated offences.
Please Refer to NSU Student Handbook, Sections: "Disciplinary Actions" and "Procedures and
Guidelines".
LATE ASSIGNMENT POLICY
Promptness is a highly valued attribute in the workplace. Employees areexpected to plan ahead to meet
deadlines. Managers reprimand or terminateemployees who are repeatedly late in submitting assignments. In
this course, submitting assignments late will be penalized. For each day late, 10 percent will be deducted from
the total value of the assignment.
GROUP PROJECTS POLICY
Discussed in class
EXAMS & MAKE UP POLICY
In order to complete the course, students must submit all the required assignments and sit for the exams.
Make-up exams are not given unless there is a major circumstance preventing the student from sitting in the
exam (official material evidence is required). The timing of the make-up is to be fixed with the instructor of the
course if granted.
Cell phones are prohibited in exam sessions. Students must bring valid North South University identification
card with them on the day of the exam.
ATTENDANCE POLICY
Students are required and are expected to attend all classes and participate in class discussions. North South
University mandates to fail students who are absent 25% or more from their classes, even if such absences are
excusable. Also, students missing more than 3 classes will be severely panelized. Being late to class 3 times
will count as 1 absent.
Please Refer to NSU Student Handbook, Section: "Study Principles and Policies"
COMMUNICATION POLICY
All communications should take place using the instructor's email. Announcements in the course website will
override any statement made here or in any other handouts. It is the student's responsibility to be aware of
any announcements made on course website.
APPROPRIATE USE POLICY
All members of the North South University community must use electronic communications in a responsible
manner. The University may restrict the use of its computers and network systems for electronic
communications subject to violations of university policies/codes or local laws or national laws. Also, the
university reserves the right to limit access to its networks through university-owned or other computers, and
to remove or limit access to material posted on university-owned computers.
STUDENTS WITH SPECIAL NEEDS
North South Universitywill provide educational opportunities that ensure fair, appropriate and reasonable
accommodation to students who have disabilities/special needs that may affect their ability to participate in
course activities or meet course requirements. Students with disabilities are encouraged to contact their
instructorsto ensure that their needs are met. The University through its Special Need section will exert all
efforts to accommodate special needs.
Please Refer to NSU Student Handbook, Section: "Special Needs Services"
STUDENTS SUPPORT AND LEARNING RESOURCES
A. SOB-Learning Center:
B. The University Student Learning Support Center (SLSC): These centers provideacademic support services
to students at NSU. The SLSC is a supportive environment where students can seek assistance with
academic coursework, writing assignments, transitioning to college academic life, and other academic
issues. SLSC programs include: Peer Tutoring, the Writing Lab, Writing Workshops, and Academic Success
Workshops. Students may also seek confidential academic counseling from the professional staff at the
Center.
Students Learning & Support Center (SLSC)
Tel:
Fax:
Location:
E-mail:
Please Refer to NSU Student Handbook, Section: "Student Leaning Support Center"
STUDENTS COMPLAINTS POLICY
Students at North South University have the right to pursue complaints related to faculty, staff, and other
students. The nature of the complaints may be either academic or non-academic. For more information about
the policy and processes related to this policy, you may refer to the students' handbook.
COURSE CONTENTS &SCHEDULE
No
Date/week
‫ا‬Chapter/Assignment
1.
Topic
Financial Accounting and Accounting Standards
2.
Financial Accounting and Accounting Standards
Chapter 1
3.
Conceptual Framework for Financial Reporting
Chapter 2
4.
Conceptual Framework for Financial Reporting
Chapter 2
5.
Accounting Information System
Chapter 3
6.
Accounting Information System
Chapter 3
7.
Income Statement
Chapter 4
8.
Income Statement
Chapter 4
9.
Balance Sheet
Chapter 5
10.
Balance Sheet Midterm 1
Chapters 1,2,3,4, & 5
Chapter 1
11.
Intangible Assets (goodwill only)
Chapter 12
12.
Current Liabilities
Chapter 13
13.
Current Liabilities
Chapter 13
14.
Statement of Cash Flows
Chapter 23
15.
Statement of Cash Flows
Chapter 23
16.
Statement of Cash Flows
Chapter 23
17.
Midterm 2
Chapters 12,13, & 23
18.
Acquisition and Disposition of PPE
Chapter 10
19.
Stockholder's Equity
Chapter 15
20.
Stockholder's Equity
Chapter 15
21.
Accounting for Leases
Chapter 21
22.
Accounting for Leases
Chapter 21
23.
Accounting for Leases
Chapter 21
24.
Review for Final Exam
15, 10, & 21
25.
Final Exam
TBA
15, 10, & 21
Note: The instructor reserves the right to make changes to the syllabus if necessary.