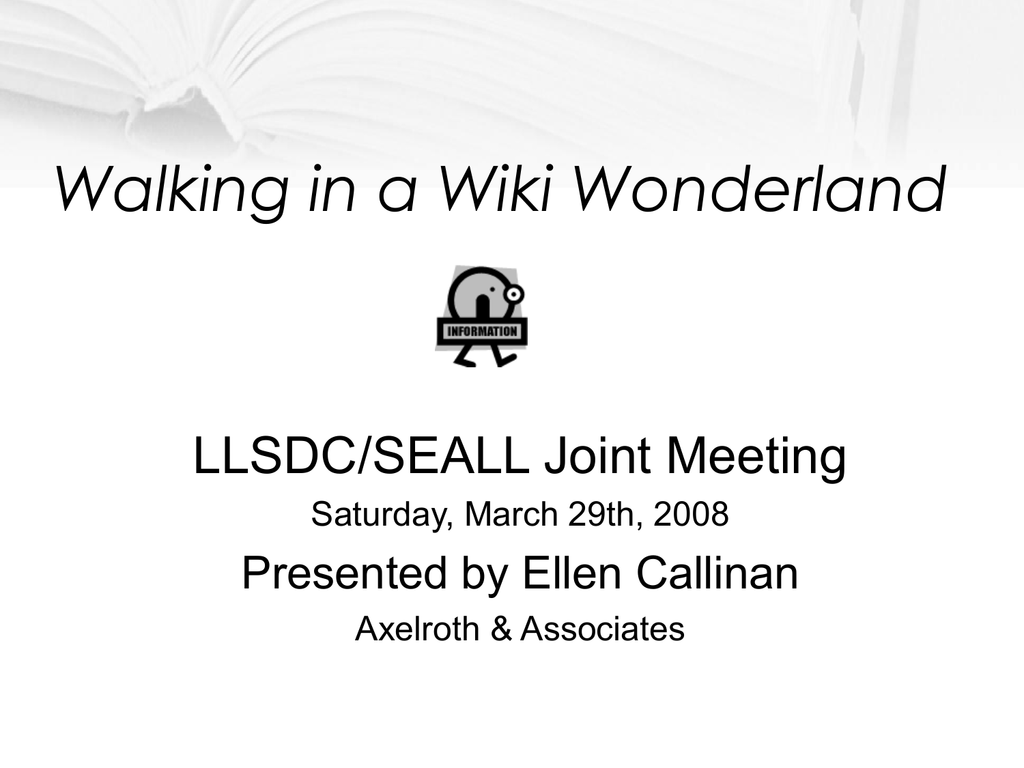 Walking in a Wiki Wonderland
LLSDC/SEALL Joint Meeting
Saturday, March 29th, 2008
Presented by Ellen Callinan
Axelroth & Associates
Why can't we
have kittens
on the
site?
CONTENT
What shade
of blue
should the
headings be?
Why can't we
have kittens
on the
site?
CONTENT
What shade
of blue
should the
headings be?
 WIKIS AND LIBRARIANS
 WHEN AND WHY WIKIS WORK
 WIKIS THEN AND NOW
What is a wiki?
 a web-based discussion site [LLRX]
 a collaboratively-maintained database
[Adam Smith]
 a group-editable website [Social Text]
 a collaborative website which can be
directly edited by anyone with access to it
[Wikipedia]
Ward Cunningham
The Father of Wiki
Jimmy Wales
Wikipedia Founder
Co-Founder
Today's Wiki Landscape:
Personal Wikis
WikiMatrix.org
Use the Wiki Choice Wizard to figure out which wiki
would work best for your own test wiki.
Today's Wiki Landscape:
Business Wikis
Enterprise Wikis
Hosted Wikis
 WIKIS AND LIBRARIANS
 WHEN AND WHY WIKIS WORK
 WIKIS THEN AND NOW
Elements of a Wonderful Wiki
Start with a group of knowledgeable, respectful,
motivated people collaborating on a specific project
who will:
• Employ a third person neutral point of view (NPOV)
• Link early and often
• Be bold – the wiki mantra
Add a wiki application software that:
• Tracks edits and version control
• Offers some level of security to prevent vandals
and block trolls by IP address
• May include frequency or reputation ranking to
identify hot topics add credibility
Wiki Success
Wiki Disgrace
Congressional Vandal Scandal
[Congressional staff vandalized
Members' articles on Wikipedia]
Colbert fans successfully plant
"fact" that elephant population
has tripled in last 10 years.
Seigenthaler Vandalism
[Kennedy assassination claim
posted in Wikipedia as a joke]
Federal courts are citing
Wikipedia 4x more often than
Encyclopedia Britannica
Wikis Work When . . .
Collegial group with a common goal
Ability to roll back to
earlier version
Protection against trolls
and vandals
Knowledgeable authors
 WIKIS AND LIBRARIANS
 WHEN AND WHY WIKIS WORK
 WIKIS THEN AND NOW
Why We Should Care
Millenial mindset
Wikis, wikis everywhere
"Ignore all rules" changing
The Evolution of Wiki Rules
Web Content Barriers
and Website Solutions
http://www.genericwebsite.com/mission.htm
Wiki Content Barriers
and New LIS Solutions
How will people
find the content
I've worked so
hard to write?
Where am I
supposed to
put my
content?
CONTENT
Website Information Architecture
What Is The Navigation?
Where Does The Content Live?
www.domainname.com/folder1/folder2/file.htm
Wiki Information Structure
Home
Clients
Matters
Brand New
Practice Group
Wiki
Ellen's Page
Home
Clients
Matters
Ellen's
Page
Brand New
Practice Group
Wiki
How Do I Know Where to Put Content?
Website Controlled Vocabulary
If music be the food of love, play on;
Give me excess of it, that, surfeiting,
The appetite may sicken, and so die.
<title>Twelfth Night – Act I, Scene 1</title>
<meta
name="description" content="Twelfth Night, a play by
William Shakepeare, circa 1602"/>
<meta
name="keywords" content="Shakespeare, play,
comedy, mistaken identity, Orsino, Viola, Olivia,
Cesario, Sir Toby Belch"/>
How Will People Find My Content?
Wiki Collaborative Vocabulary
Folksonomies
Labels
Tags
How Do I Make My Content Findable?
Solutions From The Library
A Place at the Table
Scaffolding
Collabulary
Let's Give it a Try!
TASK:
Design a project wiki to plan a library retreat.
GOALS:
Create a basic structure and set of tags so
that project team members can contribute
content and all library staff members can find
and comment on developments.
Background
we're everywhere you are
FIRM: 875 lawyers, 9 offices, 2007 merger
LIBRARY:18 library staff (7 pros, 6 paras, 5 clerks)
WIKI: 5-6 main categories with outline of sub-sections;
set of tags to facilitate authorship and findability.
GROUP TASKS
• Break into groups of 4-6; appoint spokesperson
• Define 4-5 main categories for content you'll
need to plan the retreat virtually
• One group will read theirs; others will compare
to their own and sort into synonyms, sub-sets or
something unique
• Add unique ones to original list; group votes
• Flesh out sub-sets if time permits
• Review Clearwiki sample pages
Step One: Create the Wiki
Step Two: Build the Structure
Step Three: Add the Labels
Step Four: Scaffold the Authors
The End?
Only the beginning . . .