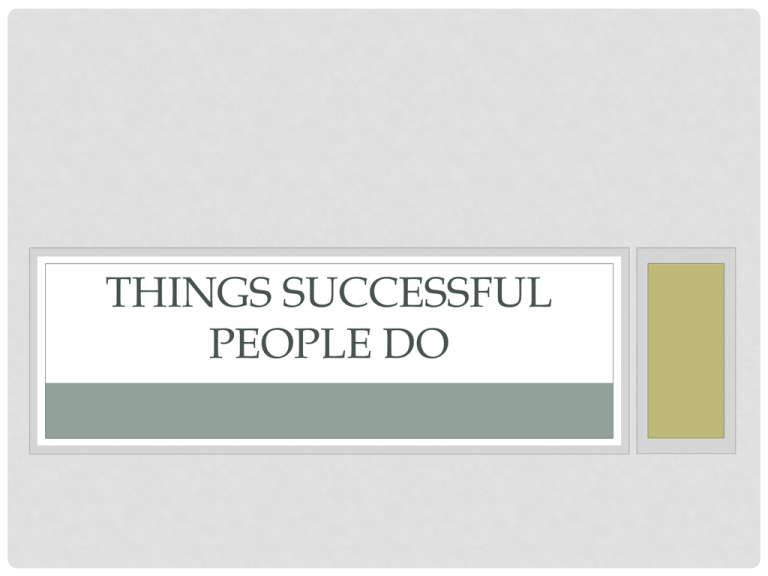 THINGS SUCCESSFUL
PEOPLE DO
THEY CREATE AND PURSUE
S.M.A.R.T. GOALS.
• S.M.A.R.T. goals are Specific, Measurable, Attainable, Relevant, and Timely. Let's
briefly review each:
• Specific – A general goal would be, "Get in shape." But a related specific goal
would be, "Join a health club and workout 3 days a week for the next 52 weeks."
• Measurable – There must be a logical system for measuring the progress of a
goal. To determine if your goal is measurable, ask yourself questions like: How
much time? How many total? How will I know when the goal is accomplished?
etc. When you measure your progress, you stay on track.
• Attainable – To be attainable, a goal must represent an objective toward which
you are both willing and able to work. In other words, the goal must be realistic.
• Relevant – Relevance stresses the importance of choosing goals that matter. For
example, an internet entrepreneur's goal to "Make 75 tuna sandwiches by
2:00PM." may be Specific, Measurable, Attainable, but lacks Relevance to an
entrepreneurs objective of building a profitable online business.
• Timely – A goal must be grounded within a time frame, giving the goal a target
date. A commitment to a deadline helps you focus your efforts on the completion
of the goal on or before the due date.
THEY FOCUS ON BEING PRODUCTIVE,
NOT BEING BUSY.
• Just take a quick look around. The busy outnumber the
productive by a wide margin.
• Busy people are rushing all over the place, and running late half of the
time. They're heading to work, conferences, meetings, social
engagements, etc. They barely have enough free time for family gettogethers and they rarely get enough sleep. Yet, business emails are
shooting out of their smart phones like machine gun bullets, and their
daily planner is jammed to the brim with obligations.
• Their busy schedule gives them an elevated sense of importance. But
it's all an illusion. They're like hamsters running on a wheel.
• The solution: Slow down. Breathe. Review your commitments
and goals. Put first things first. Do one thing at a time. Start
now. Take a short break in two hours. Repeat.
• And always remember, results are more important than the time it
takes to achieve them.
THEY MAKE LOGICAL, INFORMED
DECISIONS AND TAKE ACTION.
• Sometimes we do things that are permanently
foolish simply because we are temporarily upset or
excited.
• Although emotional 'gut instincts' are effective in certain
fleeting situations, when it comes to generating long-term,
sustained growth in any area of life, emotional decisions
often lead a person astray.
• The best advice here is simple: Don't let your
emotions trump your intelligence. Slow down and
think things through before you make any lifechanging decisions.
• Once you know what the good choice is, take
clear steps to move towards that goal.
THEY FOCUS ON MAKING SMALL,
CONTINUOUS IMPROVEMENTS.
• Henry Ford once said, "Nothing is particularly hard if
you divide it into small pieces." The same concept
configured as a question: How do you eat an
elephant? Answer: One bite at a time.
• Start with just one activity, and make a plan for how
you will deal with troubles when they arise. For
instance, if you're trying to lose weight, come up
with a list of healthy snacks you can eat when you
get the craving for snacks. It will be hard in the
beginning, but it will get easier. And that's the
whole point. As your strength grows, you can take
on bigger challenges.
THEY MEASURE AND TRACK THEIR
PROGRESS
• Successful people are not only working in their
job/business, they are also working on it. They step back
and assess their progress regularly.
• You can't control what you don't properly measure!
• You need to measure the important things: Imagine if, while
running a pizza business, you made it a point to keep track of
how many pencils and paperclips you used. Would that make
any sense? No! Because pencils and paperclips are not a
measure of what's important. Pencils and paperclips have no
bearing on income, customer satisfaction, market growth, etc.
• The proper approach is to figure out what your number
one goal is and then track the things that directly relate
to achieving that goal.
THEY MAINTAIN A POSITIVE OUTLOOK
AS THEY LEARN FROM THEIR MISTAKES
• Successful people acknowledge their mistakes, look
for ways to improve and move forward. They
concentrate on the positives – What did they learn
from that situation, and what can they do to make
it better or different next time?
• Remember, every mistake you make is progress. Mistakes
teach you important lessons. Every time you make one,
you're one step closer to your goal. The only mistake that
can truly hurt you is choosing to do nothing simply because
you're too scared to make a mistake.
• So don't hesitate – don't doubt yourself! Don't let
negativity sabotage you. Learn what you can,
focus on the positive, and press forward.
THEY SPEND TIME WITH THE RIGHT
PEOPLE
• Successful people associate with people who are
likeminded, focused, and supportive. They socialize with
people who create energy when they enter the room
versus those who create energy when they leave. They
reach out to connected, influential individuals who are
right for their dreams and goals.
• You are the sum of the people you spend the most time
with. If you hang with the wrong people, they will
negatively affect you. But if you hang with the right
people, you will become far more capable and
successful than you ever could have been alone. Find
your tribe and work together to make a difference in all
of your lives.