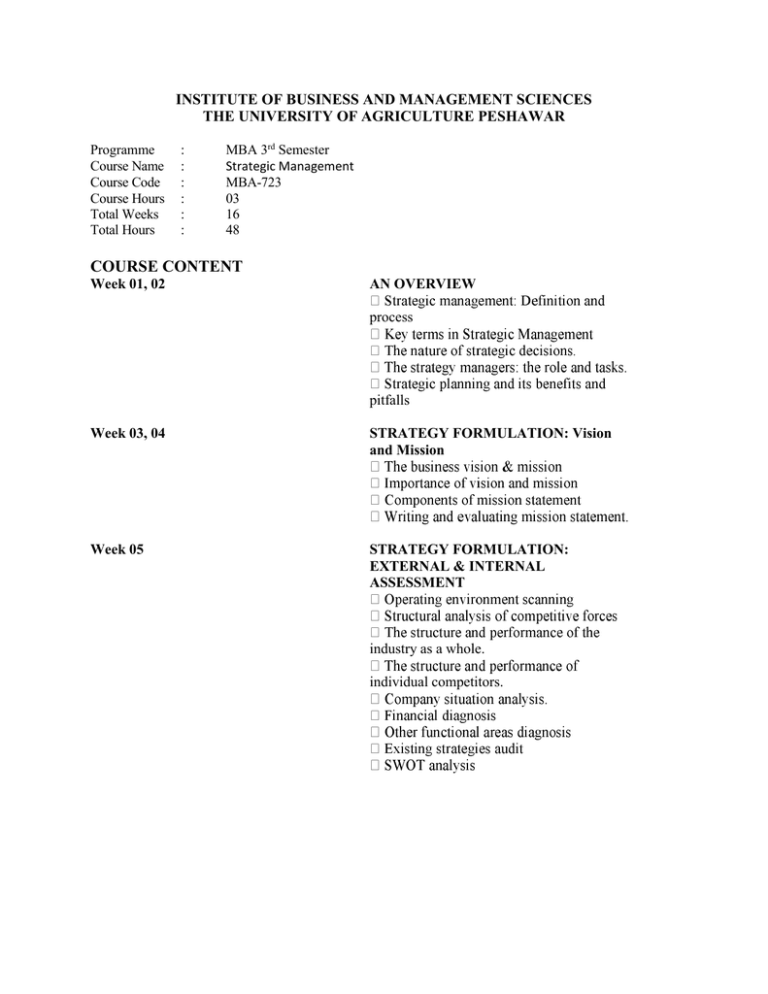 INSTITUTE OF BUSINESS AND MANAGEMENT SCIENCES
THE UNIVERSITY OF AGRICULTURE PESHAWAR
Programme
Course Name
Course Code
Course Hours
Total Weeks
Total Hours
:
:
:
:
:
:
MBA 3rd Semester
Strategic Management
MBA-723
03
16
48
COURSE CONTENT
Week 01, 02
AN OVERVIEW
process
pitfalls
Week 03, 04
STRATEGY FORMULATION: Vision
and Mission
Week 05
STRATEGY FORMULATION:
EXTERNAL & INTERNAL
ASSESSMENT
industry as a whole.
individual competitors.
Week 06
STRATEGIES IN ACTION
-term Objectives
rategies
-profit and
Government Organization
Week 07
STRATEGY FORMULATION:
ORGANIZATION AL PROCESS
-making hierarchy
y-making approaches.
Week 08
STRATEGY ANALYSIS AND CHOICE
framework
Week 09
STRATEGY IMPLEMENTATION
-change
Developing an effective reward
structure
Exerting strategic leadership
the results
es and policies
Week 10
STRATEGIES EVALUATION
system
Management
Week 11
STRATEGIC CONTROL
and strategic control
Week 12
A CASE ANALYSIS FRAMEWORK
issues and key problems
course of actions
recommendation
tfalls in case analysis
Week 13, 14
A CASE STUDY ASSIGNMENT
during the course work. A case-study is
assigned to a group of 2 to 3 students. Aside
from the submission of the written analysis, the
students have to make the oral presentation in
the class.
Week 15
Week 16
Project Presentations
Course Wrap Up and Recap
RECOMMENDED BOOKS
1. Certo & Peter; Strategic Management: Concepts & Applications, Random House
Business Division.
2. Johnson Schol, Exploring Corporate Strategy, Prentice Hall
3. Fried. R. David, Strategic Management, Prentice Hall.
REFERENCE BOOKS
1. Williamson & Cooke; Strategic Business Analysis; Butterworth Heinman.
2. Campbell, Stenhouse & Housten; Business Strategy: An Introduction, Butterworth
Heinman.
3. Saeed Amjad Khawaja; Managerial Policy; Institute of Management Sciences.
4. Thomous, Strickand, Strategic Management, BPI. IRWIN
5. Hitt, Ireland, and Hoskisson: Strategic Management; McGraw Hill.