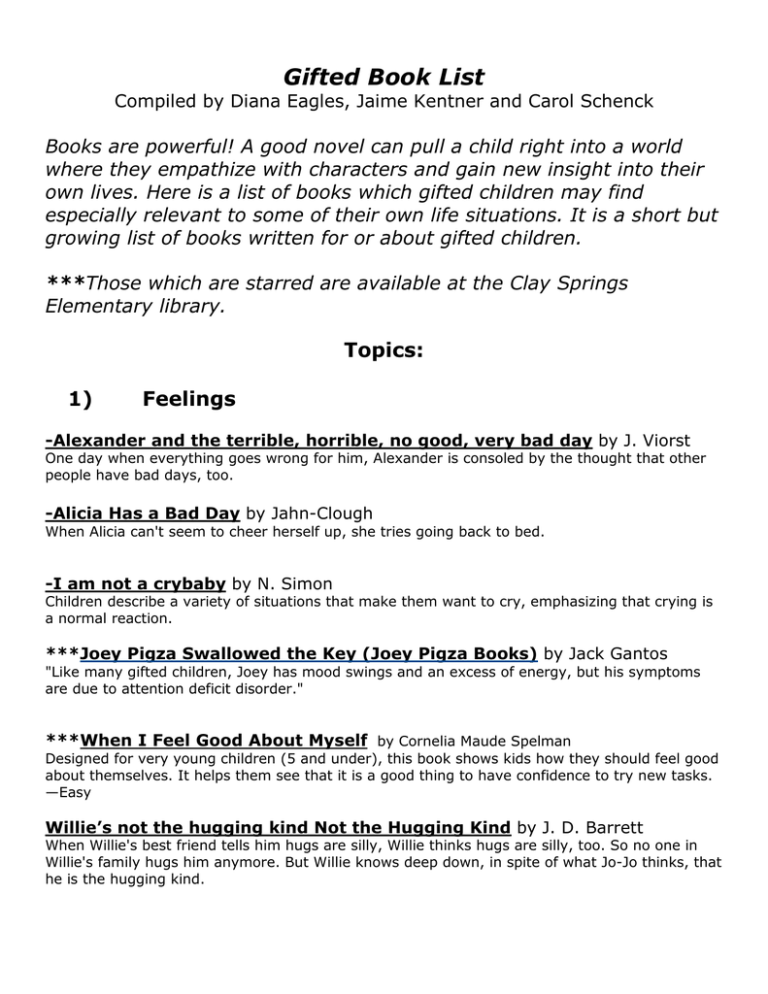 Gifted Book List
Compiled by Diana Eagles, Jaime Kentner and Carol Schenck
Books are powerful! A good novel can pull a child right into a world
where they empathize with characters and gain new insight into their
own lives. Here is a list of books which gifted children may find
especially relevant to some of their own life situations. It is a short but
growing list of books written for or about gifted children.
***Those which are starred are available at the Clay Springs
Elementary library.
Topics:
1)
Feelings
-Alexander and the terrible, horrible, no good, very bad day by J. Viorst
One day when everything goes wrong for him, Alexander is consoled by the thought that other
people have bad days, too.
-Alicia Has a Bad Day by Jahn-Clough
When Alicia can't seem to cheer herself up, she tries going back to bed.
-I am not a crybaby by N. Simon
Children describe a variety of situations that make them want to cry, emphasizing that crying is
a normal reaction.
***Joey Pigza Swallowed the Key (Joey Pigza Books) by Jack Gantos
"Like many gifted children, Joey has mood swings and an excess of energy, but his symptoms
are due to attention deficit disorder."
***When I Feel Good About Myself by Cornelia Maude Spelman
Designed for very young children (5 and under), this book shows kids how they should feel good
about themselves. It helps them see that it is a good thing to have confidence to try new tasks.
—Easy
Willie's not the hugging kind Not the Hugging Kind by J. D. Barrett
When Willie's best friend tells him hugs are silly, Willie thinks hugs are silly, too. So no one in
Willie's family hugs him anymore. But Willie knows deep down, in spite of what Jo-Jo thinks, that
he is the hugging kind.
2)
Stress:
-The Berenstain Bears and Too Much Pressure by Stan and Jan Berenstain
Sister and Brother Bear have activities every day after school, and Mama and Papa have their
own interests, too. There isn't much time left over for homework, household chores, or just plain
family fun. As the Bears' lives grow more hectic, pressure builds! Finally, the Bears take a
realistic look at their responsibilities, talents, and the number of hours in the day and choose
after-school activities with care.
-David and the Worry Beast: Helping Children Cope with Anxiety by Anne
Marie Guanci
Learning to deal with anxiety is an important step in a child's healthy emotional growth.
Conquering fears, and not avoiding them, is the lesson imparted in this story. David could not
stop thinking about the basket he had missed at the end of the big game. He was worried that
he might do it again. He was worried that his team mates would be angry with him. He was
worried that his parents would not be proud of him. He was also worried about an upcoming
math test. In fact, David was worried a lot. "Should I quit the team?" he asked himself. "Should
I be sick tomorrow and miss the math test?" Luckily, David finally confided in his parents and
school nurse, both of whom gave him support and techniques for controlling the "worry beast"
within him. Delightfully illustrated, it focuses on a very real and essential topic.
***Wemberly Worried by Kevin Henkes
"Wemberly learns to handle stress and anxiety, with the help of her teacher and family."
3)
Perfectionism:
-Being Bella – Discovering How to be Proud of your Best! By Cheryl Zugo
For a young child struggling with perfection, this book is perfect. The story line is simple yet
powerful as a little girl (Bella) makes a big deal when she cannot do things absolutely
perfectly. Everyone tells her "Just do your best, Bella" and she soon realizes that she can do
anything when she tries her best and it doesn't have to be perfect. In the last part of the
book, Bella is sharing her "new found wisdom" with her friends and family, further
demonstrating that no one is perfect and no one expects her to be either.
Ish by Peter H. Reynolds
An inspiring story about a little boy, Ramon, who loved to draw. One day, his older brother
laughed at one of his drawings and Ramon's concept of himself and his drawings was never
the same. He became so critical and "perfectionistic" about his drawings that he continually
crumpled them up until deciding to quit drawing. His sister became his new-found inspiration
by telling him that things can look "ish." The flexibility that "ish" provided was exhilarating
and Ramon began drawing and writing again without ever looking back.
Loretta: Ace Pinky Scout by Keith Graves
"Loretta, an unrelenting perfectionist, is devastated when she fails to earn a badge, until her
grandmother offers a fresh perspective."
-Nobody's Perfect by Kimberly Kerberger Within this chapter book, Sally's mother
relays the message that being perfect is not a priority and making mistakes is part of learning.
She also teaches Sally that being perfect is not as important as having fun, a message I believe
many gifted children need to be reminded of.
4) Goals and Perseverance:
-Carry on Mr. Bowditch by jean lee latham
Nathan wants more out of life than to be poor. Even as a boy he sees himself at Harvard
College. He studies and soon realizes his dream. This book takes place in Massachusetts in the
late 1700's when Nathan's life was much like an indentured servant rather than Ivy League
Scholar
-The Disreputable History by Frankie Landau
This is a humorous story about a girl named Ms. Frankie Landau-Banks, who is known as Bunny
Rabbit by her family and her friends who attend the high fluent boarding high school, Alabaster.
Unfortunately for Bunny Rabbit, who is a tall strapping gawk turned gorgeous swan, the cutest
guy at school, Matthew Livingston notices this transformation.
Matthew and his friends are part of the heralded Loyal Order of the Bassett Hounds. Bunny
Rabbit refuses to take no as an answer when she is forbidden to join this group. See what
happens when she pulls a few pranks on the Loyal Order to gain access to this coveted club.
This book explores issues of female power for a teenage girl, pranks and politics.
Millicent Min, Girl Genius by Lisa Yee
"An eleven-year-old prodigy records her struggles and triumphs."
-A Wrinkle in Time by Madeleine L'Engle
This is a 1962 Newberry award-winning book about a girl whose scientist father invents a
Tesseract and then is mysteriously missing. The daughter sets out to find her father. This book
talks about exploring new frontiers internally and externally.
5) Problem solving:
-First Grade Takes a Test by M. Cohen
The first grade is distressed by an intelligence test which fails to measure true aptitude.
-Ira Sleeps Over by B. Waber
Ira has to decide whether to bring his teddy bear with him when he sleeps over at Reggie's
house. His dilemma is solved by a surprising revelation.
- The Monster Bed by J. Willis and S. Varley
A little monster is afraid to go to bed because he thinks humans will get him while he is asleep.
***The Mysterious Benedict Society by Nicholas Benedict
" Are you a gifted child looking for special opportunities? When this peculiar ad appears in the
newspaper, dozens of children enroll to take a series of mysterious, mind-bending tests. (And
you, dear reader, can test your wits right alongside them.) But in the end just four very special
children will succeed ." This book shows how working together can help us achieve a lot.
840 Lexile
-Princess Smartypants by B. Cole
Not wishing to marry any of her royal suitors, Princess Smartypants devises difficult tasks at
which they all fail, until the multi-talented Prince Swashbuckle appears.
6) Role Models:
-The Cow That Went Oink by B. Most
A cow that oinks and a pig that moos are ridiculed by the other barnyard animals until each
teaches the other a new sound.
-Gifted Hands by Ben Carson
This truly remarkable story is written by such a remarkable man. Empowering is the best
adjective to describe Ben Carson's inner city, single parent upbringing when he discovers the
power of books. His life continues on a serious uphill trajectory as he wins distinguished
scholarly awards throughout his life. He has been the chief of neurosurgery at Johns Hopkins
Hospital.
-Glasses, who needs 'em? by L. Smith
A boy is unhappy about having to wear glasses, until his doctor provides an imaginative list of
well-adjusted eyeglass wearers.
(Role models)
-Knots On a Counting Rope by B. Martin Jr. and J. Archambault
A boy learns about strength by listening to his grandfather and his own inner voice.
7) Understanding others: stories of compassion:
***Clementine by Sara Pennypacker
Clementine tries to help out her friend Margaret, but ends up in a lot of trouble for it. Things get
worse each day of the week, until finally she's worried that Margaret is right: Clementine's
parents might consider her "the hard one" in the family. They're up to something
mysterious...are they thinking they'd be better off if they only had her little vegetable-named
brother..."the easy one"?
-Evan's Corner by E. S. Hill
Needing a place to call his own, Evan is thrilled when his mother points out that their crowded
apartment has eight corners, one for each family member.
Goodnight Moon by M. Brown
A little bunny says goodnight to each of the familiar things in his world.
(Understanding others: stories of compassion)
-Jane and the dragon by M. Baynton
Jane wants to be a knight but everyone laughs at her, saying that girls can't be knights. The
court jester is the only person who takes Jane seriously. He lends her a small suit of armor
which turns out to be just what she needs.
(Understanding others: stories of compassion)
-Michael by T. Bradman and T. Ross
Michael was quite simply the worst boy in school. He was always late, usually scruffy, and never
did what he was told. His teachers had just about given up on him when one day they
discovered that even the most hapless student can blossom.
***The Talented Clementine by Sarah Pennypacker
Winner or washout?
When it comes to tackling third grade, Clementine is at the top of her game-okay, so maybe not
all the time. After her teacher announces that the third and fourth graders will be putting on a
talent show, Clementine panics. She doesn't sing or dance or play an instrument. She can't even
hop with finesse. And as if she didn't feel bad enough, her perfect best friend, Margaret, has so
many talents, she has to alphabetize them to keep them straight
As the night of the big "Talent-palooza" draws closer, Clementine is desperate for an act, any
act. But the unexpected talent she demonstrates at the show surprises everyone--most of all
herself.
There Are Those by Janet Levy
Beautiful abstract art illustrations accompany moving poetry in this book. Suggested for parents
sharing with their children who are 5 and older. Nathan Levy captures the essence of what it
feels like to be gifted in a few words.
-I Want a Cat by T. Ross
Jessy must be the only girl in the world without a pet. And she wants a cat. Unfortunately, her
parents think cats are crawly, creepy, yowly things. But Jessy isn't going to let that stand in her
way, and she comes up with a wonderful plan.
-Wilma Jean the Worry Machine by Julia Cook
Anxiety is a subjective sense of worry, apprehension, and/or fear. It is considered to be the
number one health problem in America. Although quite common, anxiety disorders in children
are often misdiagnosed and overlooked. Everyone feels fear, worry and apprehension from time
to time, but when these feelings prevent a person from doing what he/she wants and/or needs
to do, anxiety becomes a disability. This fun and humorous book addresses the problem of
anxiety in a way that relates to children of all ages. It offers creative strategies for parents and
teachers to use that can lessen the severity of anxiety. The goal of the book is to give children
the tools needed to feel more in control of their anxiety. For those worries that are not in
anyones control (i.e. the weather,) a worry hat is introduced. A fun read for Wilmas of all ages!
(Understanding others: stories of compassion)
8) I'm okay, you're okay – stories about uniqueness:
***Chamelia by Ethan Long
This is by a local Orlando author and it creatively shows how we can keep our individuality (and
should) while at the same time work to fit in with others. --Easy
-The Curious Incident of the Dog in the Night-Time by Mark Haddon
This laugh out loud book allows the reader to get insight into an autistic boy's way of nonemotional, rational thinking. We watch him blamed for the killing of a neighbor's dog, which
leads to him to follow the path down the dissolution of his parent's marriage.
-The Dot by Peter H. Reynold
Within this story, Vashti sits through the entire art class without doing anything because she
doesn't think she can draw. With her teacher's encouragement, she stabs a marker onto her
paper and writes her name. Her teacher facilitates this attempt by framing her picture behind
her desk, portraying to Vashti that she only has to try. This encourages Vashti, who eventually
makes an entire art gallery of dots to display at her school's art show. In the end, the story
comes full circle because she inspires other children.
***The Extraordinary Education by Nicholas Benedict
"Nicholas Benedict did have an exceptional gift for knowing things (more exceptional, in fact,
than most adults would have thought possible), and yet not even he could know that this next
chapter was to be the most unusual—and most important—of his entire childhood. Misery and
joy. Discovery and danger. Mystery and treasure." 900 Lexile
No Ordinary Olive by Roberta Baker
"Olive celebrates her individuality and others learn to appreciate it, too!"
Odd Velvet by Mary E. Whitcomb
"Velvet's strong sense of self helps others learn to value her unique abilities."
***The Report Card by Andrew Clements
"Nora has always hidden the fact that she is a genius, but her plan to prove that grades are not
important backfires in an unexpected way."
Someday Angeline (Avon/Camelot Book) by Louis Sachar
"An eight-year-old genius in the sixth grade tries to make friends and adjust to being different."
-Stargirl by Jerry Spinelli
This is not your typical teenage romance as Leo Borlock; a junior in high school in Arizona falls
for the quirky and independent Susan "StargiRl" Caraway. Leo is entrenched by "StargiRl's"
unconventional lifestyle and outlandish worldviews. This book, a New York Times Best Seller,
addresses individuality, diversity and acceptance.
-Sticks by Joan Bauer
Mickey has to gain confidence to play against the town bully in a pool tournament. This book is
about how relatives are essential in helping children to overcome lifelong obstacles. This book
pinpoints the inner struggles, which we all faced during our childhood.
-The tenth good thing about Barney by J. Viorst
In an attempt to overcome his grief, a boy tries to think of the ten best things about his dead
cat.
-The Triple Chocolate Brownie by Deborah Sherman
Michael Wise eats a pan of his mother's chocolate brownies and his whole life changes instantly.
Instead of being the class clown, he becomes the school know it all. His brain is overwhelmed
with information streaming in and out of it in a nano second.
***Woolbur by Leslie Helakoski
A hilariously illustrated and told story about a sheep who likes to be different from the flock and
the encouragement he is shown to do so. —Easy
9) Making friends, anti-bullying, getting along with
others:
***Out of My Mind by Sharon Draper
"Eleven-year-old Melody has a photographic memory. Her head is like a video camera that is
always recording. Always. And there's no delete button. She's the smartest kid in her
whole school—but NO ONE knows it." 700 Lexile
***Sophie Simon by Lisa Graff
"Third-grader Sophie Simon is one smart cookie. In her spare time, she studies calculus and
operates on earthworms. Her parents want her to do more normal things, like hang out with
other kids. But although Sophie may need a little tutoring on the importance of friendship, she
finds she has a knack for helping classmates deal with some interfering-parent problems of their
own." 680 Lexile
***Stand Tall, Molly Lou Melon by Patty Lovell
"Molly has a unique way of responding to bullying, and does not allow others to make her feel
bad about herself."
-William's Doll by C. Zolotow
More than anything, Williams wants a doll. "Don't be a creep," says his brother. "Sissy, sissy,"
chants the boy next door. Then one day someone really understands his wish, and makes it easy
for others to understand, too.
Wilson Sat Alone by D. Hess
A little boy always does everything alone and never with his classmates, until a new girl comes
to school.