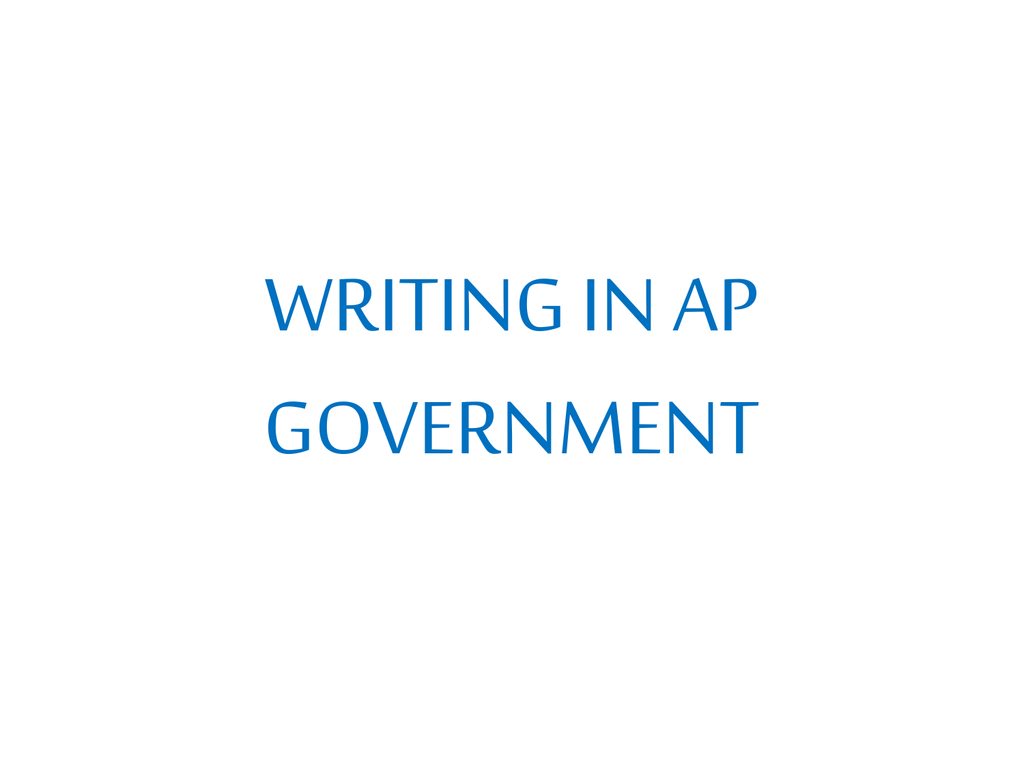 WRITING IN AP
GOVERNMENT
The Exam
• 60 mult. Choice – 45 min
= 60 points
4 Essays – 100 min.
= 15 pts each = 60 pts total
PRE-WRITE
Take 5 min. to brainstorm!!
Like anything you do, you're
going to do a better job if
you prepare first!!!
PRE-WRITE
–Look at what the question is
asking
–Jot down your ideas
–Organize your thoughts
WHAT THE QUESTION IS
ASKING YOU TO DO??
•Identify—means to
define!!!!
WHAT THE QUESTION IS
ASKING YOU TO DO??
•Discuss or Describe—
this means to "talk"
about it—more than a
definition!!
WHAT THE QUESTION IS
ASKING YOU TO DO??
Explain--means "how" or
"why"-- no points unless
there is an explicit "how"
or "why"
RE-READ THE QUESTION!!
• Be sure that you have
addressed EVERYTHING
that the question is
asking!!!!
HELPFUL HINTS!!
• Answer all four questions & all
parts of every question!!!
• Questions will usually be divided
into parts labeled (a), (b), etc—
these are NOT choices!!
MORE HELPFUL HINTS
You don't have to answer the questions in
order!!
-Answer the question that you can "ACE"
first.
You don't want to run out of time on
this question!!
MORE HELPFUL HINTS
Be sure to identify, or define, the main
terms in the question—EVEN IF THE
QUESTION DOESN'T ASK FOR IT!!!!
-sometimes this will be worth a
point in the rubric
MORE HELPFUL HINTS
• IF the question asks for:
the primary………..
the best………..
the main………….
do NOT give more than one or
NO credit!!
MORE HELPFUL HINTS
• Use simple words that you are
comfortable with and use good
grammar—it's not on the
rubric, but it makes it easier to
read and understand your essay!!
MORE HELPFUL HINTS
• Don't get cute with your answer—the
questions are NOT going to ask your opinion,
so it's unlikely that you'll need to explain how
corrupt you think the government is!!
• Also—don't go out of your way to insult
anyone!! The question is probably not going
to want your opinion of Democrats,
Republicans or "old" people!!!
MORE HELPFUL HINTS
• ABSOLUTELY back up your answer with
examples of court cases, laws,
SPECIFICS!!!
If you can do this, you will convince
the reader (person scoring your exam)
that you KNOW what you're talking
about!!!
MORE HELPFUL HINTS
• Charts & graphs—
multiple choice—don't spend a lot of time
analyzing the chart—go to the
choices and use the chart to
eliminate them—also be careful NOT
to read info that's not there –ex.—
number voting does not = %
essays—trend means change over time!!
--use pen method
• Watch for "except"
questions
• Watch for "always",
"unequivocally", etc.
• Don't change answer
unless you are SURE that
you made a silly mistake!!