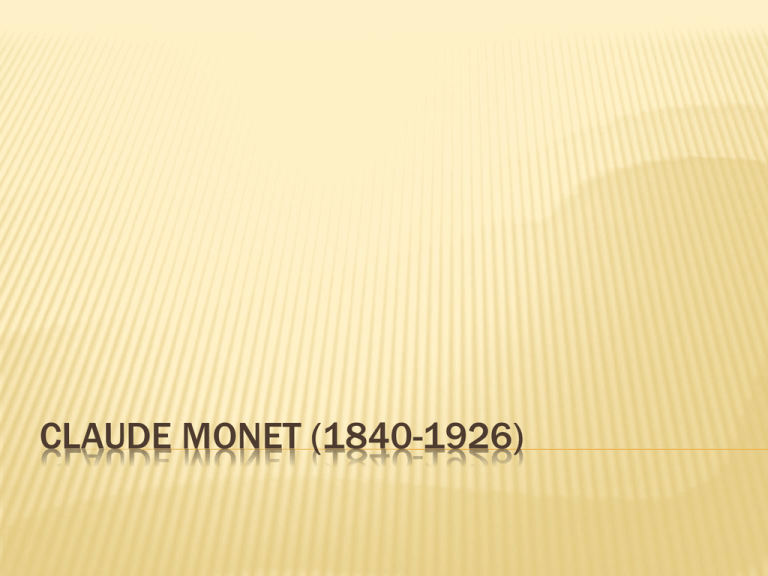 CLAUDE MONET (1840-1926)
CLAUDE MONET (1840-1926) HIS LIFE
•
•
•
•
Claude Monet is the most famous Impressionist artist.
He was completely dedicated to the idea of painting out
of doors.
His goal was to capture a single moment of time and light
in his painting.
He worked tirelessly to achieve this effect. Towards the
end of his life his paintings became almost abstract with
swirling colours dissolving into light.
Early influences
•
•
•
Monet came from Le Havre in Normandy and he began
painting there.
He then went to Paris, where he met Camille Pissarro and
became interested in landscape painting.
He met the Barbizon painters and learned to appreciate
the benefits of working en plein air.
Paris
•
•
•
He enrolled at Charles Gleyre's studio in Paris and met fellow
students Frederic Bazille, Alfred Sisley and Pierre August
Renoir.
The students regularly met after class in the Café Guerbois and
had lively discussions on art with other young artists like Paul
Cezanne and Edgar Degas.
In 1865 the Salon accepted two of Monet's seascapes but the
critics confused his name with Edouard Manet.
Financial difficulties
•
•
•
•
Life began difficult for Claude Monet in the late 1860's. He had
very little success at the Salon.
Financially he was very badly off and his girlfriend Camille
became pregnant.
His large painting Women in the Garden was rejected by the
Salon so he abandoned figure painting.
He spend the summer of 1869 painting riverside pictures with
his friend Renoir. These marked the real beginning of
Impressionism.
Success
•
•
•
•
•
•
•
•
He began to have success but his wife died in 1879.
They had been living with the Hochede family who
were good friends of theirs.
Alice Hochede had cared for his wife and after she
died, she and Monet remained together. They
married after the death of her husband.
They bought a house in Giverny on a small river
near the Seine.
They had Monet's two sons plus six of Alice's
children.
It was here that he developed his famous water
garden with a Japanese bridge.
He lived here for 43 years, painting until the end of
his life.
He died in 1926 at the age of 86.
WATER LILY POND-HARMONY IN GREEN
1899
•
•
Although Monet loved
plants and flowers, he
was not interested in
distinguishing them in a
painting He was more
interested in the
reflections on the
water.
In Water Lily PondHarmony in Green, the
surface of the painting
is a rich carpet of
colour, with
brushstrokes of yellow,
pink and lavender
woven in with the
shimmering green of
the plants.
•
•
•
•
He left out any hint of sky, enveloping the viewer in the
beauty of the sunlit garden.
He let each layer of paint dry before he painted the next
one.
His brushstrokes were thick and heavy, gradually building up
a three-dimensional, rough texture.
This can be seen particularly on the depiction of the bridge,
making it appear to stand out from the background.
Travelling in France
• During the 1870's and 1880's Monet gradually refined his
technique.
• He made man trips to scenic areas of France to study the
most brilliant effects of light and colour possible.
• From 1890 he concentrated on a series of pictures in
which he painted the same subject at different times of
the day in different lights.
• Haystacks and Rouen Cathedral are the best known
example of these.
• In 1914 he had a special studio built in the grounds of his
house and here he worked on huge canvases.
• In the last years of his life, he painted a series of water
lilies called Les Grandees Decorations. He donated these
to the French state and they are now displayed as he
intended in two oval-shaped rooms in the Musee
d'Orangerie in Paris, bathed in natural light from the
glass roof.
CAMILLE PISSARRO (1830-1903)
•
•
•
•
Camille Pissarro was a very
important figure in the
Impressionist movement.
He was about ten years
older than the others and
he constantly advised and
encouraged them.
He organised the
exhibition and was the
one who exhibited at all
eight Impressionist shows.
As well as teaching the
younger artists, he also
learned from them; and
yet he remained insecure
about his own work.