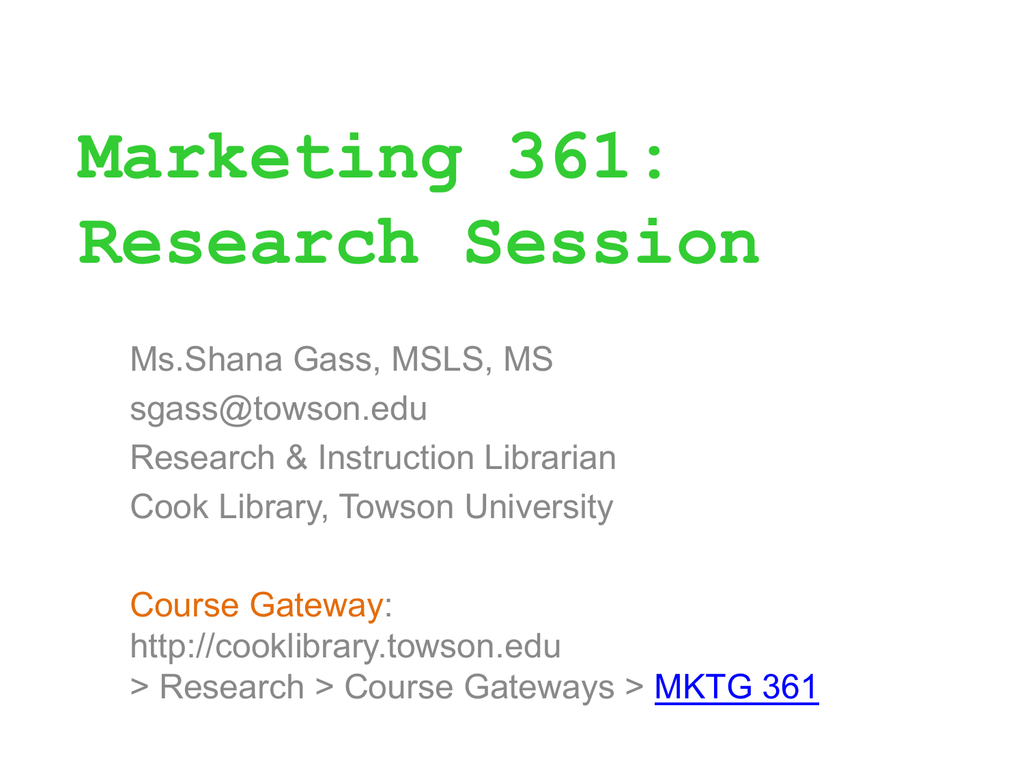 Marketing 361:
Research Session
Ms.Shana Gass, MSLS, MS
[email protected]
Research & Instruction Librarian
Cook Library, Towson University
Course Gateway:
http://cooklibrary.towson.edu
> Research > Course Gateways > MKTG 361
Know Your Organization
• Organization Site
(look for "About" section, reports, etc.)
• Guidestar.org
– Form 990
Marketing Environment Audit:
Task Environment Components:
Industry/Competitor Research
• Specific industry or issue
Examples:
Foundation Center
– Investigate radio
for WYPR
– National organizations
often list relevant orgs
• Nonprofit sector
as an industry
• Look for reports
on organizational
web sites!
Industry Research
• Directories
– Idealist.org
– Maryland Nonprofits
• News on Nonprofits
• Nonprofit Statistics
Nonprofit Statistics:
U.S. Economic Census
•
•
•
•
•
•
•
Census of businesses*
Every 5 years
*Nonprofits included, but not always broken out
Organized by industry (NAICS codes)
Some important exclusions by sector & size
Key terms: nonemployer, establishment
http://factfinder.census.gov
National Center for
Charitable Statistics
• http://nccs.urban.org > U.S. Nonprofit Sector
• NTEE classification (not NAICS)
• Stats on Organizations, giving, volunteering
JHU - Center for Civil
Society Studies
• National Nonprofit Economic Data Project (NED)
http://www.ccss.jhu.edu
> Nonprofit Economic Data
• NED "is generating critical new information on
the dynamics of the nonprofit sector by
synthesizing and analyzing diverse datasets on
nonprofit organizations, including data on
nonprofit finances, employment and wages, and
volunteering."
• Bulletins include DC & Maryland
Cook Library
Subject Gateway:
Nonprofits
• http://cooklibrary.towson.edu/nonprofits
• More websites,
databases,
& journals
on nonprofits
• Suggestions
welcome!
Who is most likely
to participate,
donate, etc.?
Know Your Target Market:
Secondary Data
• Things to consider:
– Vintage
– Geography: national, regional, state, county,
city, DMA, zip
– Unit of measure (individual, household, etc.)
• Types of data about consumers
– Demographics
– Psychographics
Know Your Target Market:
Secondary Data
• Demographics
– Example:
American Factfinder - US Census
• Psychographics
– Example:
PRIZM/Claritas My Best Segments
Cook Library
Marketing Subject Gateway
http://cooklibrary.towson.edu/marketing
• Resources
for
Marketing
• Link to
Secondary
Data guide
• Contact info for Marketing Librarian
Mediamark Reporter database
More info
(link from the Marketing Subject Gateway)
Clue: Index.
100 = average
Researching Radio &
Nonprofits Using Cook
Library Databases
• News – local, national, international for
general or "trade" audiences
• Research – studies in academic AKA
peer-reviewed AKA scholarly journals
• Case studies
• Advice for practitioners
• Opinion pieces
Some (Specialized) Journals
in the Library Databases
• Autism: The International Journal of
Research and Practice
• Broadcasting & Cable
• Chronicle of Philanthropy
• Journal of Health Care for the Poor and
Underserved
• Nonprofit Management & Leadership
• Social Marketing Quarterly
LexisNexis Academic database
Combined "EBSCO"
Database Search
• Business Source Complete
• Academic Search Premier
Screenshot of a Sample Search
Search Time!
• Consult the search savvy handout
• Try either Business Source
Complete/Academic Search combo
OR LexisNexis Academic
• Try new techniques! Ask questions!
• Be ready to report! …questions to follow
• Describe some of the recent research
on volunteering.
• What are some recommended
strategies for nonprofits for coping with
the recession?
• What is the current state of fundraising
in Maryland?
Be ready to report your
preliminary findings (with source)
Check out the Library Catalog
• Books on public radio, nonprofits,
fundraising, social issues…
• The Nonprofits Subject Gateway includes
an updated list of the very newest books
Questions?
…feel free to contact me!
Shana Gass
410-704-2395
[email protected]
Or any reference librarian:
Visit – call – IM – email – TXT*
Cook Library Web Site > Ask a Librarian
*New service! Dial 66746 + begin with askcook
Normal txt rates apply!