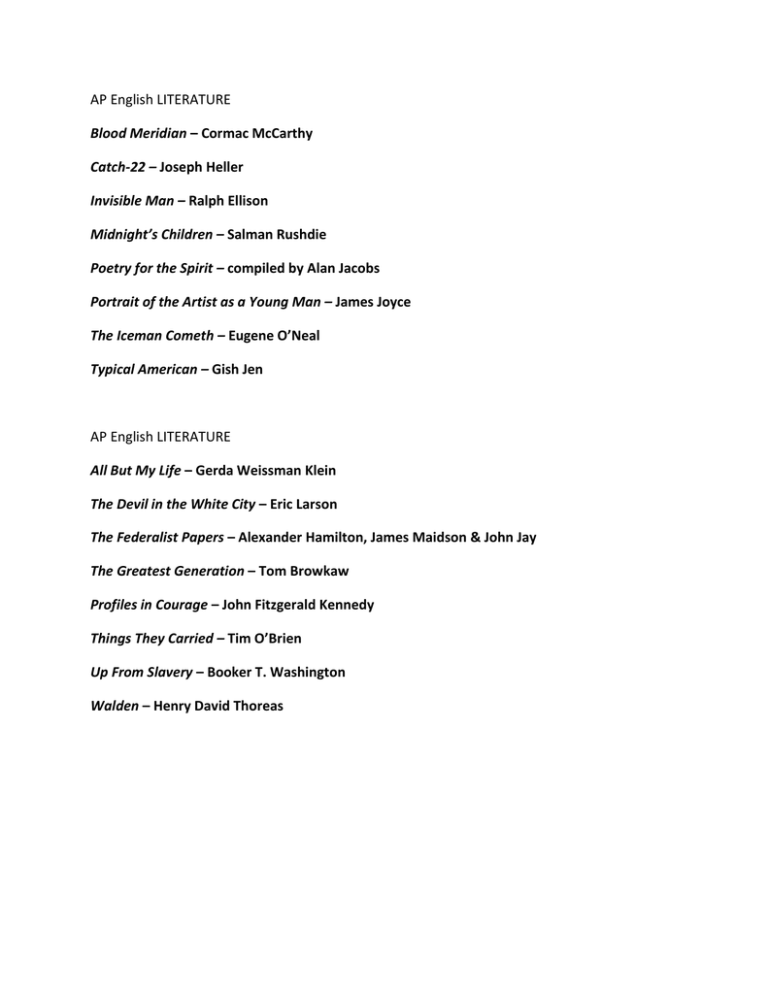 AP English LITERATURE
Blood Meridian – Cormac McCarthy
Catch-22 – Joseph Heller
Invisible Man – Ralph Ellison
Midnight's Children – Salman Rushdie
Poetry for the Spirit – compiled by Alan Jacobs
Portrait of the Artist as a Young Man – James Joyce
The Iceman Cometh – Eugene O'Neal
Typical American – Gish Jen
AP English LITERATURE
All But My Life – Gerda Weissman Klein
The Devil in the White City – Eric Larson
The Federalist Papers – Alexander Hamilton, James Maidson & John Jay
The Greatest Generation – Tom Browkaw
Profiles in Courage – John Fitzgerald Kennedy
Things They Carried – Tim O'Brien
Up From Slavery – Booker T. Washington
Walden – Henry David Thoreas
12th Grade
Ophelia – Lisa Klein
"Klein retells Hamlet, expanding on the romance between its hero and Ophelia, who narrates
this version. Keeping true to the framework of the play, the heroine, now 16, reports the tragic
events in the troubled Elsinore castle. When she first speaks to Hamlet, Ophelia is a 10-year-old
ragged tomboy tagging along after her brother, Laertes. A year later, Ophelia is accepted into
Queen Gertrude's court ("Becoming a lady, I learned, was not easy"), and she grows into a
beautiful, rather outspoken young woman with an interest in herbs. Her quick wit attracts the
prince's attention, and their Shakespearean-style banter will delight readers" (Publisher's
Weekly).
Pride and Prejudice – Jane Austen
This effervescent tale of rural romance is transformed by Jane Austen's art into a witty,
shrewdly observed satire of English country life.
The Tempest – William Shakespeare
This play introduces Shakespeare's romance genre. It contains elements of the supernatural,
love, chance encounters and a happy ending. It shows Shakespeare's lighter side.
Clancy, Tom. -- Debt of honor
Jack Ryan must prepare the President to meet the challenge of new enemies
striking not only U.S. territory but, also the heart of the U.S. economy.
Conrad, Joseph -- Lord Jim
A man who has been branded a coward earns the respect of the Malay people.
Kipling, Rudyard, 1865-1936 -- Kim
Kim's early years as an orphaned beggar in India lead to an exciting career in the
British Secret Service.
Conway, Jill K. -- The road from Coorain
The memoirs of Jill Conway and her journey into adulthood from a 30,000 acre
sheep ranch in Coorain, Australia, to America where she became the first woman
president of Smith College.
Herriot, James -- All creatures great and small
An English veterinarian reminisces about his life, career, and animal patients in a
small village.
Boylan, James -- Getting in : a novel
Four high-school seniors try to decide where they want to go to college and what
they want to do with their lives.
Camus, Albert -- The first man
Autobiographical novel tells the story of Jacques Cormery, an Algerian boy
whose poverty-stricken, fatherless life is offset by the beauty of his country and
his loving relationship with his deaf-mute mother.
Hardy, Thomas, 1840-1928 -- Tess of the d'Urbervilles
A young woman finds herself the victim of fate and of forces beyond her control in
nineteenth-century England.
11th Grade
The Bell Jar – Sylvia Plath
Poet Sylvia Plath's autobiographical novel chronicles 19-year old Esther Greenwood's gradual
emergence from a mental breakdown.
The Grapes of Wrath – John Steinbeck
This is the epic chronicle of families forced off their land during the Dustbowl era, focusing on
the trials of the Joad family.
Ironman – Chris Crutcher
Bo Brewster is forced to attend group anger management classes. The group helps him
understand his lifelong anger at his father and becomes his greatest support in training to be a
tri-athlete.
Never Die Easy – Dan Yeager
This is a book with many lessons about life and death. Walter Payton and others tell the story of
his life as an NFL champion, his philosophy for living as a winner, and his dealing with his own
mortality.
The Pilot's Wife – Anita Shreve
When her husband dies in a plane crash, a woman tries to find out why it happened.
The Realm of Possibility – David Levithan
"Most readers will find someone they can relate to in this enchanting collection of linked
poems that delve deep and go far beyond the original stereotypes. Twenty teenagers–sensitive
outsiders, cruel popular girls, body-obsessed jocks, gay teens in the throes of first love–take
turns pouring their hearts onto the pages, detailing their loneliness, heartaches, hopes, and
joys. All attend the same high school, and as the book progresses their stories slowly weave
together" (School Library Journal).
The Red Badge of Courage – Stephen Crane
In this Civil War story, Stephen Crane probes the thoughts and actions of men fighting the
destructive forces in nature, in other human beings, and in themselves.
Tomorrow, When the War Began – John Marsden
This is a story of seven young people who have to deal with a sudden change in their world.
They exhibit human nobility, compassion and understanding under difficult conditions.
A Walk to Remember – Nicholas Sparks
Landon Carter learns that in spite of his bad behavior he really is a good person who can help
others. He learns about love, people's "inner" goodness, death and losing those who are closest
to us.
The Autobiography of Benjamin Franklin
One of the most popular works of American literature, this charming self-portrait has been
translated into nearly every language. It covers Franklin's life up to his prewar stay in London as
representative of the Pennsylvania Assembly, including his boyhood years, work as a printer,
experiments with electricity, political career, much more.
The Autobiography of Malcolm X
From hustling, drug addiction and armed violence in America's black ghettos Malcolm X turned,
in a dramatic prison conversion, to the puritanical fervour of the Black Muslims. As their
spokesman he became identified in the white press as a terrifying teacher of race hatred; but to
his direct audience, the oppressed American blacks, he brought hope and self-respect. This
autobiography (written with Alex Haley) reveals his quick-witted integrity, usually obscured by
batteries of frenzied headlines, and the fierce idealism which led him to reject both liberal
hypocrisies and black racialism.
Never Die Easy – Dan Yeager
Never Die Easy is Walter Payton's autobiography, told from the heart. Growing up poor in
Mississippi, he took up football to get girls' attention, and went on to become a Black College
All-American at tiny Jackson State (during which time he was also a finalist in a Soul Train dance
contest). Drafted by the Bears in 1975, he predicted that he would last only five years but went
on to play thirteen extraordinary seasons, a career earning him regular acknowledgment as one
of the greatest players in the history of professional football. And when his playing days were
over, he approached business and charity endeavors with the same determination and success
he had brought to the football field, always putting first his devotion to friends and family. His
ultimate battle with illness truly proved him the champion he always had been and prompted a
staggering outpouring of love and support from hundreds of thousands of friends and admirers.
Written with veteran journalist and author Don Yaeger in the last weeks of Walter Payton's life,
Never Die Easy presents Walter's singular voice—warm, plainspoken, funny, self-aware—along
with the voices of the friends, family, teammates, and business associates who knew him best
at all stages of his life, including his wife, Connie, and their children, Brittney and Jarrett; his
teammate and friend Matt Suhey; former Bears head coach Mike Ditka; and many, many
others.
Walter made Don Yaeger promise that his book would be "inspirational and leave people with
some kind of lesson . . . and make sure you spell all the words right." Never Die Easy keeps all
those promises.
The Autobiography of a Face – Lucy Greely
At age nine, Lucy Grealy was diagnosed with a potentially terminal cancer. When she returned
to school with a third of her jaw removed, she faced the cruel taunts of classmates. In this
strikingly candid memoir, Grealy tells her story of great suffering and remarkable strength
without sentimentality and with considerable wit. Vividly portraying the pain of peer rejection
and the guilty pleasures of wanting to be special, Grealy captures with unique insight what it is
like as a child and young adult to be torn between two warring impulses: to feel that more than
anything else we want to be loved for who we are, while wishing desperately and secretly to be
perfect.
10th Grade
Title: Red Sox Rule: Terry Francona and Boston's Rise to Dominance
Author: Michael Holley
Description: "Red Sox Rule is an inside look at the ascendancy of a bold new baseball dynasty
and the men who built it." (Book jacket/cover) Read how Theo Epstein and John Henry brought
in the right manager and only manager who could lead this team to the World Series.
Title: This I Believe: The Personal Philosophies of Remarkable Men and Women
Author: Jay Ellison & Dan Gediman, Editors
Description: "Based on the NPR series of the same name, the bestselling This I Believe features
eighty essayists – from the famous to the previously unknown – completing the thought that
begins the book's title. Each piece compels us to rethink not only how we have arrived at our
own personal beliefs but also to the extent to which we share them
with others." "…the American spirit at its best." (Taken from the back of the paperback edition
of the book) Over 80 contributors wrote 1 - 3-page entries with titles ranging from "Disrupting
My Comfort Zone" to "Be Cool to the Pizza Delivery Dude". This book is sure to bring laughter
and tears.
Title: Three Cups of Tea Author: Greg
Mortenson. Style: Memoir
A true story of one man's mission to promote peace (and counteract the terrorism of the
Taliban) by building one school at a time.
Title: A Thousand Splendid Suns
Author: Khaled Hosseini
This second novel by Hosseini, in my opinion, is even better than his first novel, The Kite
Runner. It is set against the
tumultuous backdrop of contemporary Afghanistan, a country that has undergone decades of
civil war and tyranny. In reality, many Afghan women have experienced arranged marriage,
abuse, poverty, abandonment, and a basic lack of human rights. This is a moving story of two
remarkable Afghan women who endure persecution and violence from the
1960′s to present day. A Thousand Splendid Suns is a heartbreaking piece of historical fiction
that is not for the faint at heart.
Title: The Life of Pi
Author: Yann Martel Style:
Description: A boy, a zebra, a tiger, a hyena, and an orangutan are all on a life boat … No, this is
not the opening line of a joke. It is actually the story of a teenage boy name Pi who is travelling
from India to Canada, by ship, with his family and the animals from his father's zoo when their
boat sinks. This is where Pi's true tale begins as he must explore his own abilities, and faith, in
order to survive.
Title: Shattered: Stories of Children and War
Author: Jennifer Armstrong
Description: This book is a collection of the voices of 12 children who are witnesses to war or
the children of veterans. From the Civil War to Pearl Harbor, Vietnam to Iraq, these 12 authors
share their personal experiences about war which may make readers cry and will definitely
make them angry.
Title: Clapton: the Autobiography
Author: Eric Clapton
Description: This autobiography reveals the personal life and stories of Clapton's monumental
musical career. He has performed with such groups as The Yardbirds and Cream and is called
"one of rock's most influential and revered guitarists" (Alan Light). He also shows personal
challenges with substance abuse, as well as the tragic death of
his son.
Title: Wildfire
Author: Nelson DeMille
Description: Set one year post 9/11, DeMille's thriller involves an American right-wing plot to
suitcase-nuke two U.S. cities. The idea is to provoke an existing government plan called Wild
Fire that automatically responds to nuclear terrorism in the homeland with a nuclear attack
that will wipe out most of the Middle East. This tour de force of relentless narrative power
neither stops nor slows for twists or turns, but charges straight ahead in the face of danger.
Title: The Hunger Games
Author: Suzanne Collins
Description: N.Y. Times Bestseller. Could you survive on your own, in the wild, with everyone
fighting against you? Twenty four teenagers are forced to enter. Only the winner survives. In
the ruins of a place once known as North America lies the nation of Panem, a shining capitol
surrounded by twelve outlying districts. Each year, the districts are forced by the capitol to send
one boy and one girl between the ages of 12 and 18 to participate in the Hunger Games, a
brutal and terrifying fight to the death – televised for all to see. Highly recommended!
(from: www.scholastic.com/thehungergames/about-the-book.com)
Title: The House on Mango Street Author:
Sandra Cisneros
The House on Mango Street is an extraordinary story of a girl, Esperanza Cordero who grew up
in an inner city neighborhood in Chicago. Esperanza vividly tells us of her many experiences, all
filled with a wide array
of emotions and inner feelings. Though life may be difficult, happy, sad or joyful, Esperanza
lives with hope, just as her name signifies.
9th Grade
Black Like Me – John Howard Griffin
This is the startling, penetrating, firsthand account of a white man who learns what it is like to
live as a black man in the South.
Graceling - Kristin Cashore
"This novel takes readers inside the world of Katsa, a warrior-girl in her late teens with one blue
eye and one green eye. This gives her haunting beauty, but also marks her as a Graceling.
Gracelings are beings with special talents—swimming, storytelling, dancing. Katsa's Grace is
considered more useful: her ability to fight is unequaled in the seven kingdoms. Forced to act as
a henchman for a manipulative king, Katsa channels her guilt by forming a secret council of likeminded citizens who carry out secret missions to promote justice over cruelty and abuses of
power" (Amazon.com Review).
Hoops – Walter Dean Meyers
Seventeen-year old Lonnie Jackson hopes that basketball will be his ticket out of Harlem, until
the savage underworld of sports and big money forces him to make a choice.
The Pigman's Legacy – Paul Zindel
In this second round of zany experiences with an old man, John and Lorraine discover that they
are in love and discover that they have received a legacy of life, not of death, from the Pigman.
Remember Me – Mary Higgins Clark
A young couple retreats to tranquil Cape Cod to escape from the horrors of their past -only to
become trapped in a nightmare beyond their understanding, and out of their control.
Roll of Thunder, Hear My Cry – Mildred Taylor
The vivid story of a black family, whose warm ties to each other and their land give them
strength to defy rural Southern racism during the Depression, showing the rich inner rewards of
black pride.
Summer of My German Soldier – Bette Greene
This is a poignant, tragic story of a mistreated Jewish girl who befriends an escaped German
prisoner of war because he is kind to her.
Things Not Seen – Andrew Clement
"Teens, especially those not in the über-popular set, know all about feeling invisible. But what
would happen if you actually did wake up invisible one day? Fifteen-year-old Bobby is faced
with this curious predicament in Andrew Clements's compelling novel Things Not Seen"
(Amazon.com Review).
Treasure Island – Robert Louis Stevenson
This is a classic adventure story of a perilous sea journey, a mutiny led by the infamous Long
John Silver and a lethal scramble for buried treasure seen through the eyes of a cabin boy, Jim
Hawkins.