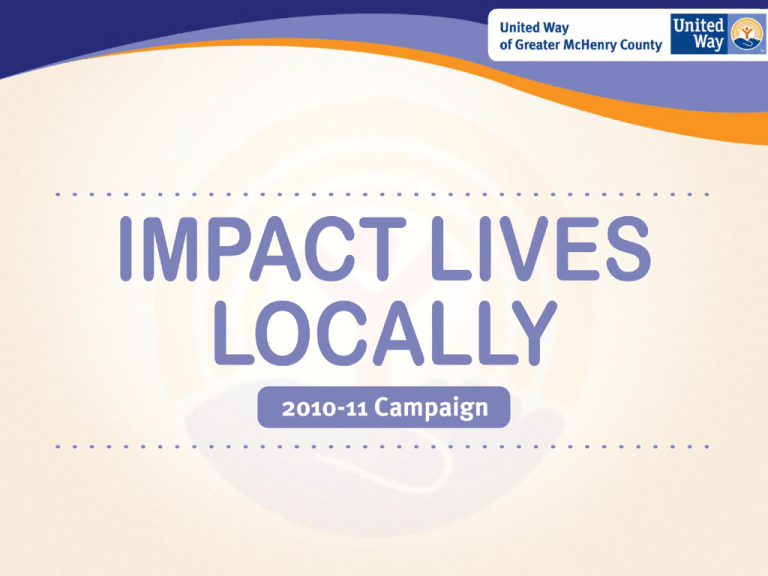 United Way of Greater McHenry
County:
The Local Impact
• 84,000 McHenry County residents
utilized local United Way partner
agencies last year
• That's more than 1 out of every 4
residents,
several of whom may be employees
• 26 local partner agencies offering 52
essential
human service programs receive funding
from United Way of Greater McHenry
County
How Donations are Distributed:
People Served vs. Campaign Dollars
Host an Employee Campaign:
Your Impact
Your support is essential: 91% of the dollars
raised by the
United Way of Greater McHenry County come from
employee funded campaigns and corporate
donations.
Benefits of hosting an employee campaign:
• Ensures employees and other greater McHenry County residents
have continued access to essential human services
• Increases awareness and connects employees to social service
agencies in greater McHenry County
• Shows corporate awareness and concern for your community,
friends, neighbors and fellow employees—excellent PR
opportunity
• Creates leadership opportunities for employees
Corporate Campaign Dollars vs.
Individual Donor Dollars
Running a Successful Campaign:
It's as Easy as 1, 2, 3…
1
Select an Employee Campaign Manager
Develop a leader from within your organization—provides
highly visible, cross company experience for selected
employee. Tests leadership and project management skills.
2
Training, materials and ideas for running a
successful campaign are provided by United Way
staff
United Way even coordinates visits from partner agencies to
speak at "kick off" meetings.
3
Collect critical employee donations to support
essential health and human services
organizations in greater McHenry County
Your company plays a vital role in changing lives!
Top Local Corporate Contributors
2009 Employee
Campaigns
Adult & Child Rehabilitation Center
Affinia Under Vehicle Group
Alden-Hebron Community S.D. 19
Allendale Inc.
Alliance Contractors, Inc.
Amcore Bank N.A.
American Community Bank & Trust
Baxter & Woodman, Inc.
Bergeland & Hubbard LLC
Best Buy - Crystal Lake
Big Brothers Big Sisters
Bjorkman's Ace Hardware, Inc.
Blain's Farm & Fleet
Campion, Curran, Dunlop & Lamb, PC
Cary Elementary School District 26
Cary Park District
Castle Bank
Centegra Health System
Child Advocacy Center
City of Marengo
City of McHenry
City of Woodstock
CL Graphics, Inc.
Comcast
Community Action Agency
Community Consultants, Inc.
Community Coordinated Child Care
Community High School District 155
Consumer Credit Counseling Service
Corporate Disk Company
Costco Wholesale
Covidien
CRV Electronics Corp.
Crystal Lake Bank & Trust
Crystal Lake Elementary S.D. 47
Curran Group, Inc.
Danaher Motion
Deluxe Corporation
Dental Craft Corp.
Dow Advanced Materials-Ringwood
Enterprise Transportation
EPS Materials
Family Alliance
Family Health Partnership Clinic
Family Service & CMHC
FedEx
Fifth Third Bank
Filtertek Inc.
First Midwest Bank McHenry
Follett Library Resources, Inc.
Follett Software Company, Inc.
Friendship House
Golden Eagle Community Bank
Hampton Inn
Harvard Community S.D. 50
Harvard Savings Bank
Home of the Sparrow
Home State Bank
Hospice of Northeastern Illinois
Huntley Consolidated School Dist. 158
Huntley Fire Protection District
Huntley Park District
Huntsman
Inergy Propane - Country Gas Co.
J & D Mechanical Industries, Inc.
J.C. Penney Co., Inc
Johnsburg Community S.D. 12
Keystone Display, Inc.
Knaack Manufacturing Company
Kohl's
Light Center Foundation
Lowe's
McHenry Area Chamber of Commerce
McHenry Community HS Dist. 156
McHenry County College
McHenry County EDC
McHenry County Government Center
McHenry County Youth Service Bureau
McHenry Elementary S.D. 15
McHenry Post Office
McHenry Savings Bank
McHenry Township
Medela, Inc.
Meijer
Mercy Harvard Hospital
Michling Hofmann Vinton Plaza &
Wick, PC
Modine Manufacturing Company
Nicor Inc.
Nissan Forklift Corporation, N.A.
Nissan Industrial Engine Mfg.
Northwest Herald
Pioneer Center for Human Services
Radicom, Inc.
RAE Corporation
Richmond-Burton HS District 157
S.E.D.O.M.
Sage Products
Scot Forge
SeaquistPerfect
Senior Services Associates
Sherman Mechanical, Inc.
Snap-on Tools
Target
TC Industries, Inc.
Techalloy, Central Wire Group
The Harvard State Bank
The Salvation Army
True Value Central Ship
True Value Distribution Center
True Value Manufacturing.
True Value Transportation HQ
Turning Point, Inc.
Vaughan & Bushnell Mfg. Co.
Village of Cary
Village of Fox River Grove
Village of Lake in the Hills
Wachovia Securities, LLC
Wal-Mart
Wells Fargo Home Mortgage
Wells Manufacturing Co.
Woodstock Christian Life Services
Woodstock Community S.D. 200
YMCA of McHenry County
We Need Your Help!
Last year's Campaign raised
$1,567,000
Can we count on your company's
support in 2010-11?