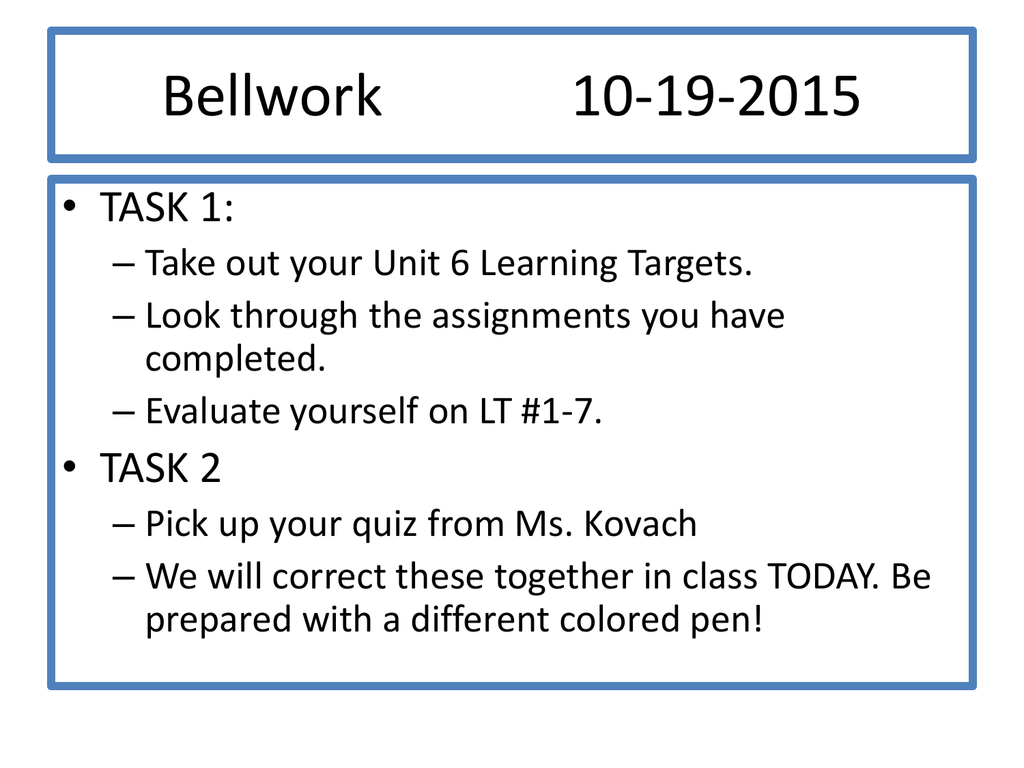 Bellwork
10-19-2015
• TASK 1:
– Take out your Unit 6 Learning Targets.
– Look through the assignments you have
completed.
– Evaluate yourself on LT #1-7.
• TASK 2
– Pick up your quiz from Ms. Kovach
– We will correct these together in class TODAY. Be
prepared with a different colored pen!
Intermolecular
Forces
(IMFs)
The forces that hold one
molecule to another
Learning Targets of TODAY!
8.
9.
I CAN state the 6 intermolecular forces.
I CAN classify a molecule based off its intermolecular
forces.
10. I CAN justify how a compound's properties are
affected by its intermolecular forces (surface tension,
volatility, capillarity, solubility, boiling point, melting
point)
11. I CAN predict the state of matter for a given
compound using my knowledge of its intermolecular
forces.
12. I CAN compare physical properties of two substances
given their formula or name.
Correcting Homework #1-3:
Correcting Homework #4-7:
Intramolecular Forces
• These are forces that are between atoms and
are called bonds.
• They can be ionic, polar or nonpolar covalent,
and metallic.
• These forces are very strong and hold
molecules and compounds together.
Intermolecular Forces
• These are forces that are
"between" the
molecules.
• There are SIX kinds of
intermolecular forces, and
have different
STRENGTHS depending
on the molecules
interacting.
Intermolecular Forces
(IMF)
1.
2.
3.
4.
5.
6.
Macro-covalent
Macro- ionic
Metallic
Hydrogen
Dipole-Dipole
Dispersion
1. Macro-Covalent
• The strongest of them all.
• Examples:
Diamond (all Carbon atoms)
Rocks (Silicon and Oxygen)
•
•
•
•
Held together by covalent bonds
Hard, high melting point
Poor conductor of heat and electricity
Solids
1. Macro-Covalent
Allotropes:
carbon
atoms
diamond
graphite
Crystalline
quartz (SiO2)
Non-crystalline
quartz glass
2. Macro- ionic
Very strong
Permanent strong charge
interactions
Usually crystal in formation
(solids)
Very high melting points
3. Metallic
Solids at room
temperature
STRONG Intermolecular
Forces
Metal Atoms give up
electrons
This creates many
dipoles throughout
the atoms, they SHIFT
but are always there
"SEA of electrons"
4. Hydrogen Bonding
A strong intermolecular
attractions
Caused by very strong
dipole-dipole attraction
between molecules with
N-H, O-H, and F-H bonds.
Responsible for many of
water's special
properties.
Liquids
4. Hydrogen Bonding
The hydrogen bond is a special dipole-dipole interaction
between the hydrogen atom in a polar N-H, O-H, or F-H bond
and an electronegative O, N, or F atom. IT IS NOT A BOND.
or
H…B
H…A
A
A
A & B are N, O, or F
5. Dipole-Dipole
Caused by attraction of positive
end of one polar molecule to
negative of another polar
molecule.
Attractive forces between polar
molecules
Liquids
5. Dipole-Dipole
Orientation of Polar Molecules
6. 'London' Dispersion Forces
Get stronger with increase in mass
Gas
Only attractive force between non-polar molecules
(symmetrical or those with only non-polar bonds) or single
atoms.
Momentary Dipole
Practice
Write phase and IMF for each
H2O
CCl4
CH2O
NH3
Hg
NaCl
Answers
H2O – Hydrogen Bonding - Liquid
CCl4 – London Dispersion Forces - Gas
CH2O –Dipole-Dipole - Liquid
NH3 – Hydrogen Bonding - Liquid
Hg – Metallic - Liquid
NaCl – Ionic - Solid
Physical Properties Affected by
IMFs
Surface Tension
Volatility
Capillarity
Solubility "Like dissolves like"
Boiling and Melting Point
Volatility
Ability to evaporate
• Volatility is high when IMFs are weak. Why?
Compare volatility of alcohol and water.
Capillarity
Ability to climb up a tube or surface
• ONLY with liquids
• High when liquid molecules are attracted to the tube
or surface.
Ex. Meniscus, paper towels, blood test
Capillary Action
Surface Tension
A "skin" develops on
the surface of
liquids.
Water's is very
strong.
 High when
molecules are
attracted to each
other cohesion.
Ex. Paper clip
"floating"
Water striders
Basilisk Lizard
https://youtu.be/45yabrnryXk
Surfactants
• Molecules that act to
disrupt a liquid's
surface tension
"wetting agent"
• Structure-long nonpolar hydrocarbon
tail and a polar or
ionic head
How do they work?
• Disrupt surface tension by acting like a "wedge"
Surfactants as Cleaning Agents
• Non-polar hydrophobic (water-hating) tails
and polar or ionic hydrophilic (water-loving)
heads form micelles.
Surfactants
• https://www.youtube.com/watch?v=cdKlyofu
0Xw
Solubility
How does a
snow globe
work?
Solubility
Solubility
What dissolves in what?
I. Ionic substances dissolve in water
II. Covalent compounds:
A. Non-polar dissolves in non-polar
solvents.
B. Polar solutes dissolve in polar solvents.
C. Partially polar (only polar in a small part
of the molecule) solutes dissolve in partially
polar solvents.
Like Dissolves Like!
Will it dissolve in water??
1. Ammonia (NH3)
2. Methane gas (CH4)
3. Calcium chloride (CaCl2)
4. Iron (Fe)
5. Carbon dioxide (CO2)
6. Ethanol (C2H5OH)
Answers
1. Ammonia (NH3) --Dissolves
2. Methane gas (CH4)—Doesn't dissolve
3. Calcium chloride (CaCl2)--Dissolves
4. Iron (Fe)—Doesn't dissolve
5. Carbon dioxide (CO2)—Doesn't dissolve
6. Ethanol (C2H5OH)--Dissolves
Melting Point & Boiling Point
Strong IMFs have higher melting
and boiling points.
This is because it takes more energy
to break the intermolecular
forces that are holding the
molecules together.
Practice!