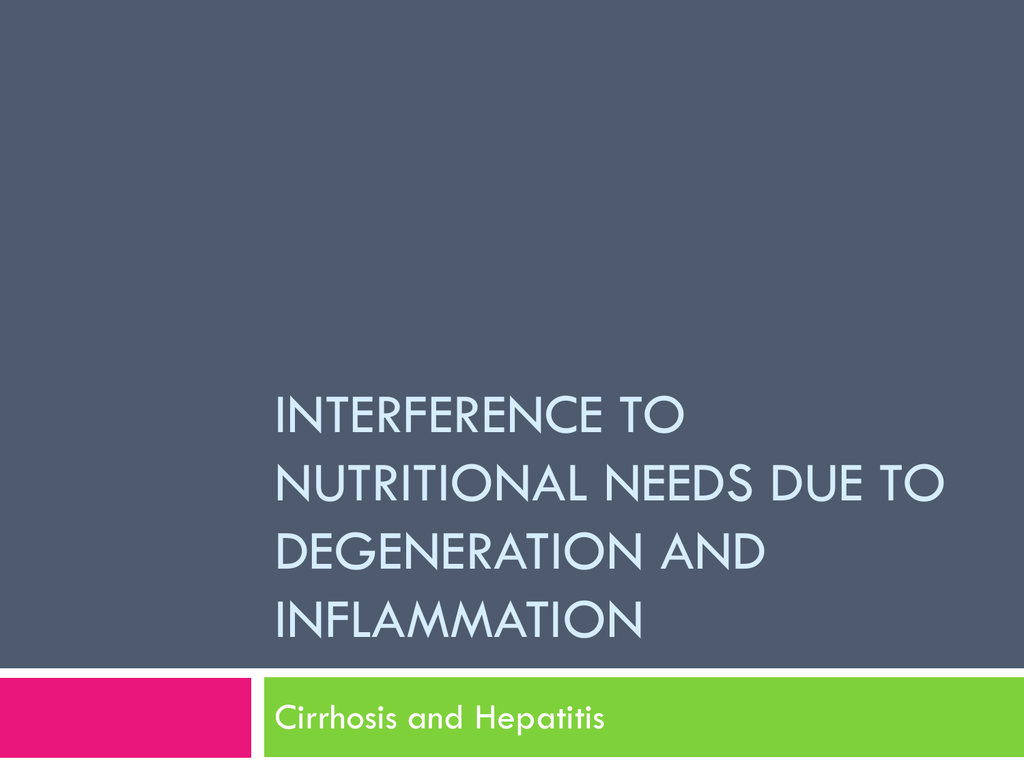 INTERFERENCE TO
NUTRITIONAL NEEDS DUE TO
DEGENERATION AND
INFLAMMATION
Cirrhosis and Hepatitis
Cirrhosis



A scarring of the liver
Slow and progressive in nature
Causes




Compensated


Etoh
Hepatitis C
Hepatitis B
No significant symptoms despite damage
Uncompensated

Impaired function demonstrated by








Portal htn
Ascites
Esophageal varices
Coagulation problems
Jaundice
Encephalopathy
Hepatorenal syndrome
peritonitis



Identify the pathology which occurs with each of the
complications that arises from cirrhosis (in other
words, why do you see these problems)
What other diseases are capable of causing
cirrhosis? (hint: you just studied these problems
over the last 2 weeks)
Physical manifestations of the disease
 See
your textbook pg 1372 for a great visual aide

Laboratory testing (see page 1374, table 62-4)





AST
ALT
LDH
Alkaline Phosphatase
Bilirubin




Serum protein






Total
Direct/indirect
Serum/urine
Total
Albumin
Serum globulin
Amonia
PT
What do each of these labs indicate?



Look at the concept map on page 1376 and chart
62-2 on page 1377
Identify those s/s consistent with cirrhosis/liver
disease (both subjective and objective)
Give rationales for each nursing intervention
identified (are there other interventions you could
add to them?)

Surgical management
 Peritoneovenous
 Portacaval



shunt
shunt
What care would you expect to perform following
these surgeries?
What problems might you expect postoperatively?
And how would you handle them? (treatments)

Nonsurgical management

Medications

Why use betablockers?
Gastric intubation/lavage
 Esophagogastric balloon tamponade to stop bleeding
varices


What is the nursing care for the patient who has undergone this
procedure?
Blood transfusions
 Endoscopic band ligation or sclerotherapy to treat varices
 Transjugular intrahepatic portal-systemic shunt – a last
resort option




Portal systemic encephalopathy is a complication of
liver failure that is dangerous and potentially lethal.
What are the nursing interventions you would
perform for someone with this problem?
Give rationales for each intervention. Include the
medications the MD would typically prescribe to be
administered by the nurse.

Education is always a part of our job as nurses.
What would you want to be sure to teach your
patient with cirrhosis?
Hepatitis




What are the various types of hepatitis?
What are the differences in how they are
contracted?
S/s are due, in part, to the infectious nature of the
disease but also due to the disease's impact on the
liver. What s/s can you relate to the liver? To the
infection?
What lab tests would be indicative of hepatitis?
What labs simply indicate liver involvement?


Identify the nursing interventions you would perform
and give the rationales for each.
What medications are being used to treat hepatitis?
How do they work? What are the dangers/risks
using them?