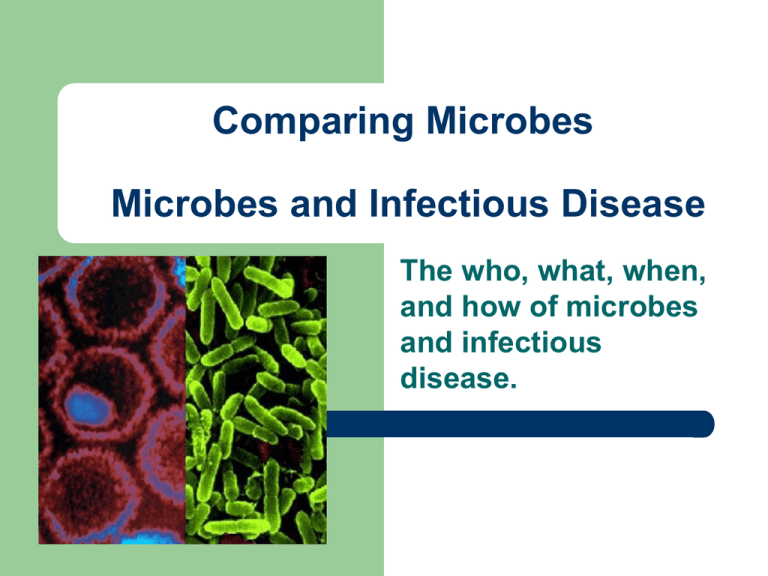 Comparing Microbes
Microbes and Infectious Disease
The who, what, when,
and how of microbes
and infectious
disease.
Microbiology
Explores microscopic organisms that include:
Viruses
Bacteria
protozoa
Parasites
Fungi
Algae
●
Is It Alive
●
●
Microbes include a wide variety of organisms.
Scientists use a set of criteria to constitute what is
a living organism.
–
–
–
–
–
Composed of cells
Perform certain chemical process such as growth and
digestion
Reproduce
Make their own nutrients or ingest nutrients from
environment
Respond to a stimuli such as light and touch
Types of Microbes
(3 types, these are also called Pathogens)
• Viruses – Have to have a host
to survive/reproduce
• Bacteria – Do not need a host
to survive/reproduce, most
can survive without oxygen
• Parasites – Feed off of a host,
usually harms the host. Does
not need the host to
reproduce
Mosquito –
Parasite (can
carry
malaria)
Viruses
• Microscopic organisms that get
inside a healthy cell and often
destroy the cell.
• Many viruses cause diseases such as
the common cold, flu, acquired
immune deficiency syndrome (AIDS).
• A virus CANNOT live or function on
its own, it requires a host – a living
thing the virus/parasite lives on or in.
• Antibiotics DO NOT kill viruses - Rest
and fluids recommended. Vaccine or
anti – viral drug is used.
Avian Flu Virus
Viruses continued
•
•
•
•
•
Most widespread illnesses among humans.
Range from mild fevers to some forms of cancer
Several other severe and fatal diseases.
Transmission can be by: human contact,
through water or a bite.
http://phschool.com/atschool/phsciexp/active_art/virus/index.html
/
Bacteria
(Also known as a Prokaryotes)
• Unicellular
• Can live in variety of places, with oxygen,
without oxygen, extreme hot or cold.
• Living (do not need a host to survive)
• Have three basic shapes
What happens if we over use
antibiotics?
• What is created from the overuse of
antibiotics?
Bacteria (con't)
• Many diseases caused by
bacteria are
contagious/infectious
• Bacterial diseases can be
treated with an antibiotic.
• Some bacterial diseases
are Strep throat, sinus
infections, tuberculosis
Streptococcus
Parasites
• A parasite is an organism that
gets its food from another living
organism (a host)
• Lives either on or in the host.
• Parasites can come in the form
of a protists, fungi or tiny
invertebrates.
• Parasites cause diseases such
as malaria, athlete's foot,
elephantiasis, etc.
• Natural selection favors
adaptations that allow the
parasite to efficiently exploit its
host.
Protist & Fungi
(Are Parasites)
• Protists such as and
amoeba can cause
African Sleeping
Sickness
• Fungi – Eczema,
Athlete's
Foot
Fungi
•
•
•
•
Eukaryotic
Most are multicellular heterotrophs.
Adapt to its environment
Attack the tissues of living plants and animals
and cause disease.
• Major concern for humans: not only food
sources becoming a competitor for nutrients
from the food.
• Mold spores – airborne and have allergic
reaction
Mutagens
●
●
●
Are substances that causes a person's cells
to mutate, or change form
Examples of mutagens: X-rays, cigarette
smoke, even sunlight
Sunlight causes skin cells to change/mutate
which may cause skin cancer.
Mouth Cancer caused by the use of tobacco products
http://notobacco.files.wordpress.com/2009/10/mouth_cancer2.jpg
Skin Cancer possibly caused by exposure to sunlight
www.drsidle.com/procedures/skin_cancer.html
How Infectious Disease Spreads
●
Vectors – transmit a pathogen from a host to a
new organism. Ex: mosquito bites animal
infected with malaria and then bites a person
●
Carrier – An organism that passes diseases to
others even though they may not feel sick. A
human with HIV can transmit HIV virus to
another human being even if they do not show
any symptoms.
●
http://www.nsf.gov/news/special_reports/ecoinf/ecoinf.htm
Infectious Diseases
●
●
●
●
●
●
Diseases that can be passed from one living thing to
another.
May also be caused by animal parasites, which may
be in intestines, blood or tissues.
Transmitted by coughing, sneezing, direct or indirect
contact.
Examples: Flu, cold, measles, mumps, chicken pox,
STD's
Avian Flu (H5N1) – Person contacts an infected bird.
Not passed person to person.
http://www.youtube.com/watch?v=iS3PO5mj-a8
Non-Infectious Disease
●
●
●
Usually develop due to a mutation in the
DNA or from lifestyle choices.
Examples (DNA): Cancer, MS(multiple
sclerosis), MD (muscular dystrophy), Cystic
Fibrosis
Examples of lifestyle choices: Smoking,
drinking, taking drugs. These can lead to
cancer, liver disease, and immune disorders.