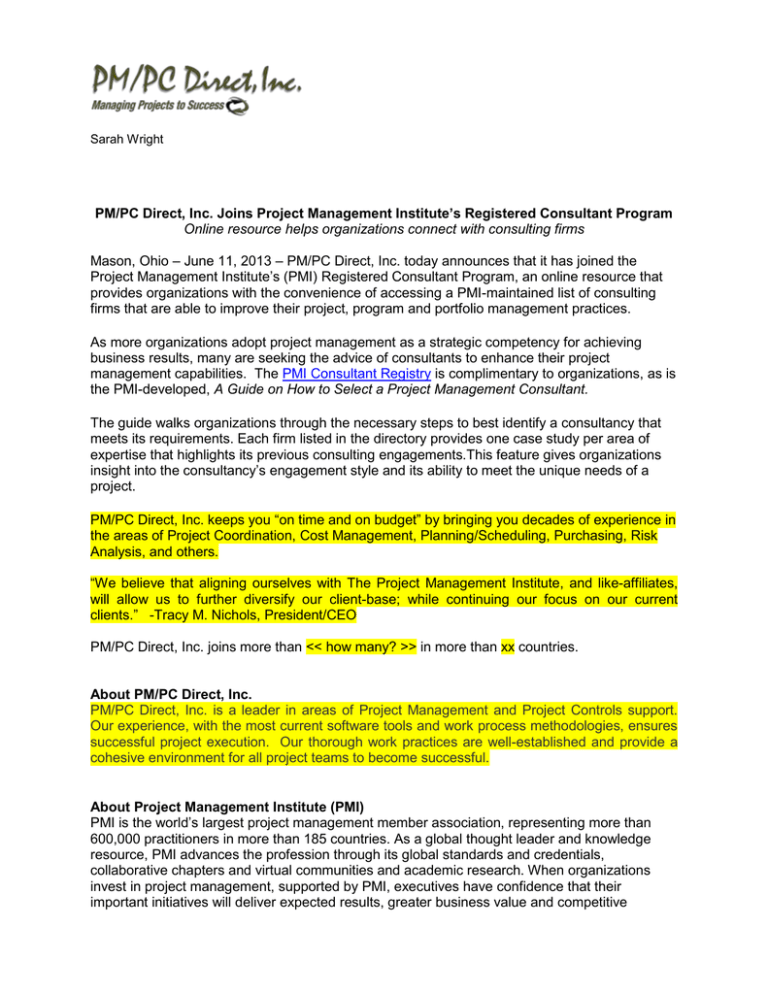 Sarah Wright
PM/PC Direct, Inc. Joins Project Management Institute's Registered Consultant Program
Online resource helps organizations connect with consulting firms
Mason, Ohio – June 11, 2013 – PM/PC Direct, Inc. today announces that it has joined the
Project Management Institute's (PMI) Registered Consultant Program, an online resource that
provides organizations with the convenience of accessing a PMI-maintained list of consulting
firms that are able to improve their project, program and portfolio management practices.
As more organizations adopt project management as a strategic competency for achieving
business results, many are seeking the advice of consultants to enhance their project
management capabilities. The PMI Consultant Registry is complimentary to organizations, as is
the PMI-developed, A Guide on How to Select a Project Management Consultant.
The guide walks organizations through the necessary steps to best identify a consultancy that
meets its requirements. Each firm listed in the directory provides one case study per area of
expertise that highlights its previous consulting engagements.This feature gives organizations
insight into the consultancy's engagement style and its ability to meet the unique needs of a
project.
PM/PC Direct, Inc. keeps you "on time and on budget" by bringing you decades of experience in
the areas of Project Coordination, Cost Management, Planning/Scheduling, Purchasing, Risk
Analysis, and others.
"We believe that aligning ourselves with The Project Management Institute, and like-affiliates,
will allow us to further diversify our client-base; while continuing our focus on our current
clients." -Tracy M. Nichols, President/CEO
PM/PC Direct, Inc. joins more than << how many? >> in more than xx countries.
About PM/PC Direct, Inc.
PM/PC Direct, Inc. is a leader in areas of Project Management and Project Controls support.
Our experience, with the most current software tools and work process methodologies, ensures
successful project execution. Our thorough work practices are well-established and provide a
cohesive environment for all project teams to become successful.
About Project Management Institute (PMI)
PMI is the world's largest project management member association, representing more than
600,000 practitioners in more than 185 countries. As a global thought leader and knowledge
resource, PMI advances the profession through its global standards and credentials,
collaborative chapters and virtual communities and academic research. When organizations
invest in project management, supported by PMI, executives have confidence that their
important initiatives will deliver expected results, greater business value and competitive
advantage. Visit us at www.PMI.org, www.facebook.com/PMInstitute, and on
Twitter@PMInstitute.