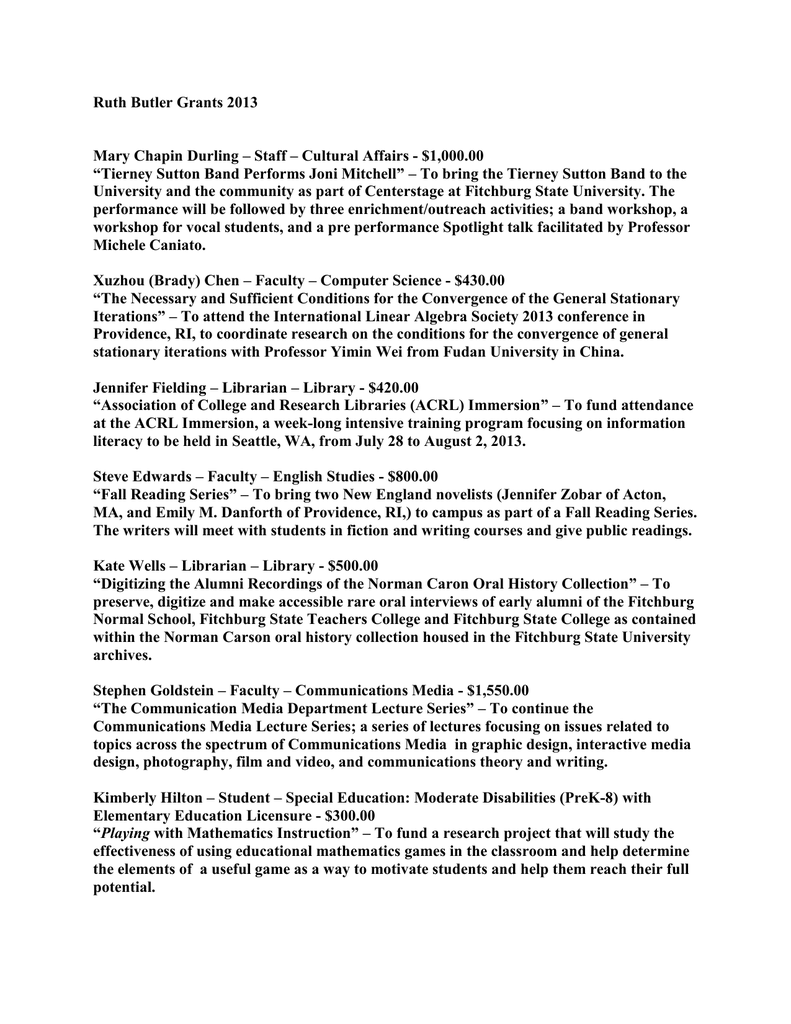 Ruth Butler Grants 2013
Mary Chapin Durling – Staff – Cultural Affairs - $1,000.00
"Tierney Sutton Band Performs Joni Mitchell" – To bring the Tierney Sutton Band to the
University and the community as part of Centerstage at Fitchburg State University. The
performance will be followed by three enrichment/outreach activities; a band workshop, a
workshop for vocal students, and a pre performance Spotlight talk facilitated by Professor
Michele Caniato.
Xuzhou (Brady) Chen – Faculty – Computer Science - $430.00
"The Necessary and Sufficient Conditions for the Convergence of the General Stationary
Iterations" – To attend the International Linear Algebra Society 2013 conference in
Providence, RI, to coordinate research on the conditions for the convergence of general
stationary iterations with Professor Yimin Wei from Fudan University in China.
Jennifer Fielding – Librarian – Library - $420.00
"Association of College and Research Libraries (ACRL) Immersion" – To fund attendance
at the ACRL Immersion, a week-long intensive training program focusing on information
literacy to be held in Seattle, WA, from July 28 to August 2, 2013.
Steve Edwards – Faculty – English Studies - $800.00
"Fall Reading Series" – To bring two New England novelists (Jennifer Zobar of Acton,
MA, and Emily M. Danforth of Providence, RI,) to campus as part of a Fall Reading Series.
The writers will meet with students in fiction and writing courses and give public readings.
Kate Wells – Librarian – Library - $500.00
"Digitizing the Alumni Recordings of the Norman Caron Oral History Collection" – To
preserve, digitize and make accessible rare oral interviews of early alumni of the Fitchburg
Normal School, Fitchburg State Teachers College and Fitchburg State College as contained
within the Norman Carson oral history collection housed in the Fitchburg State University
archives.
Stephen Goldstein – Faculty – Communications Media - $1,550.00
"The Communication Media Department Lecture Series" – To continue the
Communications Media Lecture Series; a series of lectures focusing on issues related to
topics across the spectrum of Communications Media in graphic design, interactive media
design, photography, film and video, and communications theory and writing.
Kimberly Hilton – Student – Special Education: Moderate Disabilities (PreK-8) with
Elementary Education Licensure - $300.00
"Playing with Mathematics Instruction" – To fund a research project that will study the
effectiveness of using educational mathematics games in the classroom and help determine
the elements of a useful game as a way to motivate students and help them reach their full
potential.