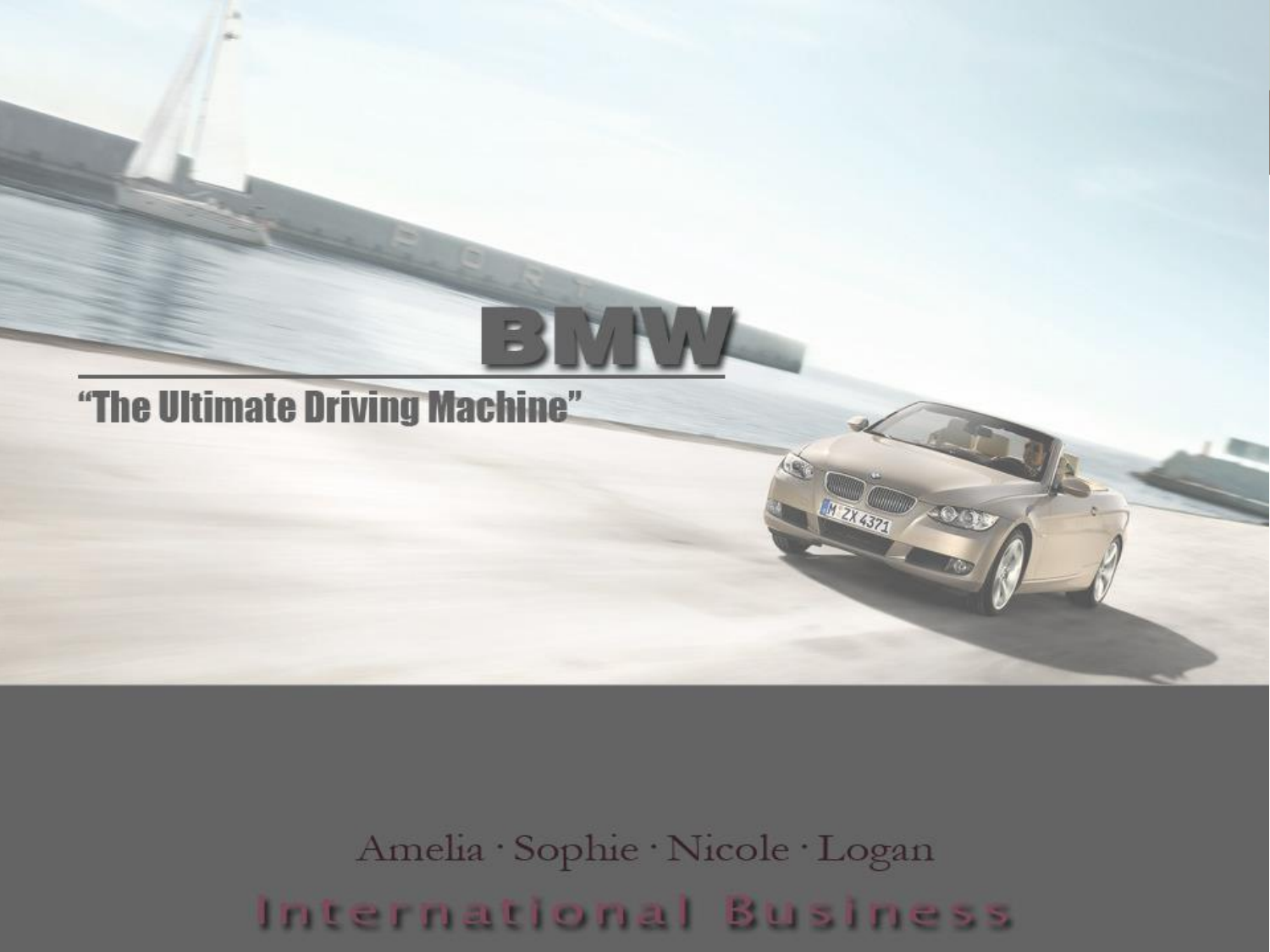 Our Members
Sophie
Logan
Nicole
Introduction
Golabal Expansion
Competitors
SWOT
Challenges
Industry Analysis
Amelia
Recommendations
Introduction of BMW
Global Market Expansion & Challenges
Competitors
Industry Analysis
Recommendations
Introduction of BMW
Past
Current
Founded in 1916, German
An aircraft engine manufacturing plant
Four stroke internal combustion engine
Royce-Rolls, BMW, MINI
High-end vehicles, aircraft engines,
motocycles, SUVs
Battery-driven cars
Future
"Project i "
Fun Fact!
Fun Fact
SWOT Analysis
Strengths
Weakness
• Long history, abundant technical
strength and strong finance
• Own BMW, MINI, and Rolls-Royce
synchronously
• Numerous R&D funds
• Pure high-grade route
• More oil consumption relatively
• High price of repairing and after service
• Recalled 350,800 cars all over the world due
to quality problems.
Opportunities
Threats
• Mature developed country market and
emerging developing country market
• Income increasing
• Global environment issues
• Intense competition
• Increasing price of raw materials and larbor
force
• Oil price
Global Market Expansion
Global Market Share
5.40% 3%
3.20%
9.60%
15%
15.40%
17.40%
14%
11.10%
5.40%
BMW
FORD
Toyota
Nissan
Volkswagon
General Motor
Honda
Kia
Mazda
Chrysler
Global Market Expansion
Different Attitudes To Purchase Cars
Europeans
Asians
Americans
Reliability, security, quality, advanced technology
Brand, quality, economic, security
The function of the car decides the car's amount
The market strategy of Asia
Four phases
Asian
Quantifies the potential
of the of
Asia
market
markets
Fourth
First
Divided Asian markets into four phases
Establishment of a
complete factory.
Thrid
As an import merchant
Second
Established sales company
in oversea
Set up completely knocked
down (CDK) factory
The market strategy of America
• The concept of the American to the car:
the function of the car decides the car's amount
• Depend on the excellent advertising activity to develop
the new market.
• Promotes the brand position.
Challenges
The wrong brand strategy
The BMW become the low
quality upstart's car
During the global market expansion, the
brand strategy captain and integrate the
whole enterprise value
Problems in
China
Competitors – domestic
Electronic Fuel
Injection
Porsche – Panamera
BMW - 7 Series, 750i
Luxury style
Emphasis on comfort
Stable
Lower price
Low emission
Competitors – domestic
Audi- R8
In U.S saled 100,000 last year
Success in China
BMW- M6
Success in U.S. saled 336,000
last year
200,000 goal in Asia, 2012
Competitors – International
Mitsubishi (Japanese)
– Evolution
BMW – 335i xDrive
Powerful
Lower emissions
Lower fuel consumption
Professional
Industry Analysis
Important role in economic development
Fun Fact
In fact, 85% of scrape
cars have been recycled
Stage
3
in German
.
B
Stage 2
Stage 1
The industry was
originated in
Germany, in 1886
A
C
Automobile
"Loan Capital
"Commercial Capital Industry
Globalization"
Globalization"
Future trends - new
energy sources
E
D
The automobile industry was
devided into three stages.
"Industry Capital
Globalization"
Difficult time of Global
automobile industry
Recommendations
Short-term Recommendations
1
2
Make the quality
assurance and keep
its brand image
Two groups may
drive BMW more
successful in China.
One is rich strong
background cool
guys. Another is
modern fashion
women.
Fun Fact
3
Keep positioning its
car level in high-end
cars, and instant
promoting its
strength– "The
Ultimate Driving
Machine"
Long-term Recommendations
1
2
3
To be more efficient
and environmental,
to face the
challenges of global
warming, rising
emissions, and
dependence on oil
import.
Development of new
energy vechicles,
while balancing the
contradiction
between the cost
advantages and
competitive
advantages.
Use of their
competitive
advantages, exploit
new markets, and
tap potential
customers.