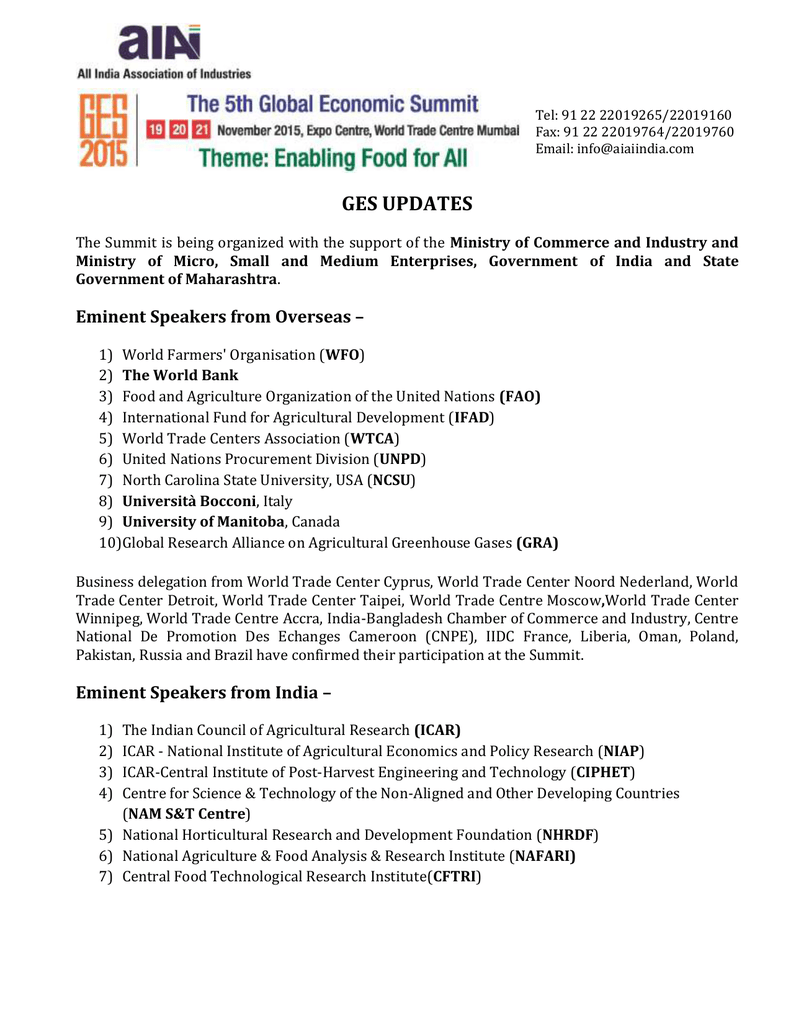 Tel: 91 22 22019265/22019160
Fax: 91 22 22019764/22019760
Email: [email protected]
GES UPDATES
The Summit is being organized with the support of the Ministry of Commerce and Industry and
Ministry of Micro, Small and Medium Enterprises, Government of India and State
Government of Maharashtra.
Eminent Speakers from Overseas –
1) World Farmers' Organisation (WFO)
2) The World Bank
3) Food and Agriculture Organization of the United Nations (FAO)
4) International Fund for Agricultural Development (IFAD)
5) World Trade Centers Association (WTCA)
6) United Nations Procurement Division (UNPD)
7) North Carolina State University, USA (NCSU)
8) Università Bocconi, Italy
9) University of Manitoba, Canada
10)Global Research Alliance on Agricultural Greenhouse Gases (GRA)
Business delegation from World Trade Center Cyprus, World Trade Center Noord Nederland, World
Trade Center Detroit, World Trade Center Taipei, World Trade Centre Moscow,World Trade Center
Winnipeg, World Trade Centre Accra, India-Bangladesh Chamber of Commerce and Industry, Centre
National De Promotion Des Echanges Cameroon (CNPE), IIDC France, Liberia, Oman, Poland,
Pakistan, Russia and Brazil have confirmed their participation at the Summit.
Eminent Speakers from India –
1)
2)
3)
4)
The Indian Council of Agricultural Research (ICAR)
ICAR - National Institute of Agricultural Economics and Policy Research (NIAP)
ICAR-Central Institute of Post-Harvest Engineering and Technology (CIPHET)
Centre for Science & Technology of the Non-Aligned and Other Developing Countries
(NAM S&T Centre)
5) National Horticultural Research and Development Foundation (NHRDF)
6) National Agriculture & Food Analysis & Research Institute (NAFARI)
7) Central Food Technological Research Institute(CFTRI)
Associate Sponsors –
1) The Maharashtra Agro Industries Development Corporation Limited (MAIDC)
2) Small Industries Development Bank of India (SIDBI)
3) Maharashtra Industrial Development Corporation (MIDC)
Support Partners –
1)
2)
3)
4)
5)
6)
7)
8)
MSME-Development Institute, Mumbai
National Small Industries Corporation Limited (NSIC)
National Institute for Micro, Small & Medium Enterprises (ni-msme)
Mahratta Chamber of Commerce Industries & Agriculture(MCCIA)
Biznovators - Gaea Consulting Solutions Pvt. Ltd
National Agriculture & Food Analysis & Research Institute (NAFARI)
Agro & Food Processing Technology & Equipment Providers Association Of India(AFTPAI)
Idobro Impact Solutions
Media Partners –
1) Udyogprerana
2) Agrolook
500 delegates from across 30 countries including 5 key states of India are expected to participate in this
prestigious Summit. Scientists, agronomists, farmers, and agri-business practitioners from across the
world will gather to discuss the challenges of sustainable agriculture, food security and emerging trends
in food production, distribution and agri-business.