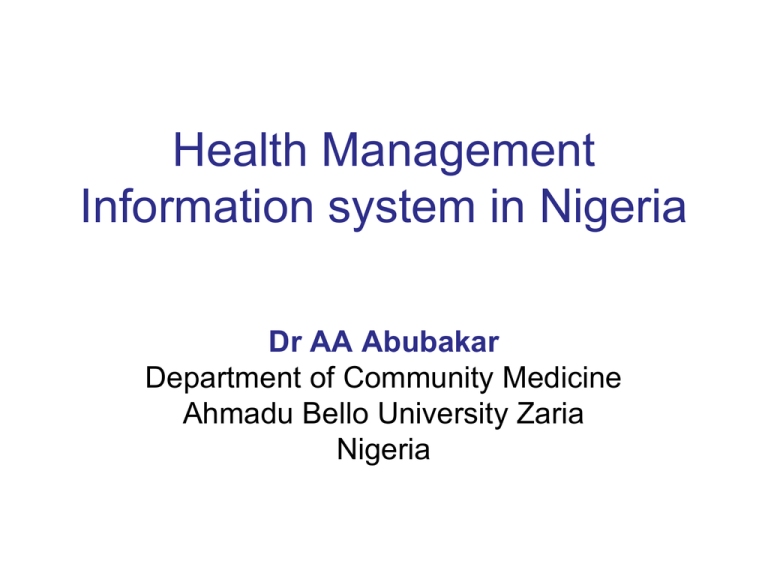 Health Management
Information system in Nigeria
Dr AA Abubakar
Department of Community Medicine
Ahmadu Bello University Zaria
Nigeria
Learning objectives
• At the end of this lecture you should be
able to:
• Define Health Information system (HIS)
• Describe the National HMIS in Nigeria
Introduction
• Effective and efficient planning, monitoring
& evaluation of health services depends
on reliable data
Definition of HIS
• A mechanism for the collection,
processing, analysis and transmission of
information required for organizing and
operating health services and also for
research & training
Historical development of the National
Health Management Information
System (NHMIS)
• Since 1960s
– FMOH medical statistics system in place: Health
manpower, Hospital activities, mortality & morbidity
data, records of birth & deaths in hospitals used to be
published annually or quarterly
• 1988
– Reorganization of the civil service led to creation of
the Department of Planning, Research & Statistics
– Adoption of the first National Health Policy which
called for establishment of a national health
information system by all levels of government
National HMIS
• Operational in 1999
Problems
– Data collection forms not accurately & completely
filled
– Forms were complex & cumbersome
• Reviewed in 2004
– Health Sector Reforms highlighted the inadequacies
of the NHMIS
– NHMIS needed to be repositioned to track the
Millennium Development Goals (MDGs)
Focus of the 2004 review of the
NHMIS
• Review of the NHMIS policy
• Agreement as regards to the role &
functions of the Technical Working Group
that would provide technical assistance to
the NHMIS process
• Assessment & review of health indicators
& health data systems
Focus of the 2004 review of the
NHMIS 2
• Revision of routine NHMIS forms, registers
& manuals
• Donor/Partners resource mobilization
• Advocacy & sensitization at all levels of
health care delivery
• Training of stakeholders on NHMIS
• Budgetary line & release of funds by all
tiers of government for the NHMIS
Focus of the 2004 review of the
NHMIS 3
• Community Health information
incorporated into the health facility based
Health Information system
• PHC information system streamlined into
the HMIS to give a unified system
Goal of the NHMIS
• The establishment of an effective NHMIS
by all levels of government in the
Federation to be used as a management
tool for informed decision making at all
levels
Objectives of the NHMIS
Provision of information:
• To assess the health status of the population
• To identify major health problems
• To set priorities at LGA, state & national levels
Objectives of the NHMIS 2
• To monitor the progress towards stated
goals & targets of health services
• To provide information for decision
makers, those who provided data & the
general public
Problems with the NHMIS
•
•
•
•
•
Finance
Shortage of staff
Shortage of materials
Inadequate coordination of data flow
Complexity & overlap of data collection
instruments
• Lack of feedback to peripheral levels
• Huge backlog of unprocessed data
Revised NHMIS forms
A. Routine Data collection summary forms
1. NHMS 000: Community based summary
forms
•
•
used by community Village Health worker to
summarize activities at monthly intervals
sent to the health facility through the Community
Health Extension worker (CHEW)
Revised NHMIS forms 2
2. NHMIS summary forms 001A & 001B
Health facility community outreach forms
– Used by the health facilities to summarize
community outreach activities at monthly
intervals
– Aggregate transferred to health facility form
001
Revised NHMIS forms 3
3. NHMIS summary form 001
Health facility based forms
– Used by health facility to summarize activities
in the health facility at monthly intervals from
a daily register
– Sent to the LGA
Revised NHMIS forms 4
4. NHMIS summary form 002
– Used by the LGAs to summarize data from all
health facilities in their area at quarterly
intervals
– Sent to the SMOH, HMIS unit
5. NHMIS summary form 003
– Used by the state to summarize data from all
LGAs
– Sent to the Federal NHMIS every 6 months
Questions ????