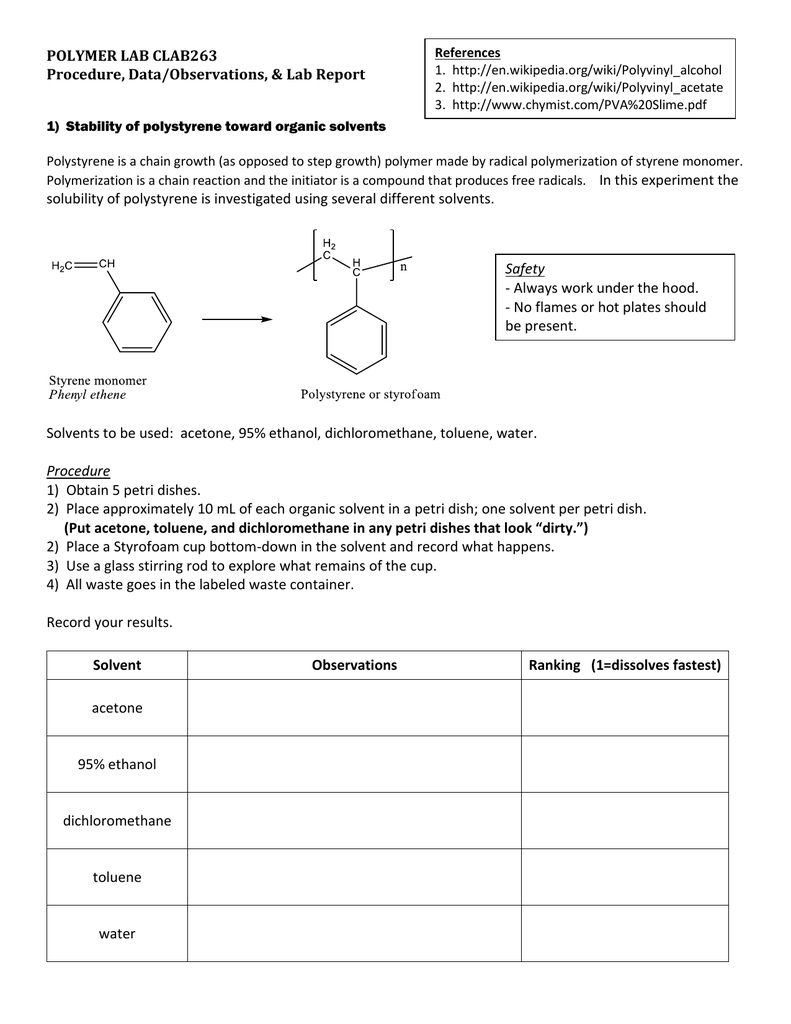 POLYMER LAB CLAB263
Procedure, Data/Observations, & Lab Report
References
1. http://en.wikipedia.org/wiki/Polyvinyl_alcohol
2. http://en.wikipedia.org/wiki/Polyvinyl_acetate
3. http://www.chymist.com/PVA%20Slime.pdf
1) Stability of polystyrene toward organic solvents
Polystyrene is a chain growth (as opposed to step growth) polymer made by radical polymerization of styrene monomer.
Polymerization is a chain reaction and the initiator is a compound that produces free radicals. In this experiment the
solubility of polystyrene is investigated using several different solvents.
Safety
- Always work under the hood.
- No flames or hot plates should
be present.
Solvents to be used: acetone, 95% ethanol, dichloromethane, toluene, water.
Procedure
1) Obtain 5 petri dishes.
2) Place approximately 10 mL of each organic solvent in a petri dish; one solvent per petri dish.
(Put acetone, toluene, and dichloromethane in any petri dishes that look "dirty.")
2) Place a Styrofoam cup bottom-down in the solvent and record what happens.
3) Use a glass stirring rod to explore what remains of the cup.
4) All waste goes in the labeled waste container.
Record your results.
Solvent
acetone
95% ethanol
dichloromethane
toluene
water
Observations
Ranking (1=dissolves fastest)
2) Polymers and Water
Sodium polyacrylate is a chain growth (as opposed to step growth) polymer and is used in disposable diapers. It is
known as a "super slurper".
The production of this polymer can be accomplished in several ways. Below is one of them.
Procedure
1) Weigh out approximately 0.5 grams of sodium polyacrylate and transfer it to a dry 50 mL beaker.
2) Add 5 mL of distilled water and immediately stir the mixture and record your observations.
3) Add additional 5 mL increments of water until the polymer cannot absorb any more water. Record your
observations.
4) Record how many mL of water the polymer absorbed.
5) Add NaCl to the "gel" in the beaker. Record your observations.
6) Repeat steps 1-4 with tap water. Record your observations.
Type of water
Mass of sodium
polyacrylate added (g)
TOTAL mL of
water added
Observations
distilled
tap
What happened
with NaCl
addition?
Question: It is said that this polymer can absorb up to 800 times its weight of distilled water and 300 times its weight of
tap water. What weight in water compared to the 0.5 g did the polymer absorb? (Do for both distilled and tap water.)
Density of water is 1.00 g/mL.
Example: A 0.230 g sample of sodium polyacrylate absorbed 150 mL of distilled water.
150 mL of water = 150 g of water
150g water/0.230 g polyacrylate = 652 times its weight of distilled water.
3) Polyvinyl Alcohol and Na2B4O7 --SLIME
Unlike many vinyl polymers, PVA is not prepared by polymerization of the corresponding monomer. The monomer, vinyl
alcohol, almost exclusively exists as the tautomeric form, acetaldehyde. PVA instead is prepared by partial or complete
hydrolysis (sometimes referred to in this case as saponification) of polyvinyl acetate to remove acetate groups.1
Polyvinyl acetate is a chain growth polymer resulting from free radical polymerization of the vinyl acetate.2
Formation of polyvinyl acetate - -n CH2=CHOAc → (CH2-CHOAc)n
Formation of polyvinyl alcohol --(CH2-CHOAc)n + n H2O → (CH2-CHOH)n + n HOAc1
To make slime, polyvinyl alcohol is cross-linked using sodium tetraborate (Na2B4O7.10 H2O) better known as Borax. Slime
is a condensation polymer.
(Procedure on next page )
Procedure
1) Place 20 mL of Elmer's Gel Glue in a paper cup. Add 10 mL of water and stir with a metal spatula.
2) Add 5 mL of a 4% Borax solution and stir.
3) Remove the material from the cup and knead it in your hand.3 How does the slime change as you do this?
4) Explore some of its physical properties: roll it into a ball, pull it, stretch it slowly, etc. Record your observations:
ANSWER THESE QUESTIONS ON ANOTHER SHEET OF PAPER AND SUBMIT WITH THIS
HANDOUT:
1. Is polystyrene a homopolymer or copolymer?
2. Through which type of mechanism is this polymer formed?
3. Discuss the results of the qualitative solubility tests on polystyrene (Styrofoam). Think
in terms of "like dissolves like" to explain why polystyrene is soluble or insoluble in
these solvents.
4. Is sodium polyacrylate a homopolymer or copolymer?
5. Through which type of mechanism is this polymer formed?
6. Was sodium polyacrylate able to absorb more distilled water, tap water, or salt water?
Why? (see link on slide 12 for help)
7. What components comprise the polymer known as slime? Is vinyl alcohol used as the
monomer? Discuss.
8. Through which type of mechanism is this polymer formed?
9. Discuss your qualitative observations. From a chemical standpoint, why are these
properties observed?