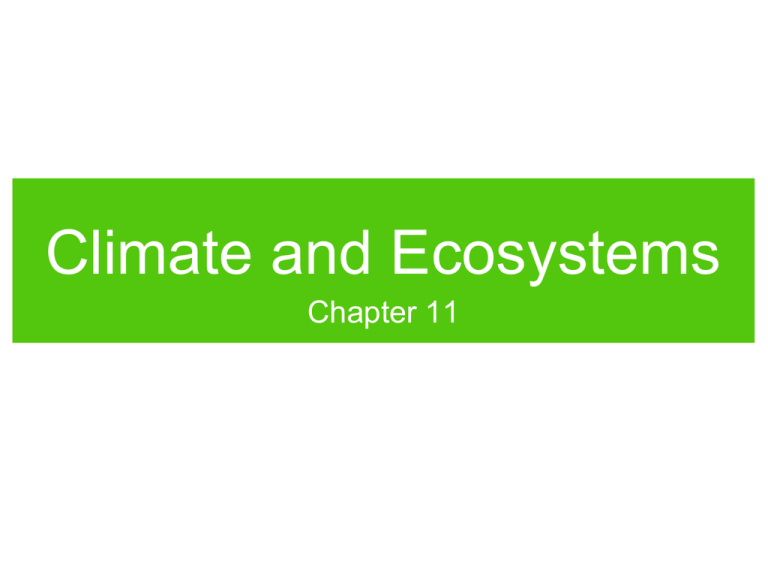 Climate and Ecosystems
Chapter 11
• We've talked about Global Climate
Change (sometimes called Global
Warming).
• What is climate?
• What effects can a changing climate
have on living organisms?
• Suppose your region has an especially
hot summer, followed by a very cold
winter that includes a snowstorm.
Does this support, disprove, or have
little to do with Global Climate
Change?
D
A
I
L
Y
W
O
R
K
Climate
• Climate is not the same thing as
weather!
• Climate consists of the prevailing
weather patterns in a region over longs
periods of time.
• Climate is caused by many factors,
including location on the globe, nearness
to an ocean, wind direction, geography.
True or False: Summer is warmer than winter because
the earth is closer to the sun in the summer.
62%
1. True
2. False
38%
1
2
True or false: When it is winter in the northern
hemisphere, it is summer in the southern hemisphere.
69%
1. True
2. False
31%
1
2
Think about this…
• If it were true that seasons were caused
by the earth being closer to or further
away from the sun…
• …how would it be possible that the
southern hemisphere is experiencing
summer while the northern hemisphere
is experiencing winter?
• Remember, we are 93 million miles from
the sun. Small changes in distance aren't
going to have a big effect.
The sun drives climate as well as the seasons.
North
Pole
Summer in the
Northern
Hemisphere
90° N
23.5°
tilt
0°
0°
23.5°
tilt
South
Pole June 21st :
northern summer
solstice; southern
winter solstice
Summer in the
Southern
Hemisphere
90° S
December 21st :
northern winter
solstice; southern
summer solstice
• Average
temperature at any
part of the globe is
affected not by how
close we are to the
sun (a common
misconception) but
by the angle of
incidence of the
sun's rays.
Less direct rays = less
solar energy = cooler
region
More direct rays = more
solar energy = warmer
region
cold, dry
air falls
• Global air
circulation
influences local
climates.
• Rising air cools
and drops
moisture.
• Descending air
tends to be dry.
Polar
90 N
Easterlies polar cap
60 N
Westerlies
cool, moist
air rises
(rain/snow)
warm, dry
air falls
30 N
desert
N.E.
Tradewinds
rotation
0
hot,
moist
air rises
(rain)
rain
forest
S.E.
Tradewinds
30 S
Westerlies
rain
forest
60 S
Polar
polar cap
Easterlies 90 S
cold, dry
air falls
desert
warm, dry
air falls
cool, moist
air rises
(rain/snow)
• According to this
diagram, where on
the planet should
we find:
• Deserts?
B. Warm,
dry, falling
air
• Tropical rain
forests?
• Permanent
snowfields?
C. Warm,
moist, rising air
A. Cool, moist, rising air
D
A
I
L
Y
W
O
R
K
• Ocean current also
affects climate.
• Water tends to
absorb and retain
heat, and lose it
slowly.
• Ocean water near
the equator tends to
be warm, so
currents from the
equator are warm.
• Water near the
poles is much
cooler.
• The Gulf Stream carries
warm water from the
equator northward,
warming the coast of
Europe.
• There is evidence that
the Greenland ice is
melting, due to Global
Climate Change, and
pouring cold water into
the North Atlantic. If
enough cold water is
dumped into the Atlantic,
it could divert the Gulf
Stream.
If the Greenland ice melts and disrupts the Gulf Stream,
what will happen to the climate of Northern Europe?
1. It will get much colder.
2. It will get much warmer.
3. There will be very little
change.
84%
14%
2%
1
2
3
• Observe this diagram of
the Jet Stream, prevailing
winds across the North
American Continent.
• Remembering that
oceans tend to absorb
more heat than land, and
that currents and wind
pattern affect climate,
explain the pattern of
climate across North
America as shown by the
map of USDA planting
zones in the next slide.
D
A
I
L
Y
W
O
R
K
Climate Fluctuations
• Some natural processes can cause local
climate to fluctuate from year to year.
• One example: El Niño/ La Niña weather
cycles along the American Pacific
coasts.
More info at: http://www.sbg.ac.at/ipk/avstudio/pierofun/atmo/elnino.htm
In an El Niño cycle,
prevailing Trade Winds
weaken. Warm water
spreads back across the
Pacific, disrupting
upwellings along the South
American coast.
As a result of El Niño, what happens to the fishing
industry off of the coast of Peru?
1. Warmer water
increases the nutrients
and the number of fish.
2. Loss of cold upwellings
decreases nutrients
and the number of fish.
3. There is no change to
the fishing industry; this
is just part of the
weather cycle.
63%
22%
14%
1
2
3
Local Climate
• Localized climate zones can be caused
by:
• Proximity to oceans or large lakes.
• Position of mountain ranges.
• Wind direction.
Oregon Coast
Peruvian Coast
Oregon is on the west side of the North American
continent. Peru is on the west side of the South
American continent. Why do these two areas look
so different?
Water is carried
from ocean by
prevailing winds.
Water is released
as air rises and
cools.
moist climate
Dry air sinks,
warms and
absorbs water
from the land.
dry climate in
rain shadow
The rain shadow effect can cause moist conditions
on one side of a mountain range and dryer conditions
on the opposite side of the mountains.
On the Peruvian coast, prevailing winds blow from
the mountains toward the ocean. What effect might
that have on climate on the coast of Peru?
Lake Effect
Lakes, too, can influence local climate if
they are large enough.
high
rock, snow, ice
tundra
altitude
coniferous
forest
deciduous
forest
tropical
forest
low
equator
(0°)
latitude
poles
(90°)
Altitude and latitude also interact to create local climates
that support different types of communities.
• Observe the map of Oregon on the next
slide. Use what you have learned to explain
the average rainfall in the different areas of
the state indicated on the map.
D
A
I
L
Y
W
O
R
K
Coastal
Mountains
Cascade
Mountains
Pacific
Ocean
Oregon
Coast:
70-100
inches
Willamette
Valley:
Eastern
Oregon:
25-30
inches
6–8
inches
D
A
I
L
Y
W
O
R
K
If the prevailing winds in Oregon blew from east to west,
what would our coastline be like?
33%
33%
33%
1. Rainy, as it is now.
2. Dry, like Peru.
3. A mixture of dry and
wet areas,
depending on the
local terrain.
1
2
3
• The prevailing
winds blow from
west to east on the
North American
continent. Why is
the east coast of
the U.S. NOT a dry
desert like Peru?
D
A
I
L
Y
W
O
R
K
Recap
• Climate begins with the sun's heat.
• Climate is influenced by ocean and
atmospheric currents, which are driven
by the sun's heat.
• Geography influences local climate.
• Climate directly affects what organisms
can live in an area.