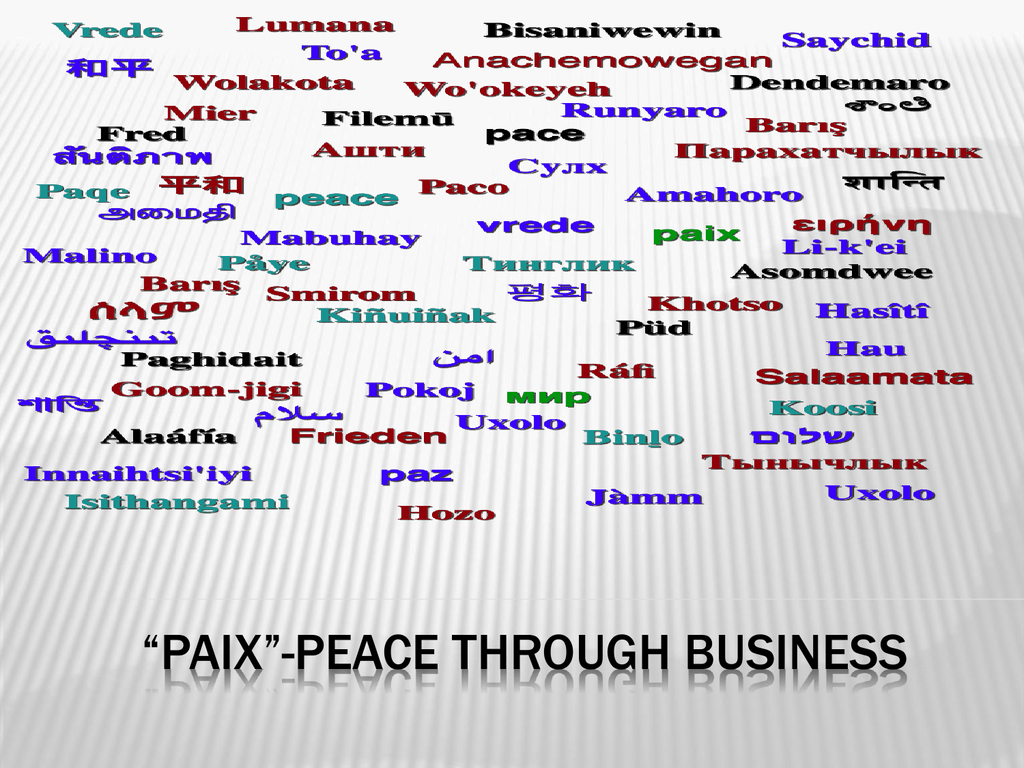 "PAIX"-PEACE THROUGH BUSINESS
WHY IS NONVERBAL COMMUNICATION IMPORTANT
•
•
•
•
•
•
•
Nonverbal communication
93% of communcation is nonverbal
Used to repeat the verbal message
Often used to accent a verbal message.
Often complement the verbal message but also
may contradict.
Regulate interactions (non-verbal cues covey when
the other person should speak or not speak).
May substitute for the verbal message (especially if
it is blocked by noise, interruption, etc)
UNDERSTANDING NONVERBAL COMMUNICATION
•
Tips
•
•
•
People communicate with all levels of their body
Recognize if people's nonverbal and verbal match
up
When you're speaking realize people's
nonverbal
•
•
•
When you've talked long enough
When someone else wants to talk
When people react to what you have to say
HAPTICS-THE POWER OF TOUCH
•
Handshake Exercise
•
Stand up and introduce yourself to three different
people. You must choose between using a hug, a
handshake, or putting your hand on the other
person's shoulder. You may not tell anyone else
what you chose.
SO WHAT IS HAPTICS?
•
Touch is culturally determined. But each culture has a clear
concept of what parts of the body one may not touch.
•
•
•
•
USA — handshake is common (even for strangers),
Islamic and Hindu: typically don't touch with the left hand. To do
so is a social insult. (The left hand is for toilet functions. )
Islamic cultures generally don't approve of any touching between
genders (even hand shakes), but consider such touching
(including hand holding, hugs) between same-sex to be
appropriate.
Many Asians don't touch the head (Head houses the soul and a
touch puts it in jeopardy).
VOCALICS

Voice Inflection Exercise

Tell your partner your opinion on something you
feel strongly about. However, instead of using
statements use a questioning inflection
VOCALICS



vocal characterizers (laugh, whine, belch, yawn). These
send different messages in different cultures (Japan —
giggling indicates embarrassment; India – belch
indicates satisfaction)
vocal qualifiers (volume, pitch, rhythm, tempo, and
tone). Loudness indicates strength in Arabic cultures
and softness indicates weakness. Gender based as well:
women tend to speak higher and more softly than men.
vocal segregates (shh, uh, ooh, mhmm, eh). They
indicate formality, acceptance, or uncertainty.
BODY LANGUAGE-KINESICS
•
Personal Space Exercise
•
Partner up and stand 3 feet away from one another.
Ask one another a question. After you have each
asked a question take one step towards each other.
Keep asking questions and after each one take
another step forward. Stop asking questions and
moving forward when you feel you are too close for
comfort.
KINESICS
•
•
•
•
•
We send information on attitude toward person (facing
or leaning towards another), emotional statue (tapping
fingers, jiggling coins), and desire to control the
environment (moving towards or away from a person).
We make more than 700,000 possible motions
Examples:
Pointing : US with index finger; Germany with little finger;
Japanese with entire hand (in fact most Asians consider
pointing with index finger to be rude)
Counting: Thumb = 1 in Germany, 5 in Japan, middle
finger for 1 in Indonesia.
EYE CONTACT
•
Eye contact exercise
•
Choose a partner. Tell each other what you did over
Thanksgiving break. During the first minute you
may not make any eye contact at all. During the
second minute you may not break eye contact the
entire time.
EYE CONTACT
•
•
•

Western cultures — see direct eye to eye contact as
positive. A prolonged gaze is often seen as a sign of
sexual interest.
Arabic cultures make prolonged eye-contact. — believe
it shows interest and helps them understand
truthfulness of the other person. (A person who doesn't
reciprocate is seen as untrustworthy)
Japan, Africa, Latin American, Caribbean — avoid eye
contact to show respect.