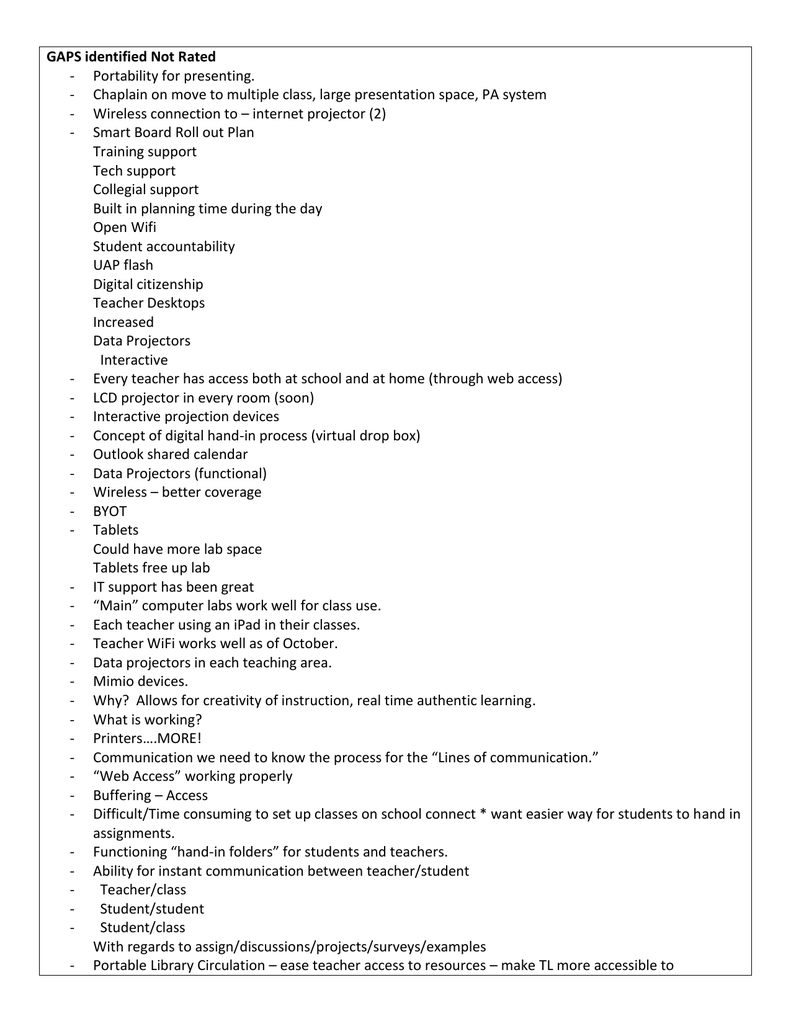 GAPS identified Not Rated
- Portability for presenting.
- Chaplain on move to multiple class, large presentation space, PA system
- Wireless connection to – internet projector (2)
- Smart Board Roll out Plan
Training support
Tech support
Collegial support
Built in planning time during the day
Open Wifi
Student accountability
UAP flash
Digital citizenship
Teacher Desktops
Increased
Data Projectors
Interactive
- Every teacher has access both at school and at home (through web access)
- LCD projector in every room (soon)
- Interactive projection devices
- Concept of digital hand-in process (virtual drop box)
- Outlook shared calendar
- Data Projectors (functional)
- Wireless – better coverage
- BYOT
- Tablets
Could have more lab space
Tablets free up lab
- IT support has been great
- "Main" computer labs work well for class use.
- Each teacher using an iPad in their classes.
- Teacher WiFi works well as of October.
- Data projectors in each teaching area.
- Mimio devices.
- Why? Allows for creativity of instruction, real time authentic learning.
- What is working?
- Printers….MORE!
- Communication we need to know the process for the "Lines of communication."
- "Web Access" working properly
- Buffering – Access
- Difficult/Time consuming to set up classes on school connect * want easier way for students to hand in
assignments.
- Functioning "hand-in folders" for students and teachers.
- Ability for instant communication between teacher/student
Teacher/class
Student/student
Student/class
With regards to assign/discussions/projects/surveys/examples
- Portable Library Circulation – ease teacher access to resources – make TL more accessible to
-
classrooms.
Pursuit of partnerships with media/tech based business.
School website more functionality and access.
Exam generator not in French.
Access to hardware for each student that allows them to:
Record their voice on instrument
Keyboard (piano)
Time to train by having a device in each students' hand.
Record and edit video/audio
Secure/storage/charging of class sets.
# of hardware devices that support the more niche software (music photography)
Trying to address creative/productive outcome compose and create.
Where the industry is digitally based, yet the students' lack of access to the software/hardware does
not prepare them for industry.
Research/support finding apps/programs/videos, etc. that match up to curriculum.
Software Compatibility (App)
Completion of wireless hubs on our building to allow complete wireless access.
Document camera – Display Text, resources for classrooms.
Wait time for installation of needed software i.e. Video conversion software for CM.
Social media training for students/teachers.
CS3 media is 3 versions old.
CM software behind times.
Software availability for staff.
Getting away from the $1000 pencil (word processing)
Printing from tablet (students/teachers projects to be printed)
Challenges of using technology in Gyms.
Roll over seems inadequate have seen better video resource such as discovery.