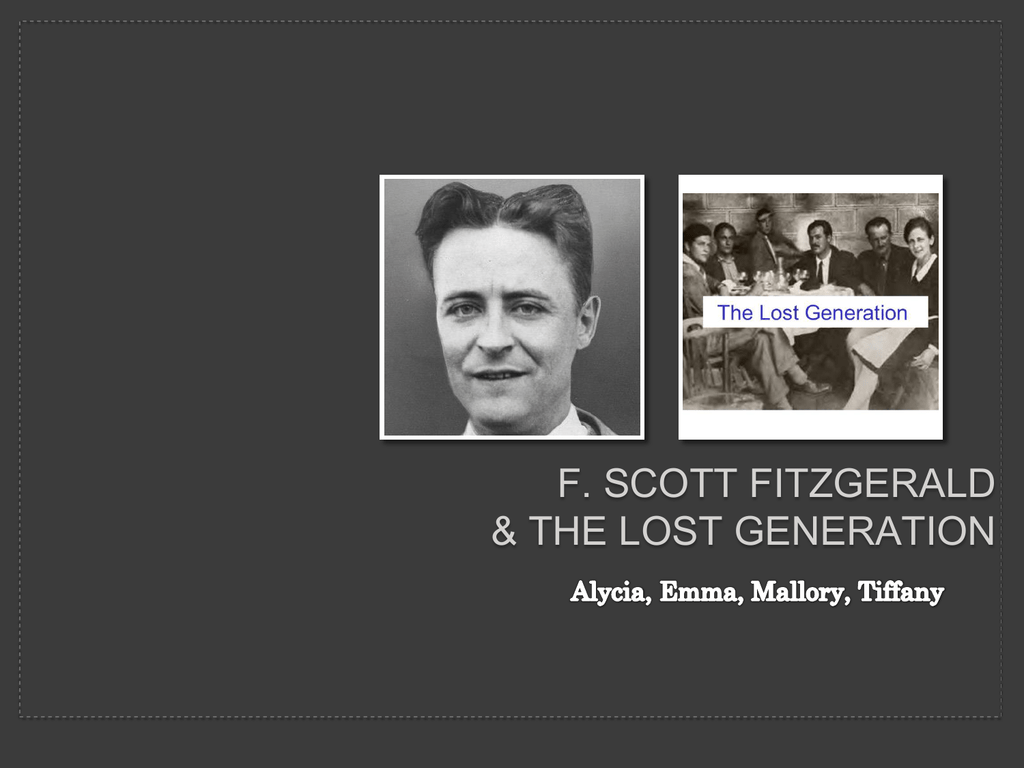 F. SCOTT FITZGERALD
& THE LOST GENERATION
F. Scott Fitzgerald
(1896-1940)'s
Turbulent Life (I)
• Began life as the son of a
failed salesman
• To New Jersey: Showed
Writing talent in high school
• To Princeton University:
Focused on honing writing
skills, but became unlikely to
graduate
• Joined US army: Wrote a
book in case he died in WW1
(Rejected)
• To Alabama: Met Zelda, who
he fell in love with
F. Scott Fitzgerald's
Turbulent Life (II)
•
To NYC: Searched for jobs,
married Zelda and had 1 child
•
To St Paul: Wrote more stories
and became famous
•
Lived as an extravagant celebrity
•
BUT he became in debt
•
Became an alcoholic and
suffered from depression
•
Died halfway through writing final
novel
* AFTER death, now looked on as one of the most
fantastic, truthful authors in the history of American
literature, mostly due to the Great Gatsby
IMPORTANT INFLUENCES ON
F. SCOTT FITZGERALD'S LIFE
Father Sigourney Fay:
• Found out Fitzgerald's talent on his writing
• Encouraged Fitzgerald to keep writing
Detective stories:
• Published them when he was in high
school
• Encouraged him to write more
enthusiastically
Aspiration:
• Spent almost whole life to catch his dream,
to reach his aspiration
IMPORTANT INFLUENCES ON
F. SCOTT FITZGERALD'S LIFE
Writing:
• Because of writing he became famous
and he became rich.
• Made him marry with Zelda Sayre
Fitzgerald.
Alcohol:
• Damaged the relationship between him
and his wife
• Damaged his health
The Lost Generation
The "Lost Generation" refers to people who were born between
1883 and 1900. The idea was first introduced by Ernest
Hemingway in his book, "The Sun also Rises".
The Lost Generation
The men who experienced World War 1
• Grew up quickly
• Independent and Self-sufficient
• Proud of themselves ☞ Expected to be treated as
heroes
• Cynical about humanity since the government
ignored them
• Sought for libertinism and happiness without taking
responsibilities ☞ Gangsters, speakeasies and
hedonism
• Didn't believe in traditional values/Believed
returning home is no longer necessary
• Nomadic
Influence of Literature
After the war, American writers
• lost and aimless
• moved to Paris to find the meaning
of life and escape from the mess in
their hometowns.
THANKS FOR WATCHING
WORK CITED
• "Francis Scott Key Fitzgerald." Bio. A&E Television Networks,
2014. Web. 16 Oct. 2014. <http://www.biography.com/people/fscott-fitzgerald-9296261>.
• Bruccoli, Matthew J. "Biography of F. Scott Fitzgerald." N.p.,
Web. 16 Oct. 2014.
<http://www.fscottfitzgeraldsociety.org/biography/>.
• Jaracz, Jill. "How the Lost Generation Works" 23 May
2011. HowStuffWorks.com. 15 October 2014.
http://people.howstuffworks.com/culture-traditions/generationgaps/lost-generation.htm
• Willett, Erika. "The Sensible Thing: Biographies." PBS: Public
Broadcasting Service. N.p., n.d. Web. 16 Oct. 2014.
<http://www.pbs.org/kteh/amstorytellers/bios.html>.