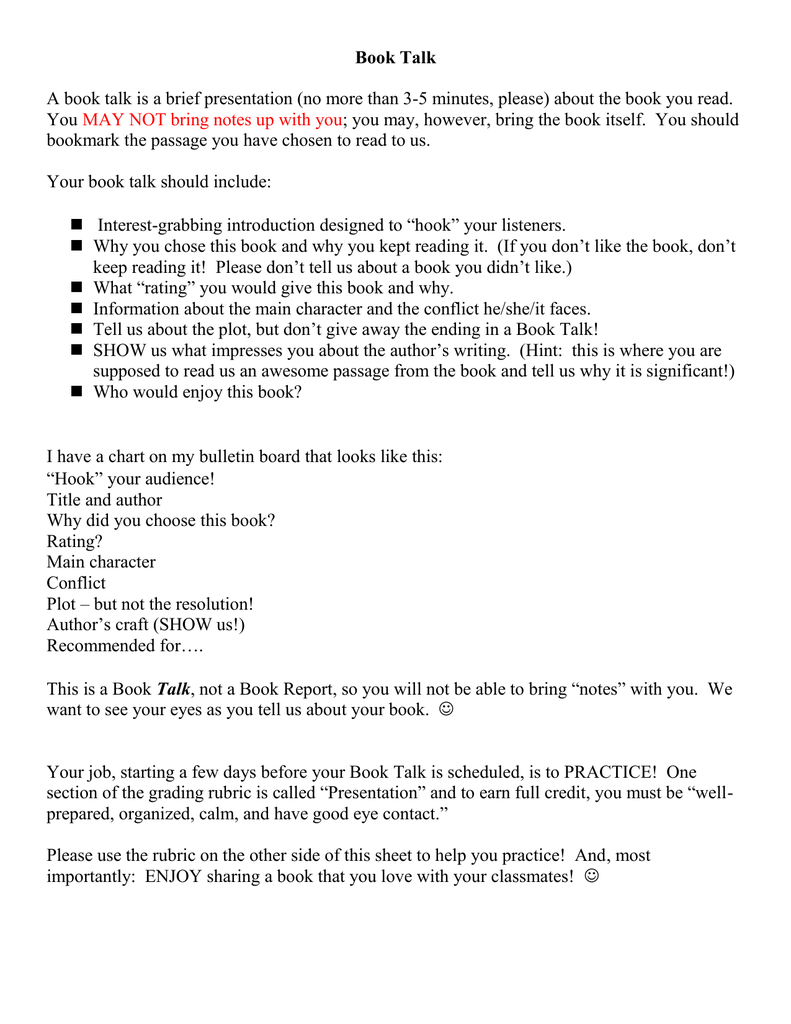 Book Talk
A book talk is a brief presentation (no more than 3-5 minutes, please) about the book you read.
You MAY NOT bring notes up with you; you may, however, bring the book itself. You should
bookmark the passage you have chosen to read to us.
Your book talk should include:
 Interest-grabbing introduction designed to "hook" your listeners.
 Why you chose this book and why you kept reading it. (If you don't like the book, don't
keep reading it! Please don't tell us about a book you didn't like.)
 What "rating" you would give this book and why.
 Information about the main character and the conflict he/she/it faces.
 Tell us about the plot, but don't give away the ending in a Book Talk!
 SHOW us what impresses you about the author's writing. (Hint: this is where you are
supposed to read us an awesome passage from the book and tell us why it is significant!)
 Who would enjoy this book?
I have a chart on my bulletin board that looks like this:
"Hook" your audience!
Title and author
Why did you choose this book?
Rating?
Main character
Conflict
Plot – but not the resolution!
Author's craft (SHOW us!)
Recommended for….
This is a Book Talk, not a Book Report, so you will not be able to bring "notes" with you. We
want to see your eyes as you tell us about your book. 
Your job, starting a few days before your Book Talk is scheduled, is to PRACTICE! One
section of the grading rubric is called "Presentation" and to earn full credit, you must be "wellprepared, organized, calm, and have good eye contact."
Please use the rubric on the other side of this sheet to help you practice! And, most
importantly: ENJOY sharing a book that you love with your classmates! 
Book Talk Rubric
Name _________________________________
Excellent
Introduction
Plot
Main character
and conflict
Genre and Rating
Book Choice
Author's craft
Presentation
Comments:
Good
Interest-grabbing
introduction
Good intro, but
lacks a "hook" for
the audience
You know the
story very well,
and you made it
interesting for the
audience
You gave a lot of
information about
the main character
and the conflict
he/she faced.
You provided a lot
of details about
the story. Needs
more organization.
Clearly stated and
explained.
You mentioned
the genre and
"rated" the book
You gave very
general reasons;
more specific
details needed.
You clearly
explained why you
chose this book,
why you loved it,
and why you
continued reading
it.
You showed your
audience exactly
why this author
impressed you.
Well-prepared,
organized, calm,
good eye-contact
You gave us some
information about
the character and
conflict.
You gave a general
idea of what this
author does to
"attract" his/her
audience.
Pretty good job,
but you might
need to prepare a
bit more.
Average
Needs work
Most of the
required
information is
present
Needs better
organization and
more details.
Needs work
At the end of the
presentation, I
was still unclear
about exactly
what the conflict
was.
More explanation
needed.
Characters and/or
conflict not
discussed.
You glossed over
this part; it was
unclear why you
chose the book or
why you
continued reading
it.
You mentioned at
least one aspect of
the author's craft.
Not addressed.
More practice
recommended;
work on pace,
volume, and eye
contact.
It's unclear exactly
what happened in
your book.
Genre/rating not
discussed.
Not addressed.
Preparation /
practice not
evident.