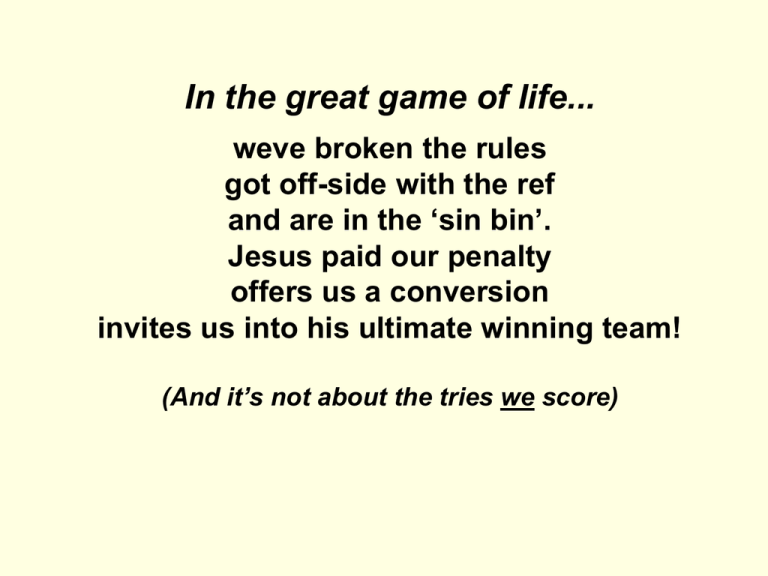 In the great game of life...
weve broken the rules
got off-side with the ref
and are in the 'sin bin'.
Jesus paid our penalty
offers us a conversion
invites us into his ultimate winning team!
(And it's not about the tries we score)
The All Blacks Prayer
Our players who art All Black,
Rugby is thy game.
When full-time comes, thy will be done,
on Eden Park as it was in '87.
Give us each game our daily joy
and forgive us our doubts
as we forgive the French who beat thee in '07.
And lead us not into over-confidence
but deliver us from an early exit.
For thine is the World Cup,
and the mana and the glory
now and forever
AMEN!
The Early Church of Jesus – Revelation chapter 1
Seven Churches of Revelation
Ephesus - threat of removal
Sardis
)
Laodicea ) - strongest complaints
Pergamum)
Thyatira ) - commendation & complaint
Smyrna
)
Philadelphia
) – only commendation
Commendations:






Hardworking
Patient endurance & faithfulness under persecution
Spiritually rich; Love, faith, service
Obedient to my word
Intolerant of evil people
Tested teaching of itinerant teachers & prophets
Complaints




Tolerated false teaching
Sexual immorality & eating food offered to idols
Neglected their first love & first belief
Indifferent/lukewarm/self sufficient
What might the Jesus have to say to St Albans?
Can we hear what the Spirit is saying
to our church?