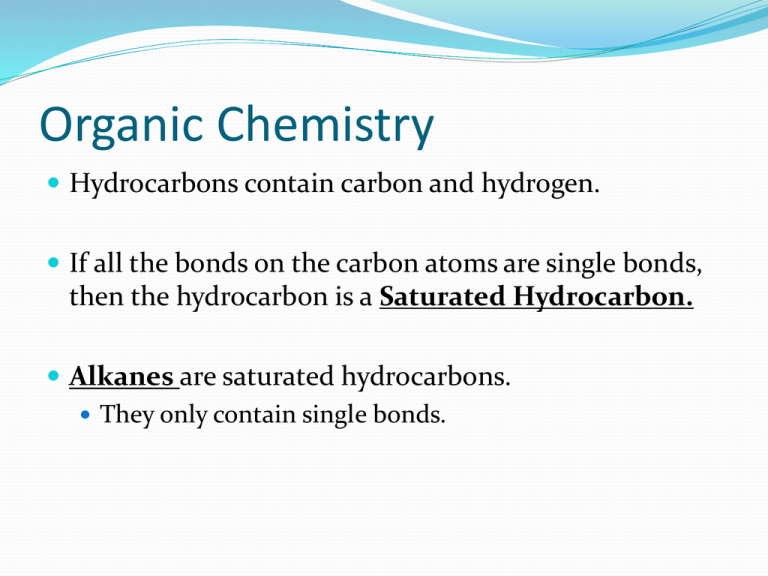 Organic Chemistry
 Hydrocarbons contain carbon and hydrogen.
 If all the bonds on the carbon atoms are single bonds,
then the hydrocarbon is a Saturated Hydrocarbon.
 Alkanes are saturated hydrocarbons.
 They only contain single bonds.
Alkanes
 Have the general formula CnH2n+2 (where n= the
number of carbon atoms).
 When naming them, the name ends in –ane.
 All the carbons are bonded to 4 other atoms.
Name
Methane
Ethane
Molecular
Formula
CnH2n+2
Structural
Formula
Model
Propane
Butane
2-Methylpropane
(an isomer of
butane)
Example 1:
Draw: 3-ethylheptane
Example 2:
Draw: 2,7-dimethylnonane
Example 3:
Draw: 4-ethyl-2,4,5-trimethyloctane
Example 4:
3,3,4,4-tetraethyl-2,2,5,5-tetramethylhexane
Cycloalkanes
 All single bonds between the carbon atoms.
 Have the general formula CnH2n
 The ends of the carbon chain have bonded together to
form a "ring" of carbons (lose 2 hydrogen atoms when
this happens).
Examples:
Draw:
cyclobutane
1,3-dimethylcylcopentane
1-ethyl-3-methyl-2-propylcyclobutane
Rules for naming:
1) Find the parent chain (the longest continuous chain of carbon
atoms); helpful to circle or put a box around the parent chain.
2) Number the carbon atoms on the parent chain so that the
branches get the lowest combination of numbers; you can
number it left to right or right to left.
3) Name the branches with –yl ending; if there are multiple of
the same branch, use a prefix with the branch (di-, tri-, tetra-,
penta-, hexa-, hepta-, octa-)
4) Put the branches with their # in alphabetical order.
5) The parent chain name goes at the end and ends in
–ane.