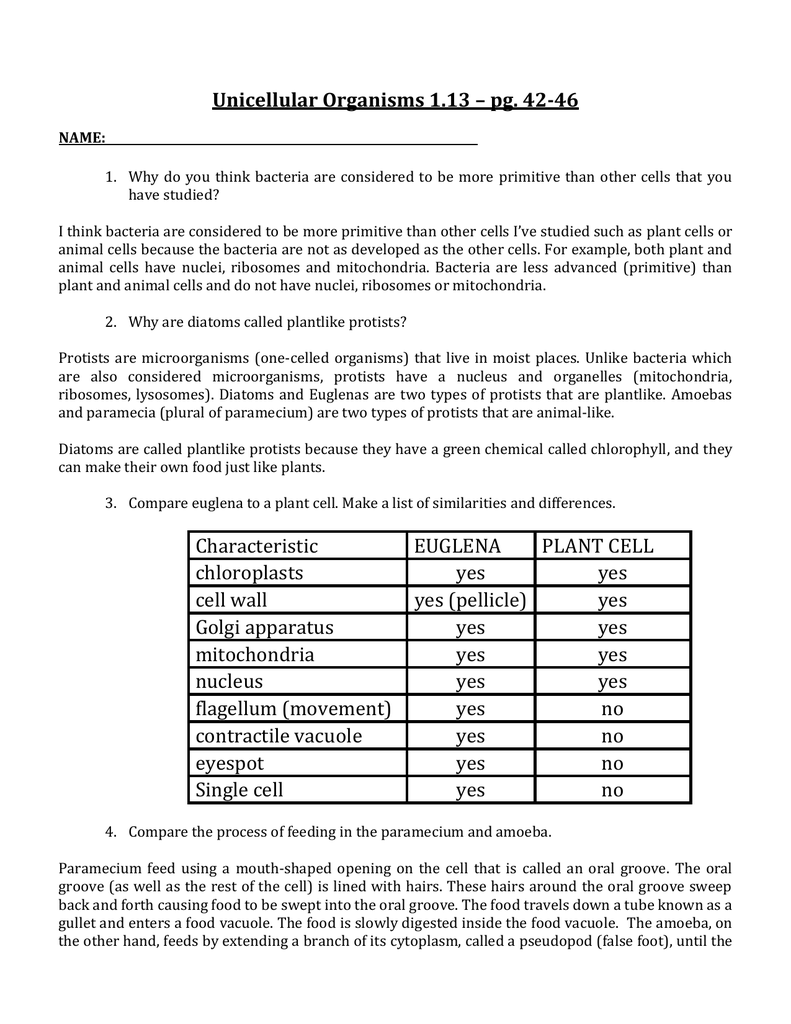 Unicellular Organisms 1.13 – pg. 42-46
NAME:
1. Why do you think bacteria are considered to be more primitive than other cells that you
have studied?
I think bacteria are considered to be more primitive than other cells I've studied such as plant cells or
animal cells because the bacteria are not as developed as the other cells. For example, both plant and
animal cells have nuclei, ribosomes and mitochondria. Bacteria are less advanced (primitive) than
plant and animal cells and do not have nuclei, ribosomes or mitochondria.
2. Why are diatoms called plantlike protists?
Protists are microorganisms (one-celled organisms) that live in moist places. Unlike bacteria which
are also considered microorganisms, protists have a nucleus and organelles (mitochondria,
ribosomes, lysosomes). Diatoms and Euglenas are two types of protists that are plantlike. Amoebas
and paramecia (plural of paramecium) are two types of protists that are animal-like.
Diatoms are called plantlike protists because they have a green chemical called chlorophyll, and they
can make their own food just like plants.
3. Compare euglena to a plant cell. Make a list of similarities and differences.
Characteristic
chloroplasts
cell wall
Golgi apparatus
mitochondria
nucleus
flagellum (movement)
contractile vacuole
eyespot
Single cell
EUGLENA
PLANT CELL
yes
yes
yes (pellicle)
yes
yes
yes
yes
yes
yes
yes
yes
no
yes
no
yes
no
yes
no
4. Compare the process of feeding in the paramecium and amoeba.
Paramecium feed using a mouth-shaped opening on the cell that is called an oral groove. The oral
groove (as well as the rest of the cell) is lined with hairs. These hairs around the oral groove sweep
back and forth causing food to be swept into the oral groove. The food travels down a tube known as a
gullet and enters a food vacuole. The food is slowly digested inside the food vacuole. The amoeba, on
the other hand, feeds by extending a branch of its cytoplasm, called a pseudopod (false foot), until the
bloblike amoeba encircles and swallows up the food. Once swallowed, the food is surrounded by a
membrane and becomes a food vacuole where the food will slowly be digested.
5. Why do many people associate microorganisms with disease?
Often when people get sick, it is because they have been exposed to a microorganism. Hence, most
people believe that microorganisms are associated with diseases.
6. Using the information that you have gained about osmosis, indicate why euglena,
paramecia, and amoebas need contractile vacuoles.
The function of contractile vacuoles is to pump excess water out from their cells.
Euglena, paramecia, and amoebas that find themselves in solutions where the concentration of water
outside of their cells is greater than the concentration of water inside their cells will have water
diffuse across their membranes by osmosis from an area of high water concentration to an area of low
water concentration. When this happens the cells will start to swell up with water and burst. In these
cases, the euglena, paramecia, and amoebas need the contractile vacuoles to expel excess water to
keep them from bursting.
7. Penicillin is an antibiotic that weakens the cell wall of bacteria. The sugars and proteins in
the cytoplasm of the bacteria are in higher concentration than they are in their
environment. Draw a series of diagrams showing how penicillin kills bacteria.
.