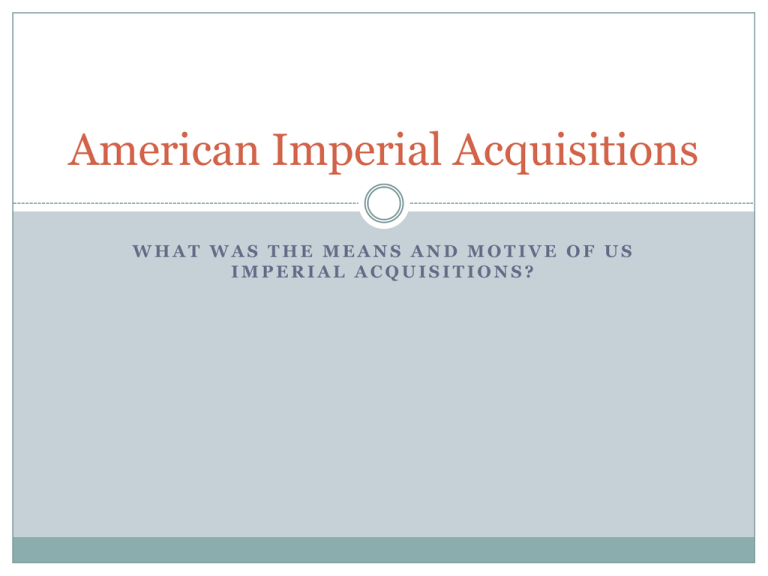 American Imperial Acquisitions
WHAT WAS THE MEANS AND MOTIVE OF US
IMPERIAL ACQUISITIONS?
Review
 Money, money, and more
money

US business can become rich and
wealthy through trade
 Industrialization created too
many goods



Food, steel, manufactured items
Somebody needs to buy it!
Now we need to take over places
to get our stuff to market!
 Religion
 Bring Christianity to the
"savages"
 White man's burden
 Education, culture, religion,
society, all things Western
Alfred T Mahan and the Theory of Sea Power
 Those with a better navy will
be able to trade more
 We need to take over places
for


Our navy to refuel
To protect trade routes


To sell people our "stuff"
So that others don't get there
first
Rest stops to China
Hawaii
• In 1893
business
leaders get rid
of the Queen
Lili'uokalani
• Sugar!
• Naval Base
•
Pearl Harbor
Panama
 Instead of going around
S. America, build a canal
in the middle of Panama
 Save 8,000 miles of
travel!
 US Navy can use, and
trading boats
 Was owned by Columbia
 US organizes
Panamanians to have
revolution, and separate

US asks for canal in return
Spanish American War 1898
 Puerto Rico, Cuba, Philippines owned by Spain
 We steal them in quick war, why?
 Guantanamo Bay, Manila Bay
Guatemala, Central America
 Profit, control, nobody
else can get it, secure
trade routes

Keep Europeans out of our
backyard
 Controlled through
economic imperialism

Bananas become #1 industry
there
United Fruit Co is American,
become Chiquita Banana
 Had a monopoly

Exit
Ticket
What is
the
message
of this
cartoon?
What is
the bias of
this
cartoon?