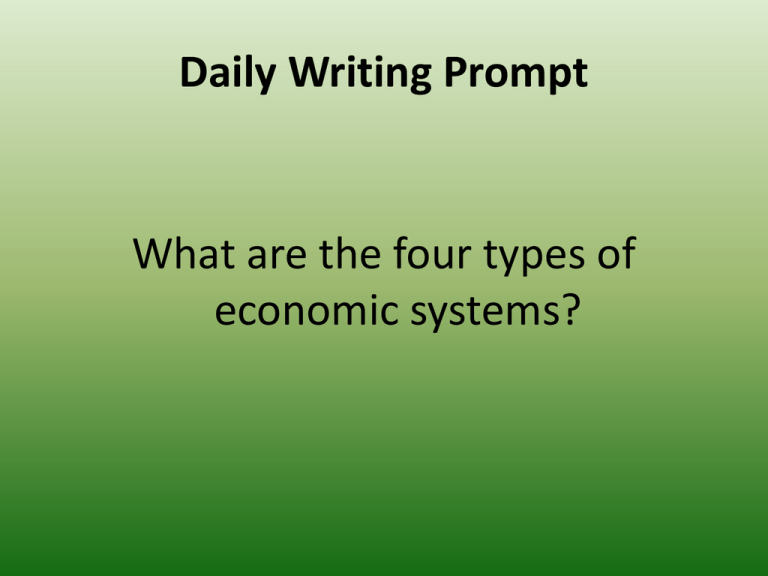 Daily Writing Prompt
What are the four types of
economic systems?
The Free Market
• Individuals and businesses own the factors of
production
• Self-interest – buyers and sellers consider
their own personal gain
• Businesses engage in competition for
consumer dollars
Free Market (cont.)
• Profit is the incentive to participate in
economic activity
• Profit = financial gain
• Revenue = income, $ you take in
• Cost = $ you spend
• P=R-C
Adam Smith
•
•
•
•
•
Adam Smith wrote The Wealth of Nations
"The Invisible Hand"
No government intervention
Consumers get products they want
Prices reflect costs of producing products
Advantages
• Highly Efficient
• Economic Freedom
• Competition
encourages
innovation and
growth
Disadvantages
• No economic
security
• Inequality
• Monopolies
Command Economy
• "Centrally-Planned"
• Government controls the factors of
production and decides what gets
produced
• No consumer sovereignty
Communism
• Karl Marx & Friedrich Engels – The
Communist Manifesto
• Workers will overthrow their
oppressors & establish an equal
society
• "Workers of the world, unite!"
Advantages:
Disadvantages:
• Focus on
equality
• More social
services
• Stable
• No incentives to
work hard
•Inefficient – can't
adjust to consumer
demands
•Limited freedom
Government
Economy
Free
Free
Not Free
Not Free
Making Choices
• Trade offs – all of the alternatives that we give
up when we make a decision
• Opportunity Cost – the most desirable
alternative given up as the result of a decision
Making Choices
• Guns vs. Butter: Refers to the trade off that
countries make when choosing between
producing domestic or military goods
Exit Ticket
• How are market and command economies
different?
• What are the advantages and disadvantages
of market and command economies?
Do Now
• Pg. 28 #3,5,6,7
• Pg. 34 #3,5,6
• Pg. 38 #3,4,5,6
Adam Smith & Obama
• Would Adam Smith have agreed or
disagreed with President Obama's handling
of the economy?