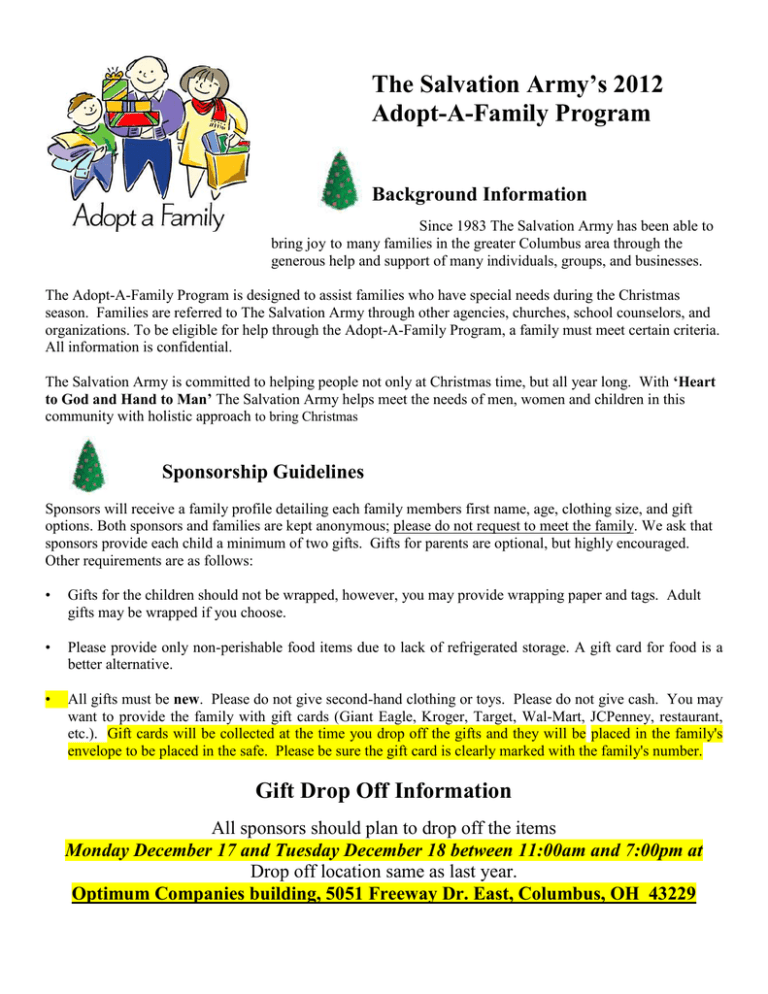 The Salvation Army's 2012
Adopt-A-Family Program
Background Information
Since 1983 The Salvation Army has been able to
bring joy to many families in the greater Columbus area through the
generous help and support of many individuals, groups, and businesses.
The Adopt-A-Family Program is designed to assist families who have special needs during the Christmas
season. Families are referred to The Salvation Army through other agencies, churches, school counselors, and
organizations. To be eligible for help through the Adopt-A-Family Program, a family must meet certain criteria.
All information is confidential.
The Salvation Army is committed to helping people not only at Christmas time, but all year long. With 'Heart
to God and Hand to Man' The Salvation Army helps meet the needs of men, women and children in this
community with holistic approach to bring Christmas
Sponsorship Guidelines
Sponsors will receive a family profile detailing each family members first name, age, clothing size, and gift
options. Both sponsors and families are kept anonymous; please do not request to meet the family. We ask that
sponsors provide each child a minimum of two gifts. Gifts for parents are optional, but highly encouraged.
Other requirements are as follows:
•
Gifts for the children should not be wrapped, however, you may provide wrapping paper and tags. Adult
gifts may be wrapped if you choose.
•
Please provide only non-perishable food items due to lack of refrigerated storage. A gift card for food is a
better alternative.
•
All gifts must be new. Please do not give second-hand clothing or toys. Please do not give cash. You may
want to provide the family with gift cards (Giant Eagle, Kroger, Target, Wal-Mart, JCPenney, restaurant,
etc.). Gift cards will be collected at the time you drop off the gifts and they will be placed in the family's
envelope to be placed in the safe. Please be sure the gift card is clearly marked with the family's number.
Gift Drop Off Information
All sponsors should plan to drop off the items
Monday December 17 and Tuesday December 18 between 11:00am and 7:00pm at
Drop off location same as last year.
Optimum Companies building, 5051 Freeway Dr. East, Columbus, OH 43229
Helpful Hints
To better assist you in sponsoring a family, we would like to share some helpful hints:
*
Choose the size family you or your company can comfortably support.
*
You do not have to buy everything listed on the family's gift option list. Feel
free to pick and choose certain items.

*
Please consider giving a food gift card so the family can purchase items for a
Christmas dinner. We like families to be able to have a special dinner on
Christmas day.
You may wish to consider a family gift in addition to other gifts.
*
Gift certificates are a great way to allow the family to purchase specific toys,
food, clothing, or items for parents.
*
Mark all containers/boxes with the family's number labels that will be
provided. All gift certificates should be clearly labeled as well.
*
If you have questions, please contact The Salvation Army through the
information provided on this brochure.
*
Please return your sponsor form before November 30, 2012
Contact Information
Lori Banfield – e-mail lbanfield@use.salvationarmy.org
966 E. Main Street – Columbus , OH 43205
Phone: 614-437-2132
Fax: 614-221-1896
THE SALVATION ARMY
Mission Statement
The Salvation Army, an International movement, is an evangelical part of the
universal Christian Church.
Its message is based on the Bible. Its ministry is motivated by love of God.
Its mission is to preach the Gospel of Jesus Christ and meet human needs in His name
without discrimination.