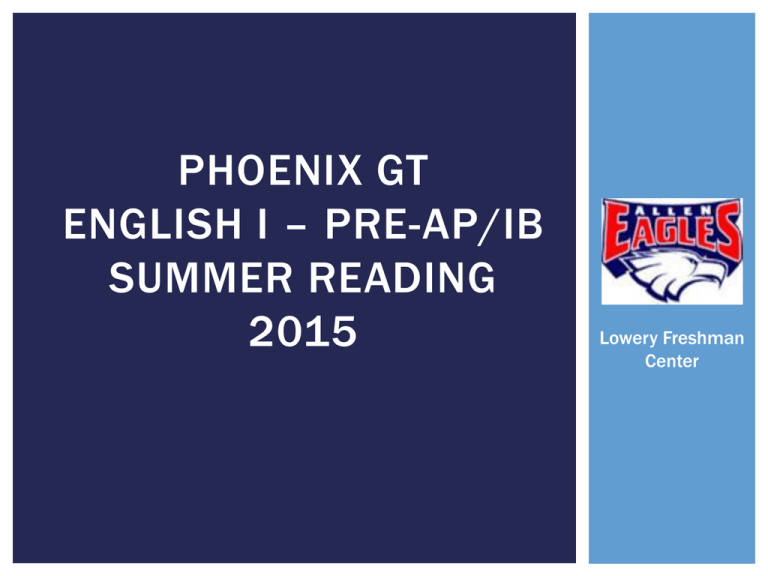 PHOENIX GT
ENGLISH I – PRE-AP/IB
SUMMER READING
2015
Lowery Freshman
Center
ASSIGNMENT
 From Great American Shor t Stories by Wallace & Mary Stegner
read the following:




"Rip Van Winkle" by Washington Irving
"Young Goodman Brown" by Nathaniel Hawthorne
"The Fall of the House of Usher" by Edgar Alan Poe
Plus 3 stories of the student's choice from the remaining selections for a
total of 6 short stories.
 As you read, annotate examples of literary elements such as
character, tone, plot development, and theme .
 Highlight or underline the passages.
 Make hand-written notes in the margin of the book or on sticky
notes of the author's purpose or the effect on the reader.
 Be sure to bring your annotated copy of the summer reading
book to school on August 24 -25.
 A written assignment will be given the first week of school.
GREAT AMERICAN SHORT STORIES
http://www.amazon.com/Great-American-Stories-WallaceStegner/dp/0440330602/ref=sr_1_2?s=books&ie=UTF8&qid=1432920252&sr=12&keywords=great+american+short+stories
HAPPY READING!