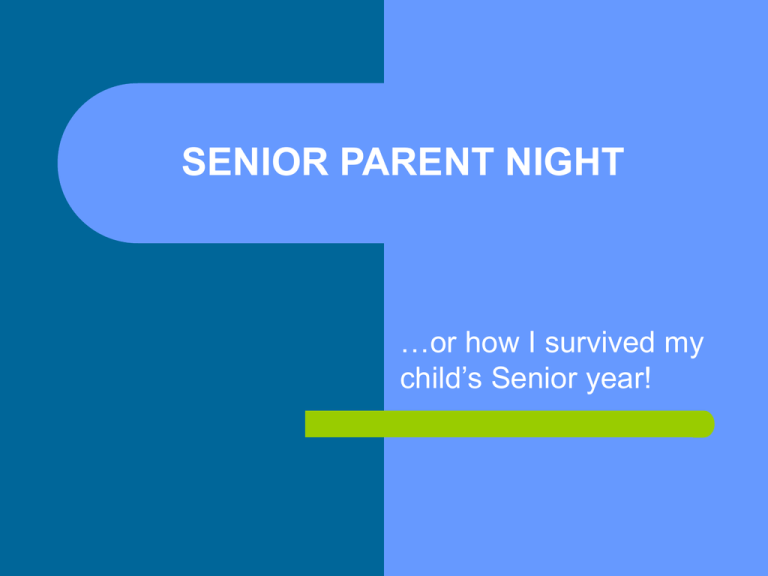 SENIOR PARENT NIGHT
…or how I survived my
child's Senior year!
CONTACT INFORMATION






Alexandra Purchase (A – F) Ext. 7610
Tiffany Garcia (G – Ld) Ext. 7609
Yoko Kobayashi (Le – Q) Ext. 7611
Tania Barricklow (R – Z) Ext. 7612
Philip Drasner – Student Support Ext. 7702
Susie Schnieders – District Counselor
(310) 972-6132
SPARC

Support Personnel Accountability Report
Card

Survey – please complete and turn in at end
of presentation
COLLEGE ADMISSIONS

SAFETY

TARGET

REACH
UNIVERSITY OF CALIFORNIA
(UC)






.
Applications on-line
www.universityofcalifornia.e
du/apply
Filing Period:
November 1 – 30
Requires ESSAY
SAT Reasoning or
ACT with Writing
Requires TWO
SAT Subject Tests






No Letters of Rec.
NO transcripts
(unless requested)
$60 fee per campus
UC Merced and UC
Riverside-will accept ALL
UC eligible students
All others based on
selectivity
Eligibility Index
CALIFORNIA STATE UNIVERSITIES
(CSU)





Applications on-line
www.csumentor.com
Filing period:
October 1-November 30
SAT Reasoning or
ACT WITHOUT writing
Writing score not used in
eligibility determination
NO Essay
NO Subject Tests
NO Letters of Rec.
NO transcripts
(unless requested)




No extracurricular activities
(except SLO)
$55/campus
Impacted Campuses:
San Diego State
CSU Long Beach
Cal Poly SLO
Eligibility Index
PRIVATE and OUT OF STATE
COLLEGES


May apply on-line NOW through school's website
Require:
Essay
Resume of Extracurricular Activities
Letters of Rec.
Counselor
Teacher
Secondary School Report (Counselor)
Mid Year Report (7th semester grades-Counselor)
Transcript ($2/school)
COMMON APPLICATION





Over 300 schools participate
(Harvard, Yale, Princeton-use ONLY
common application!)
Schools not biased if Common App used
Complete ONE application
Counselor/Teacher Rec. form-complete ONE
Supplemental materials for specific schools
TYPES OF ADMISSION

Rolling

Early Action-non binding

Early Decision-binding

Regular Admit
MAILING




Print and keep copy of EVERYTHING!
Keep records - one file for each school
Certificate of Mailing ONLY!
Never use a mailing that requires a
signature.
COMMUNITY COLLEGE







18 years of age or High School Graduate
No SAT/ACT required
Placement Tests
Priority transfer to UC's and CSU's
Honors Transfer Program
Transfer Admission Guarantee (UC's)
MAKE A PLAN!!
TESTING- 3 more chances



October – ED/EA
November – SLO & San Diego State
(SAT Reasoning)
December – last month to test
(SAT Subject Test)
(UC & CSU accept December test)
SAT Reasoning/ACT




Required by all 4-year schools with only a
few exceptions
All schools will accept highest score of either
SAT or ACT.
UC's – use highest sitting
CSU's and most privates – best combo score
SAT SUBJECT TESTS






1 hour multiple choice tests on specific subject areas
Like final exams
Required by UC's and more selective schools
Must have TWO for UC's in two different subject
areas.
Math Level 2 ONLY accepted by UC's
Can take 3 tests at one sitting.
REPORTING SCORES




Schools require official report from ETS
SAT
-report to ALL schools LAST time test taken
-College Board will send entire history of Reasoning
& Subject Test scores.
-Schools use only highest.
ACT – can choose what score to send
Can delay admit decision if scores not reported.
FINANCIAL AID




January1-March 2 - application period
Forms:
FAFSA (federal)
Cal Grant (State – District sends)
CSS Profile (individual private schools)
Financial Aid Night – Dec. 2 – Torrance High
SCAMS!!
FAFSA
(Free Application for Federal Student
Aid)




One parent + student needs PIN number for
electronic signature (www.pin.ed.gov).
Application on line at www.fafsa.ed.gov.
Required by ALL schools to apply for aid and
for low interest Stafford loans.
Determines family's Expected Family
Contribution (EFC).
CAL GRANTS





California grants based on need and GPA
District submits electronically
Must have Cal Grant GPA authorization form
on file in order to submit
Linked to Social Security Numbers submitted
through FAFSA form.
March 2 deadline
CSS PROFILE





Required by specific PRIVATE schools
Grants Institutional aid not available without
PROFILE submission
Access participating schools and form
through www.collegeboard.com
May submit form NOW!
Schools have deadlines earlier than FAFSA
or CAL GRANTS – call schools for deadline.
SCHOLARSHIPS






www.fastweb.com
www.collegeboard.com
Scholarship information
2nd tier schools – Merit $$
Local Scholarship application
Scholarship scams
COMMUNICATION







Counselor Phone #'s
Counselor's Corner on website
Web site (www.whs.tusd.org)
College Rep visits-on and off campus
College and Career Planning Booklet
Individual meetings with Seniors starting
Sept. 22nd
Countdown to College
FINAL THOUGHTS





Senior year DOES COUNT!!
All acceptances PROVISIONAL dependent
upon final semester grades.
Weak Senior schedule-jeopardizes
acceptance at competitive schools
Change in schedule-MUST notify colleges
Things too tough?? Call Counselors!
DON'T BE A
HELICOPTER PARENT!






Student should be doing applications
Empower you students!
Student meltdown
Parents make mistakes-jeopardize
acceptance
Be supportive
School choice right FIT for STUDENT--- not
PARENT!
AFTER ACCEPTANCE – THEN WHAT?




May 1 – Statement of Intent to Register
(SIR)
-Provide deposit
-No double deposits!! One school ONLY!
Housing-may need to apply early
Wait List
Appeals-new compelling information
THANK YOU!
Any questions??