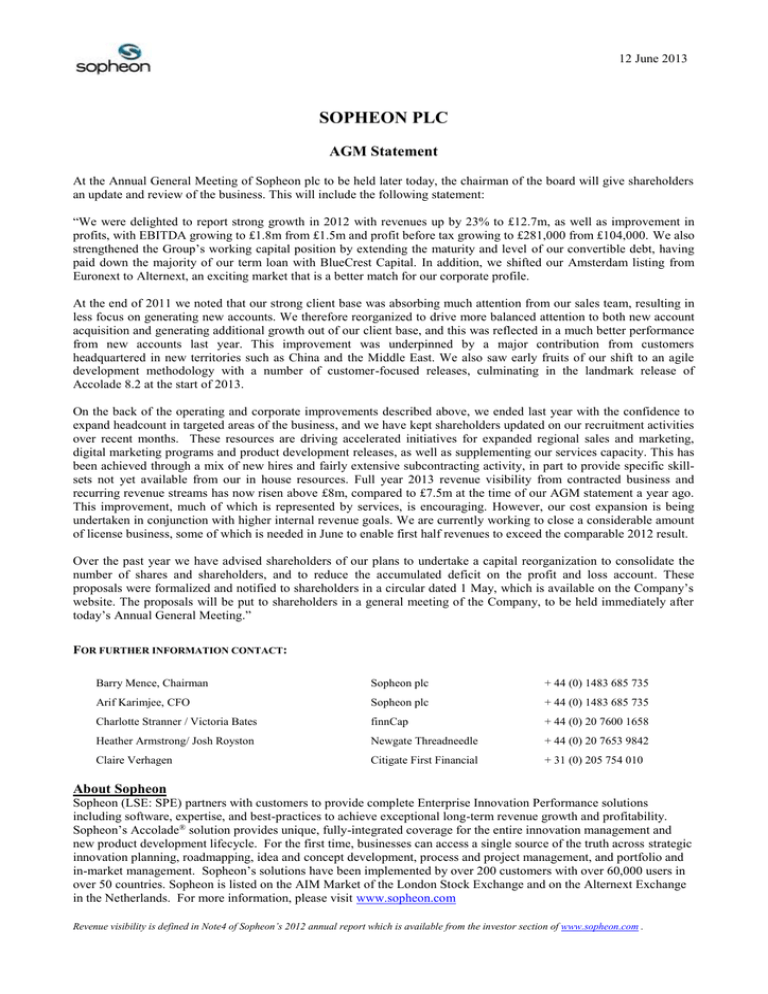 12 June 2013
SOPHEON PLC
AGM Statement
At the Annual General Meeting of Sopheon plc to be held later today, the chairman of the board will give shareholders
an update and review of the business. This will include the following statement:
"We were delighted to report strong growth in 2012 with revenues up by 23% to £12.7m, as well as improvement in
profits, with EBITDA growing to £1.8m from £1.5m and profit before tax growing to £281,000 from £104,000. We also
strengthened the Group's working capital position by extending the maturity and level of our convertible debt, having
paid down the majority of our term loan with BlueCrest Capital. In addition, we shifted our Amsterdam listing from
Euronext to Alternext, an exciting market that is a better match for our corporate profile.
At the end of 2011 we noted that our strong client base was absorbing much attention from our sales team, resulting in
less focus on generating new accounts. We therefore reorganized to drive more balanced attention to both new account
acquisition and generating additional growth out of our client base, and this was reflected in a much better performance
from new accounts last year. This improvement was underpinned by a major contribution from customers
headquartered in new territories such as China and the Middle East. We also saw early fruits of our shift to an agile
development methodology with a number of customer-focused releases, culminating in the landmark release of
Accolade 8.2 at the start of 2013.
On the back of the operating and corporate improvements described above, we ended last year with the confidence to
expand headcount in targeted areas of the business, and we have kept shareholders updated on our recruitment activities
over recent months. These resources are driving accelerated initiatives for expanded regional sales and marketing,
digital marketing programs and product development releases, as well as supplementing our services capacity. This has
been achieved through a mix of new hires and fairly extensive subcontracting activity, in part to provide specific skillsets not yet available from our in house resources. Full year 2013 revenue visibility from contracted business and
recurring revenue streams has now risen above £8m, compared to £7.5m at the time of our AGM statement a year ago.
This improvement, much of which is represented by services, is encouraging. However, our cost expansion is being
undertaken in conjunction with higher internal revenue goals. We are currently working to close a considerable amount
of license business, some of which is needed in June to enable first half revenues to exceed the comparable 2012 result.
Over the past year we have advised shareholders of our plans to undertake a capital reorganization to consolidate the
number of shares and shareholders, and to reduce the accumulated deficit on the profit and loss account. These
proposals were formalized and notified to shareholders in a circular dated 1 May, which is available on the Company's
website. The proposals will be put to shareholders in a general meeting of the Company, to be held immediately after
today's Annual General Meeting."
FOR FURTHER INFORMATION CONTACT:
Barry Mence, Chairman
Sopheon plc
+ 44 (0) 1483 685 735
Arif Karimjee, CFO
Sopheon plc
+ 44 (0) 1483 685 735
Charlotte Stranner / Victoria Bates
finnCap
+ 44 (0) 20 7600 1658
Heather Armstrong/ Josh Royston
Newgate Threadneedle
+ 44 (0) 20 7653 9842
Claire Verhagen
Citigate First Financial
+ 31 (0) 205 754 010
About Sopheon
Sopheon (LSE: SPE) partners with customers to provide complete Enterprise Innovation Performance solutions
including software, expertise, and best-practices to achieve exceptional long-term revenue growth and profitability.
Sopheon's Accolade® solution provides unique, fully-integrated coverage for the entire innovation management and
new product development lifecycle. For the first time, businesses can access a single source of the truth across strategic
innovation planning, roadmapping, idea and concept development, process and project management, and portfolio and
in-market management. Sopheon's solutions have been implemented by over 200 customers with over 60,000 users in
over 50 countries. Sopheon is listed on the AIM Market of the London Stock Exchange and on the Alternext Exchange
in the Netherlands. For more information, please visit www.sopheon.com
Revenue visibility is defined in Note4 of Sopheon's 2012 annual report which is available from the investor section of www.sopheon.com .