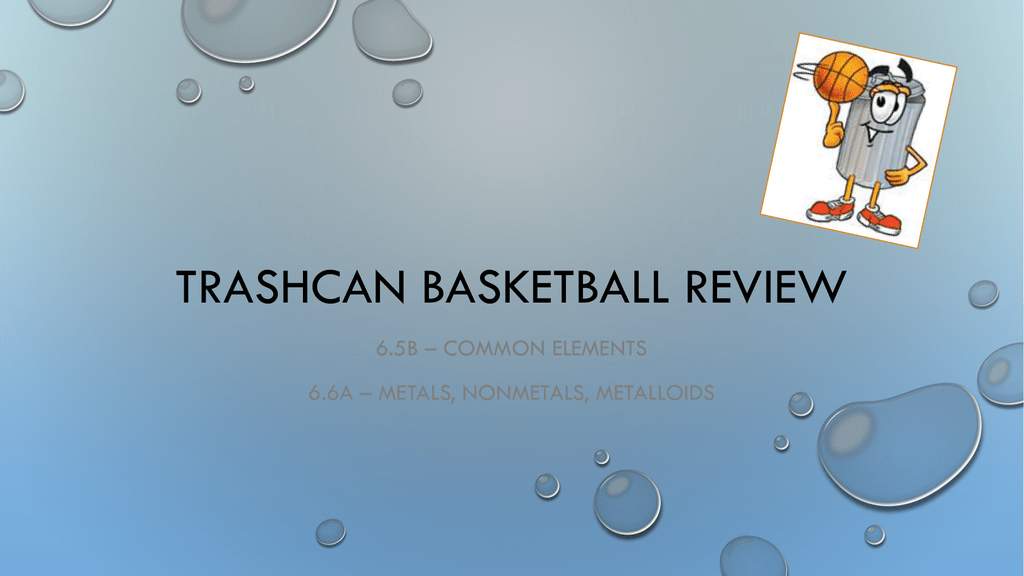 TRASHCAN BASKETBALL REVIEW
6.5B – COMMON ELEMENTS
6.6A – METALS, NONMETALS, METALLOIDS
I AM AN INSULATOR, DULL, AND NONDUCTILE. WHAT AM I?
WHICH OF THE CHARACTERISTICS IN THE BOX
ABOVE DESCRIBE NONMETALS?
WHICH OF THE FOLLOWING IS NOT A
PHYSICAL PROPERTY OF METALS?
A SHINY LUSTER
B DUCTILE
C BRITTLE
D GOOD CONDUCTORS
WHAT ELEMENTS ARE LOCATED ON THE
RIGHT SIDE OF THE TABLE?
WHICH OF THE FOLLOWING IS AN
ELEMENT?
A.NaCl
B.Au
C.H2O
D.CO2
WHICH PLANET IS MOST LIKELY TO BE EARTH?
Planet
1
2
3
4
Elements in Atmosphere
Sodium
Hydrogen
Oxygen
Potassium
trace elements
Percentage
29%
22%
42%
6.5%
0.5%
Carbon and Oxygen as CO2
Nitrogen
trace elements
Hydrogen
Helium
Carbon
trace elements
Nitrogen
Oxygen
trace elements
97%
2.9%
0.1%
80%
19%
0.9%
0.1%
78%
21%
1%
I AM A SEMICONDUCTOR.
WHAT AM I?
WHICH OF THE FOLLOWING ELEMENTS WOULD YOU
EXPECT TO FIND IN ANY SAMPLE OF OCEAN WATER?
A SODIUM
B HELIUM
C GOLD
D IRON
WHICH ELEMENT FOUND IN EARTH'S
ATMOSPHERE IS ESSENTIAL FOR MOST LIVING
THINGS?
A CARBON
B IRON
C OXYGEN
D ARGON
WHICH ARE TRUE ABOUT ELEMENTS?
• AN ELEMENT IS A PURE SUBSTANCE
• AN ELEMENT CONTAINS MORE THAN ONE TYPE OF ATOM
• AN ELEMENT COMBINES DIFFERENT TYPES OF ATOMS
• AN ELEMENT IS REPRESENTED BY A CHEMICAL SYMBOL
THE BUILDING BLOCKS ABOVE EACH REPRESENT AN
ELEMENT. TOGETHER, THESE ELEMENTS, ALONG WITH
PHOSPHORUS AND SULFUR, ARE OFTEN FOUND IN WHAT?
I AM A CONDUCTOR, MALLEABLE, AND
DULL.
WHAT AM I?
MOST METALS ARE ___________ AT
ROOM TEMPERATURE.
A SOLID
B PLASMA
C LIQUID
D GASES
THE ELEMENT HYDROGEN IS
CLASSIFIED AS A –
ABOUT TWO-THIRDS OF THE
ELEMENTS ON THE PERIODIC TABLE
ARE ______________.
THE ELEMENT REPRESENT BY THE SYMBOL AU
IS VALUED BY PEOPLE AROUND THE
WORLD. WHAT ELEMENT IS IT?
WHAT ELEMENTS ON THE LEFT SIDE OF THE
PERIODIC TABLE?
SIXTY-FIVE PERCENT (BY WEIGHT) OF
THE HUMAN BODY IS MADE UP OF
WHAT ELEMENT?
WHAT ELEMENT WOULD MOST LIKELY BE
FOUND IN ALL LIVING MATTER ITEMS?
A CARBON
B HELIUM
C IRON
D ARSENIC
THE SUBSTANCES SHOWN IN THE BOX ABOVE ARE ALL
MADE FROM ONE GROUP OF ELEMENTS. WHERE WOULD
YOU FIND THE ELEMENTS FROM THESE SUBSTANCES ON THE
PERIODIC TABLE?
NITROGEN MAKES UP THE LARGEST
PERCENTAGE OF WHAT?
A THE OCEAN WATERS
B EARTH'S ATMOSPHERE
C LIVING MATTER
D THE EARTH'S CRUST
AN ELEMENT ON THE PERIODIC TABLE IS
DESCRIBED AS BEING A SOLID, SHINY, A
POOR CONDUCTOR OF HEAT, AND
MALLEABLE. THIS ELEMENT IS MOST LIKELY –
WHAT ELEMENTS ARE LOCATED ON THE
STAIR-STEP LINE?