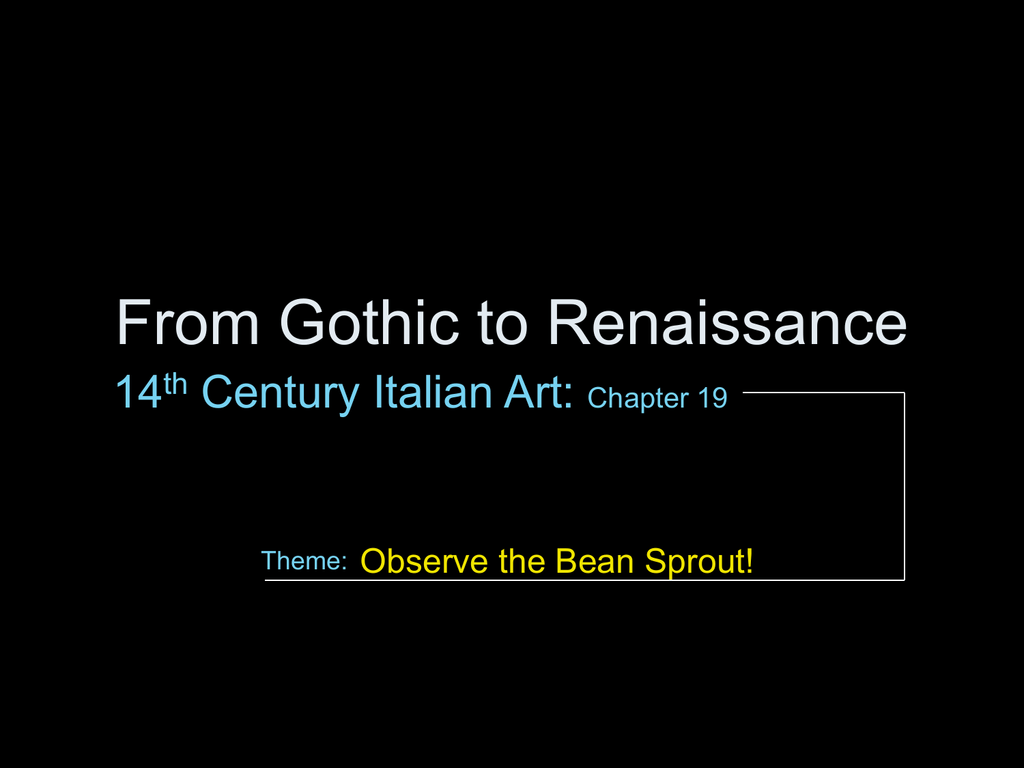 From Gothic to Renaissance
14th Century Italian Art: Chapter 19
Theme:
Observe the Bean Sprout!
Goals
• Discuss the formal and iconographic characteristics of fourteenthcentury Italian art
• Explain how the plague affected artistic production in fourteenthcentury Italy
• Describe the role humanism played in fourteenth-century Italian art
• Discuss the art and architecture created for monastic orders
• Describe the material, formal, and technical characteristics of
fourteenth-century Italian architecture
• Explain the reintroduction of the optical experience in the art of the
fourteenth century
Glossary
•
•
•
•
•
•
•
•
•
•
•
•
•
•
•
•
baptistery
buon fresco
campanile
cartoon
Cimabue
Duccio Di Buoninsegna
Giovanni Pisano
grisaille
Lorenzetti, Pietro
International Style
Nicola Pisano
perspective
polyptych
stigmata
Guilds & artistic training
Maniera Greca
How have these factors influenced
art from this period?
•
•
•
•
•
Independent city-states & republics
Guilds
The Black Death
The Great Schism
Humanism
Use the following website to answer some of the questions in the PowerPoint.
http://www.wga.hu/
Description
Description
Madonna and Child
Berlinghiero (Italian, Lucca, active
by 1228, died by 1236)
Tempera on wood, gold ground;
Overall: 31 5/8 x 21 1/8 in. (80.3 x
53.7 cm); Painted surface: 30 x 19
1/2 in. (76.2 x 49.5 cm)
Gift of Irma N. Straus, 1960
(60.173)
Madonna and Child, ca. 1326
Simone Martini (Italian [Siena], ca.
1284–1344)
Tempera on panel; Overall: 23 1/8
x 15 1/2 in. (58.8 x 39.6 cm);
Painted Surface: 22 1/2 x 15 1/8
in. (57.2 x 38.4 cm)
Robert Lehman Collection, 1975
(1975.1.12)
Italo-Byzantine Style
•Maniera Greca (Greek style)
•Stigmata
•Borrowing from Byzantine…
•Emotional resonance
•Merchant orders
BONAVENTURA BERLINGHIERI,
panel from the Saint Francis
Altarpiece, San Francesco,
Pescia, Italy, 1235. Tempera on
wood, approx. 5' x 3' x 6".
19-5: PIETRO CAVALLINI, Seated Apostles, detail of the Last Judgment, Santa
Cecilia in Trastevere, Rome, Italy, ca. 1291. Fresco.
19-6: CIMABUE, Madonna Enthroned with
Angels and Prophets, ca. 1280-1290.
Tempera on wood, 12' 7" x 7' 4".
Galleria degli Uffizi, Florence.
• Who is depicted here?
• Compare and contrast.
19-7: GIOTTO DI BONDONE, Madonna Enthroned, ca.
1310. Tempera on wood, 10' 8" x 6' 8". Galleria
degli Uffizi, Florence.
What concept was
Giotto's major
contribution to the
art of this period?
"early scientific"
Explain.
• Architect?
• For whom?
• Content• How is the interior unified?
19-8: Interior of the Arena Chapel
(Cappella Scrovegni), Padua,
Italy, 1305-1306.
• Explain the complexity of the
composition.
• Describe the emotional
responses.
• chiaroscuro
• perspective
19-9: GIOTTO DI BONDONE, Lamentation, Arena Chapel, Padua, Italy, ca. 1305. Fresco, 6' 6 3/4" x 6' 3/4".
19-10: DUCCIO DI BUONINSEGNA,
Virgin and Child Enthroned
with Saints
Identify the different
styles Duccio used in
these two different
paintings and explain his
reasons for doing so.
19-11 DUCCIO DI BUONINSEGNA,
Betrayal of Jesus
International Style
Describe the
International Style and
where it is and isn't
located in this painting.
19-12: SIMONE MARTINI
AND LIPPO MEMMI(?),
Annunciation, 1333 (frame
reconstructed in the
nineteenth century).
Tempera and gold leaf on
wood, approx. 10' 1" x 8' 8
3/4". Galleria degli Uffizi,
Florence.